Human trafficking racket busted
Ring leader, three others arrested in last two days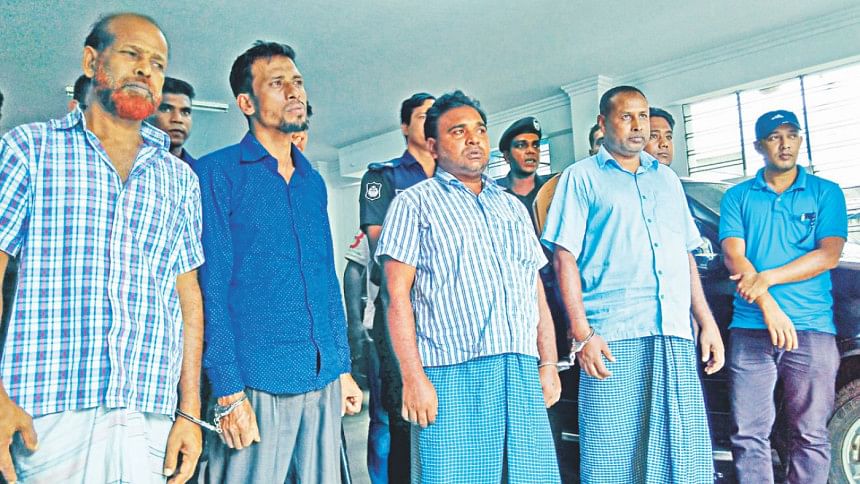 Saddam went to Libya around a year back spending Tk 4 lakh. He nurtured dreams of a financially solvent future and was determined to work hard for it, even if it meant being continents away from home.
But the 23-year old probably never fathomed that his decision would deliver him to the hands of a trafficking ring. From the day he stepped onto Libya, Saddam was held hostage in a hidden camp in Tripoli while the traffickers seized his passport. He did not see the sun for almost three and a half months.
The traffickers instantly began to demand more money. Saddam was just taken aback. "I came here with due process paying the necessary amount. Why should I pay more?" he asked.
Instead of a verbal reply, Saddam was brutally tortured by the gang members. Using video and audio recordings, the gang documented his torture and sent a copy of the tapes to his brother, Hiron Talukder, in Bangladesh. This was their way of demanding ransom for his brother's release.
As any brother would in his position, Hiron gave them around Tk 5 lakh more in installments to the gang's cohorts in Bangladesh.
The traffickers assured Hiron that they would hand over the passport to his brother, but did not do so even after receiving the money.
Hiron finally turned to the Police Bureau of Investigation (PBI) who immediately began investigating the case.
With the combined efforts of National Central Bureau of Police Headquarters, Bangladesh Embassy in Libya and the PBI, Saddam was finally rescued in Libya and brought back to Bangladesh on September 27.
Meanwhile with the crackdown on traffickers gaining momentum, the PBI arrested four members of the gang, who had been operating from Dhaka and Kishoreganj, in the last two days.
The four members who were arrested by PBI are -- Taslim Uddin, 50, the ring leader, and his cohorts Mohammad Mofazzal Hossain, 48, Ayub Ali, 52 and Mohammad Arman Sarkar, 42, said Ahsan Habib Palash, special superintendent of PBI.
"During my 11-months of captivity in Libya, I was sold off two to three times; they charged 500 to 10,000 Libyan dinars," Saddam said, while sharing his horrible experience with reporters at PBI headquarter in the capital's Dhanmondi yesterday. Saddam also alleged that some members of the Libyan police were complicit in this and would sell off arrested Bangladeshis for as little as 500 dinars.
"I overheard them talking about us like we were commodities," he added.
He spoke of his torture by the syndicate which is run by nationals of Pakistan, Bangladesh and Libya. "The torture left my blood vessel injured," Saddam said, adding that they let him starve for days.
""The conditions are so bad. We feel a sense of insecurity when we hear or meet Bangladeshis because we don't know what their intentions are," he said.
At the camp, Saddam saw 14 other Bangladeshis who were held hostage by the gang.
"We came to know about more seven to eight victims who were trafficked by this gang in Libya and Iraq," Habib said.
At the briefing, relatives of two more victims were also present. Of the victims, a youth -- Jony, 22, of Jhenaidah, was still in captivity in Iraq's Baghdad, while Mafidul Islam, 35, got released recently after being held hostage for 23 days.
"Taslim's brother Salam ran the gang in Iraq; he called me last night at around 2:00am and asked for more money," Jony's relative Mizanur Rahman said, adding that he had already given them Tk 5 Lakh.
"He even shouted at me and told me to sell my kidney to arrange the money," Mizanur added.
At the briefing, the police officials said the traffickers send people to Iraq and Libya promising them a better life and economic stability, but the fortune seekers are being trapped instead.
Around five months back, one kingpin of this gang, Motahar, was arrested but he was released on bail.
On September 10, PBI arrested six members of another such gang from Kishoreganj and Narsingdi. They used to extract money from the relatives of hostage fortune seekers.