How to get smart NID card?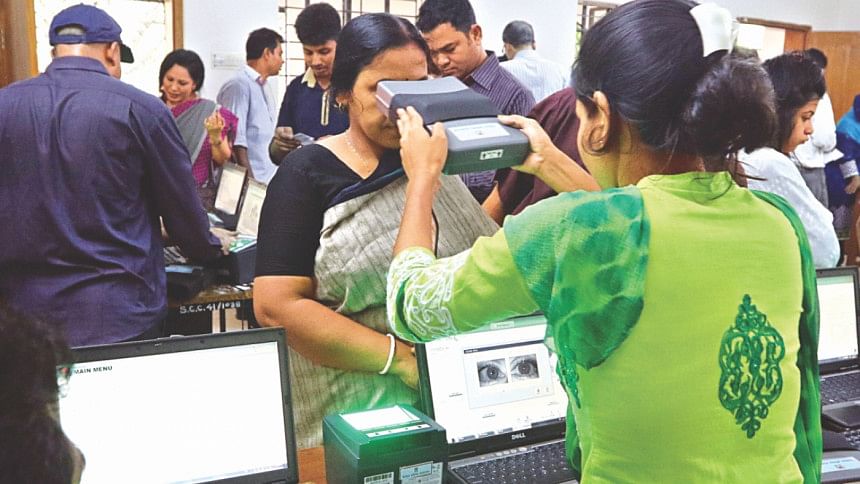 The newly introduced smart national identity (NID) card will put an end to forgery as it has 25 security features.
The machine-readable card will have 32 types of basic information of a citizen embedded in its microchip, said Election Commission officials.
Currently, NID cards are required for availing at least 22 types of services, including passport, banking, driving licence, trade licence and share trading. In future, it would be required for getting many more services.
EC Secretary Sirazul Islam said, "Many perpetrators of crimes forged the existing NID cards and we could not prevent it. But forging the smart NID cards would be almost impossible."
Anyone will be able to verify some basic information of a smart card by using the cardholder's fingerprint through a desktop or laptop computer after installing software which would soon be available via www.nidw.gov.bd.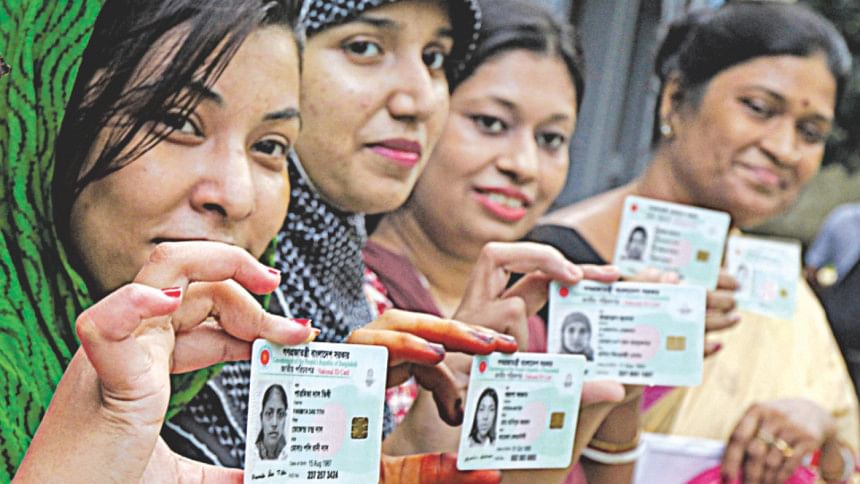 The smart NID cards were produced in France and later data were stored in the cards in Bangladesh, said Brig Gen Sultanuzzaman Md Saleh Uddin, director general at the EC's NID Registration Wing.  
According to EC officials, the smart cards would first be distributed to citizens in the capital, followed by in city corporations, district headquarters and upazilas.
For getting a smart NID card, a citizen will have to appear in person at an EC-designated distribution centre.
The EC officials would collect the citizen's biometric details, impressions from 10 fingers and a photo of iris which would be embedded in the card's microchip.
After completion of the procedure, the officials would hand over the smart card to the citizen, but only after taking back his/her exiting NID card.
The schedules and names of card distribution centres will be announced through newspaper advertisements and community-based campaigns, like announcements in mosques.
Besides, anyone can get information about the schedule and distribution centres by logging on to www.nidw.gov.bd or calling at 105 or sending an SMS to 105 from any mobile phone.
For sending an SMS to 105, one has to go to the message option of his phone, type "SC", leave a space, type "NID", again leave a space and type the 17-digit NID card number.
Those who have 13-digit number will have to add their year of birth before the number to make it a 17-digit one.
Voters, who are yet to have an NID card, will have to go to the distribution centres with their voter registration slip.
Those who have lost their existing cards will have to contact their respective upazila or thana election offices with the main copy of a general diary which was filed with the police station concerned.
Although it costs the EC around $1.6 to produce a smart NID card, it would be delivered to citizens free of cost. Initially, the cards will be valid for 10 years, said Saleh Uddin.
Prime Minister Sheikh Hasina inaugurated the distribution of smart NID cards in the capital on Sunday. Chief Election Commissioner Kazi Rakibuddin Ahmad started distribution of the cards in Kurigram yesterday.
Cards were distributed in a village in Phulbari upazila of Kurigram and two wards in the capital -- one under Ramna Police Station and another under Uttara Police Station.
Currently, there are over 10 crore voters in Bangladesh. Of them, nine crore will get smart cards by the next year under an ongoing project. The rest of the voters would get cards under a new project which would be launched soon.
EC officials said citizens' data are safe from unauthorised access as the database servers are "fully protected".