Hope in haors
Disaster-hit people wait with expectation as PM goes there today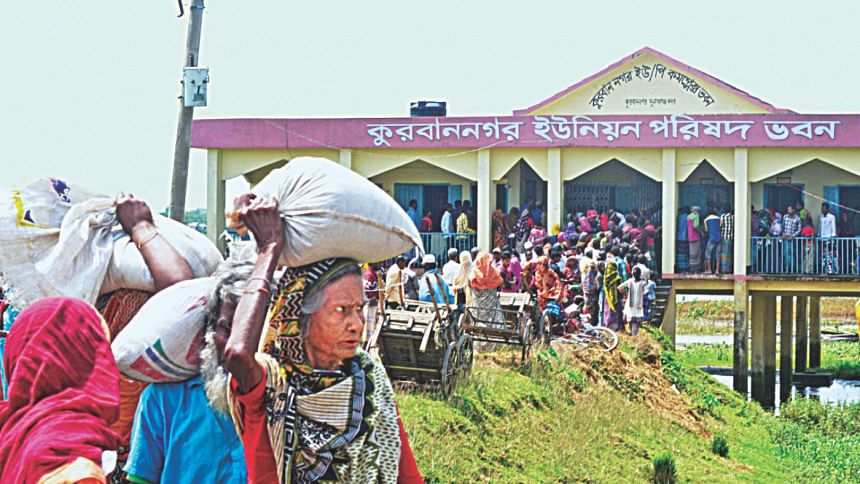 Farmers and public representatives have reiterated their demand for declaring Sunamganj haor belt a disaster zone prior to Prime Minister Sheikh Hasina's visit to the area today.
"We pressed home the demand at meetings, press conferences and rallies and now the prime minister is coming. So, we demand that this area be declared a flood-affected region," Sunamganj Zila Parishad [district council] Chairman Nurul Huda told The Daily Star yesterday.
The demand arose after early flashfloods submerged Boro crops on over two lakh hectares of land, and subsequent loss of livelihood, fish and livestock.
Once an area is declared a disaster zone, the government has to take action as per the Disaster Management Act-2012 on an emergency basis to ensure availability of resources to help tackle the disaster situation.
Moreover, the authority will have to ensure public security and law and order and take proper steps to decrease loss of lives, assets and environmental impact. All necessary measures must be in compliance with the local disaster management plan.
Hasina is scheduled to reach Sunamganj's Shalla upazila by helicopter this morning. She will distribute relief materials and visit some of the affected areas, said district Additional Deputy Commissioner Kamruzzaman yesterday.
According to the government's primary estimation, more than 8 lakh people in the haor belt have been affected as 6.5 lakh tonnes of Boro crop went under water due to flashfloods in March end, at least 15-20 days ahead of the usual time.
Haor Advocacy Platform, a rights organisation, in a bulletin on Thursday said the devastating flashfloods damaged Tk 5,081 crore worth of rice, fish and fodder in seven northeastern haor districts.
Sunamganj is the worst hit. The other affected districts are Sylhet, Moulvibazar, Habiganj, Netrakona, Kishoreganj and Brahmanbaria.
Blaming the Water Development Board for the damage, Sunamganj District Council Chairman Nurul Huda said, "It is very sad to see corruption [by WDB] in construction of the embankments. We didn't expect this and we demand severe punishment of the perpetrators."
Meanwhile, at a human chain in Sunamganj yesterday afternoon, Ongikar Bangladesh, a voluntary organsation working on environmental issues, raised the demand for declaring the region a disaster zone.
Member secretary of a movement, "Haor Bachao, Sunamganj Bachao Andolon", Bindu Talukdar told The Daily Star, "Farmers have lost their harvest. They can survive only if they can fish in the haor areas."
The government should stop leasing the haors and open those areas for fishing by the community people, he added. 
Nurul Huda said the relief distribution under the Vulnerable Group Feeding (VGF) programme needed be expanded up to the ward level in each union, and the allocation be tripled.
INADEQUATE VGF CARDS, OMS SERVICE
"Many farmers didn't receive VGF cards. Many influential people got those while we are the ones who are the most affected," said Moinul Hassan, a farmer in Kurban Nagar union of Sunamganj sadar upazila. 
Widowed Salma Begum, 65, of the union, wanted to talk to members and chairman about how to get a VGF card but she found the union building locked yesterday.
Union Chairman Abul Barkat said he got only 200 VGF cards for distribution against nearly 50,000 flood-affected people in the union.
According to the Relief and Rehabilitation Department of Sunamganj, the VGF programme will cover 1.5 lakh families in the district. Each household will get 30kgs of rice and Tk 500 a month.
The chairman said there was no Open Market Sale (OMS) dealer for the union. Two unions together are supposed to get subsidised food grain from one dealer but his union didn't even get that facility, he added.
Mohammad Kamruzzaman Kamrul, chairman of Tahirpur upazila, said that each day 1,800 people were supposed to get OMS services in the upazila. But there are about 2.5 lakh people who failed to harvest Boro crops this season.
The relief and other support for flood victims should be increased, he added.