Farmers facing loss despite high yield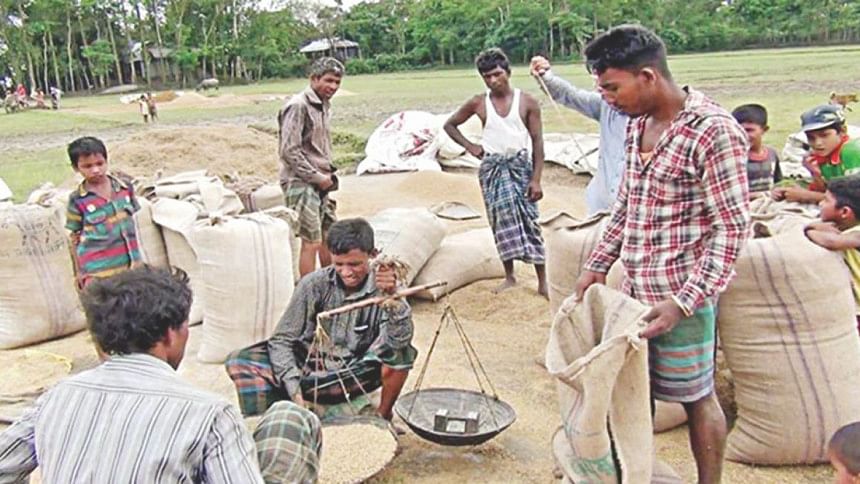 The haor farmers in Sunamganj have achieved a bumper production of Boro but are being badly hit by the low market price.
The crop witnessed the highest acreage this year, but the farmers have failed to receive even the minimum price that prevailed in last couple of years. The bumper output brings them extra pain instead of any extra hope.
They have now given up hope of any profit and are worried about recovery of the production costs.
Sources in the Department of Agriculture Extension (DAE) of Sunamganj said this year's target was planting Boro on 219,000 hectares of land in the district, but the paddy was planted on 222,719 hectares.
Farmers told this correspondent that they were not interested to cultivate paddy next season because the price is disappointing. Cultivation cost was Tk 8,000 per bigha (33 decimals) as the land needs fertilisers, insecticides, weeding out, harvesting and labour. They get 15/16 maunds of paddy per bigha and are selling it at Tk 500-550 per maund, which has made them lose heart in paddy cultivation.
Most of the farmers buy fertilisers and insecticides on credit. After harvesting, they sell paddy in the market and pay the dues.
Minu Ahmed, resident of Sreepur village under Tahirpur upazila, said he cultivated four bighas of land at a cost of Tk 32,000. He got 58 maunds of paddy and sold it for Tk 31,320. He now has no idea how he is going to repay the loan and maintain his family.
Farmer Manos Mia of Uttar Sreepur village in Tahirpur said he had cultivated Boro on two bighas of land taking Tk 16,300 loan from an NGO. He got 31 maunds of paddy and got Tk 17,050 from it.
"I have decided to cultivate vegetables and tobacco from next year," said a frustrated Manos Mia.
Paddy trader Babul Mia, owner of Sahed Ali Auto Rice Mill, said at the beginning of Baishakh rice was sold at Tk 705 per maund. But since then the price has gradually declined.
Jyotirmoy Roy, president of Madhanagar Paddy, Rice Traders Association, said, "Rice is abundant in the market as the commodity is being imported without tax, causing low price."
Swapan Kumar Saha, deputy director of Sunamganj DAE, said,"We have made huge production of Boro this year, but the price has come down. The farmers are now selling paddy in a hurry because of rain."
He expressed the hope that after a few days they would get better price.
Bazlul Majid Chowdhury, president of "Save Haor, Save Sunamganj" movement, said Boro production is huge in the district. When Sunamganj produced around 9 lakh tonnes of rice, the government is going to buy 30,000 tonnes of paddy and 8,000 to 10,000 tonnes of rice.
The volume of purchase is very insignificant compared to the district's production, he observed.
He said the target of rice purchase has to be increased, while the government should fix the price of rice.
Khairul Bashar, leader of Krishak Sangram Samiti, Dharmapasa upazila, said, "If the government does not buy rice from real farmers, the latter will go to the middlemen and face heavy loss."