Havoc in haors: 140 sued for 'irregularities' in Sunamganj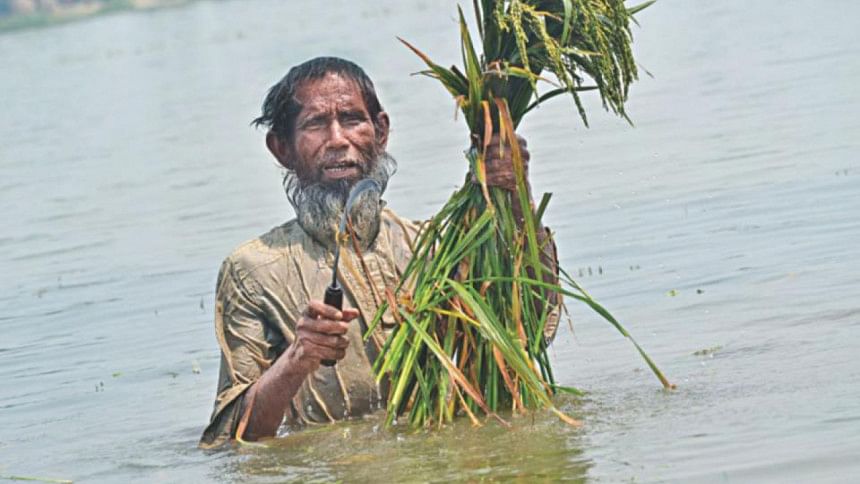 One hundred and forty persons including 16 government officials have been sued in Sunamganj for their alleged negligence and irregularities in construction of embankments that collapsed causing the flash flood in haor regions in April.
Abdul Haque, Sunamganj Lawyers Association general secretary, filed the lawsuit today with Sunamganj Special Tribunal, the plaintiff told The Daily Star.
Md Mujibur Rahman, district sessions judge of Sunamganj, accepted the case after a hearing, he said.
The accused includes Shah Kamal, secretary of the Ministry of Disaster Management and Relief, Afsar Uddin, executive engineer of Water Development Board (WDB) in Sunamganj, Abdul Hai, additional chief engineer of WDB in Sylhet, presidents and general secretaries of Project Implementation Committees (PICs) and contractors.
Earlier on July 2, Anti-Corruption Commission (ACC) filed a lawsuit with Sunamganj Model Police Station against 61 persons including WDB officials and contractors.
On the same day, WDBs Executive Engineer Afsar Uddin and contractor Bachchu Mia were arrested over the graft in the embankment of the haor regions.
Triggered by torrential rainfall, flash flood struck the haor belt on April damaging half a million tonnes of Boro crops in the area, according to government estimation.
Three weeks after the flash flood, around 900 metric tons (MT) of fish, several thousand ducks, frogs and leeches died in the flash flood.