Haor worried over harvest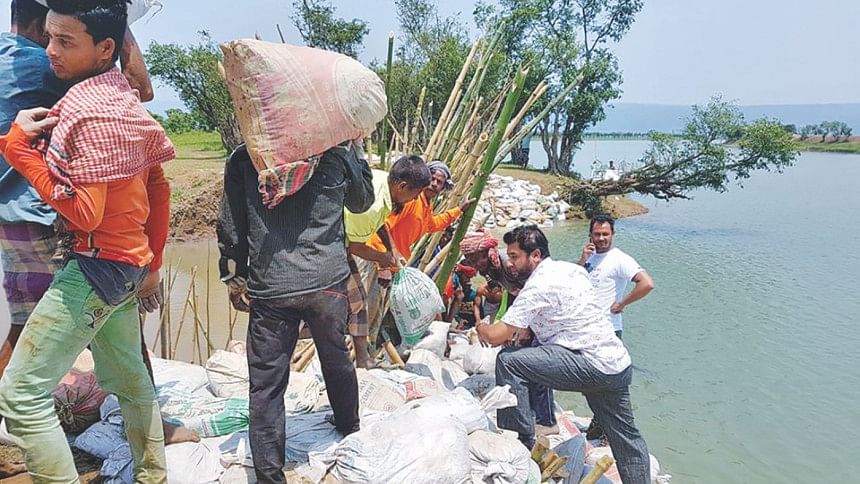 Water entered the paddy fields in 88 villages of Sunamganj's Tahirpur and Dhamapasha upazilas early on Thursday after part of the Naotana dyke along the Tanguar Haor had been cut allegedly by some local fishermen.
Although the around 25-ft damaged part of the dyke was repaired around noon yesterday, farmers feared they might lose the boro crop on more than 7,000 hectares if it rained heavily from tomorrow as forecasted by the weather department.
The Sunamganj office of Water Development Board (WDB) has already alerted the district, upazila and union parishad administrations about the rough weather forecast from April 30-May 2.
Many growers said they could not harvest their paddy as they were facing a serious scarcity of labourers, mostly from other districts.
In the last two years, farmers in haor areas had lost their boro crops to flash floods caused by downpours and onrush of water from the upstream.
Abdus Sattar, president of Tanguar Haor Co-management Committee, said fishermen cut the dyke to serve "their own interests", but it left the boro crop in 88 villages in danger of being damaged.
Croplands in Uttar Sreepur and Dakshin Sreepur unions of Tahirpur upazila and Uttar Bangshikunda and Dakshin Bangshikunda unions of Dharmapasha upazila are partially under water.
Abdus Salam, upazila agriculture officer of Tahirpur, said water didn't destroy the boro crop in nearby villages, where the dyke was cut, as farmers had already harvested their paddy. However, crops on partially submerged fields in some other areas might be damaged if those were not harvested soon, he added.
Abu Bakar Siddik Bhuiyan, executive engineer of WDB, said farmers should harvest their boro crop at the earliest as heavy rain may cause flash floods.
He, however, claimed all the WDB-constructed dykes in the haor areas were safe.
Meanwhile, Khasrul Alam, treasure of the Tanguar Haor Co-management Committee, filed a case with Tahirpur Police Station on Thursday night, accusing eight named and about 90 unnamed local fishermen over cutting the dyke.
Police on Thursday picked up Anwar Hossain, a fisherman from Hukumpur village in Tahirpur. One of the named accused in the case, Anwar was sent to jail as ordered by a Sunamganj court on Friday, said Nandan Kanti Dhar, officer-in-charge of Tahirpur Police Station.
According to officials of the Department of Agricultural Extension, about 2.22 lakh hectares came under boro cultivation in Sunamganj this year. Farmers harvested around 30 percent crop till last week.