Reliefs for haor people 'ridiculous, disgraceful': Sultana Kamal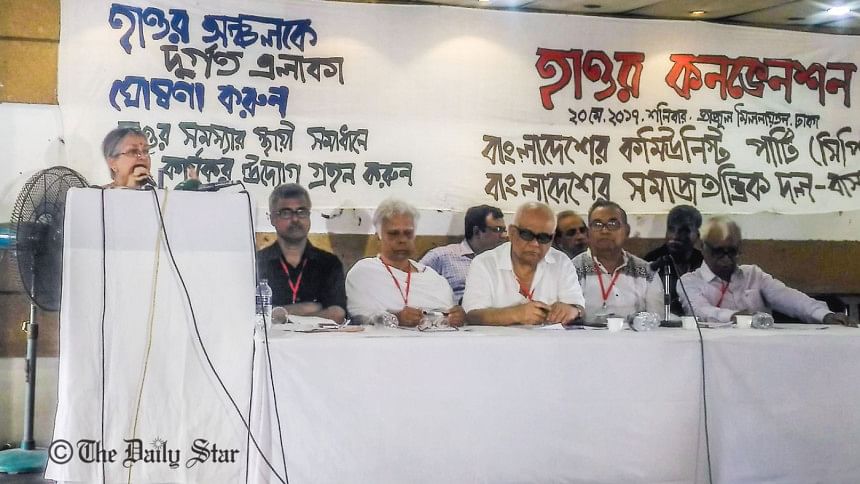 Eminent rights activist Sultana Kamal today termed the relief allocated for flash flood affected people in haor areas as "ridiculous and disgraceful".
"Providing relief of Tk 500 and 30-kilogramme (kg) rice every month is not sufficient to all to run a family," she said while speaking at a programme titled 'Haor Convention' in Dhaka.
Sultana Kamal, chairperson of Transparency International Bangladesh, also questioned the government, "How can a five-member family be fed on one kg of rice for three times a day, and how will they meet their daily needs by the money allocated?"
READ MORE: Declare Sunamganj haor belt 'disaster zone', locals demand
Communist Party of Bangladesh (CPB) and Socialist Party of Bangladesh (SPB) jointly organised the programme at Moni Singh-Farhad Trust Bhaban.
Speaking at the programme, Dhaka University's Professor Emeritus Serajul Islam Chowdhury said the problems of haor region will not be solved until the government brings solution to water sharing issues with India.
Speakers also called upon the government to increase relief allocation for flash flood affected people and declare the region as "affected zone".
READ MORE: Free fertiliser, seeds for haor farmers
Demanding immediate punishment of those involved in corruption for constructing dams, they also urged the authorities concerned to postpone lease of jalmahals (wetlands) for the next year and, ensure alternative livelihoods for the affected people.
CPB President Mujahidul Islam Selim, SPB General Secretary Khalequzzaman, Bangladesh Poribesh Andolon general secretary Dr MA Matin, Bangladesh Haor and Wetland Development Board's former director general Eng Mohammad Inamul Haque, eminent columnist and writer Syed Abul Maksud and Bangladesh Association of Software and Information Services president Mustafa Jabbar, among others, also spoke at the function.
According to a primary official estimate, over 8 lakh people in the haor belt have been affected as 6.5 lakh tonnes of Boro crops have gone under water due to flashfloods in Sunamganj, Sylhet, Moulvibazar, Habiganj, Netrakona, Kishoreganj and Brahmanbaria.