Free fertiliser, seeds for haor farmers
PM announces govt aid for flood-hit farmers for their next crop, says no chance of food crisis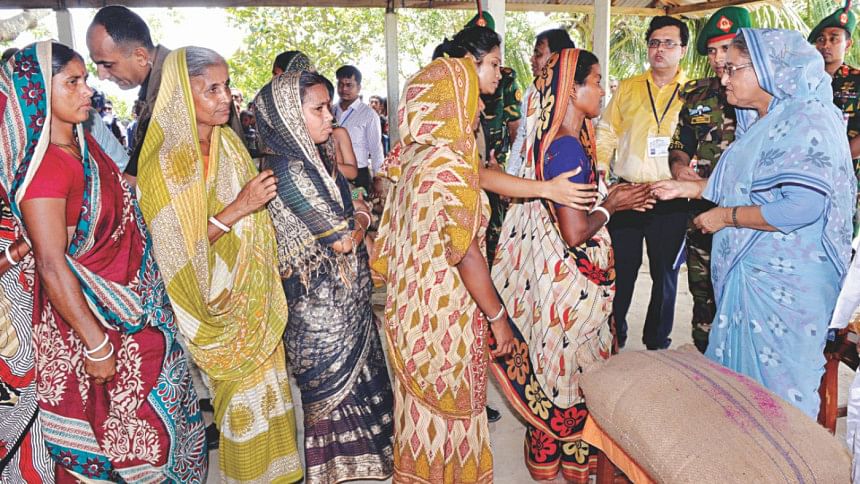 Issuing a warning that no one will be spared if any negligence is found in haor embankment construction, Prime Minister Sheikh Hasina yesterday said haor farmers would get free agricultural inputs for the next crop.
"The government is not only providing relief materials to the flood-hit people, it will also distribute all necessary agricultural inputs free of cost for their next crop," she told a public gathering in Sunamganj.
Hasina went there to see for herself the flood-affected areas where Boro crops on over two lakh hectares of land were damaged, causing a colossal loss to the livelihood, fish and livestock of farmers.
During her speech at Shaheed Ali Model High School ground in Shalla upazila, the PM said, "If there is any negligence in embankment construction, we will surely take action against the people concerned. We are very much aware of that."
She said her government would provide seeds and fertiliser and other agri-inputs which are needed for the next crop in the affected areas.
The PM also said the bank interest rate for the haor areas had been halved, and the repayment had been suspended.
Hasina said the government would appoint dealers at the union level in the haor areas to operate Open Market Sale (OMS) programme for food grains. "We will ensure food security with this system."
She asked the food minister to take immediate steps in this regard.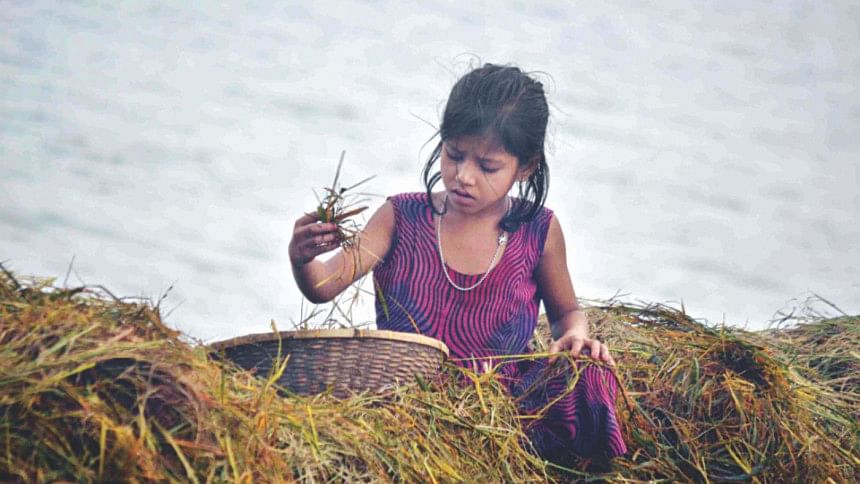 Assuring the flood-affected people of taking all necessary measures, the PM said no one would face the lack of food and shelter as the government would expand VGF (Vulnerable Group Feeding) activities to the haor areas apart from the OMS programme.
Hasina said the government had sufficient food stocks. "There is nothing to be worried about, and there will be no food crisis."
She also ordered the ministers concerned to take steps to increase navigability of the canals and rivers in the haor areas through dredging. "Rivers and haors must be saved."
The PM said steps would be taken so that money is disbursed timely to construct dams and embankments, and implement other projects in the haor areas.
About the price hike of rice and other commodities, Hasina warned against any ill-effort of increasing prices, saying that the government would not tolerate any one committing such misdeeds and causing sufferings to the public taking advantage of the flood situation.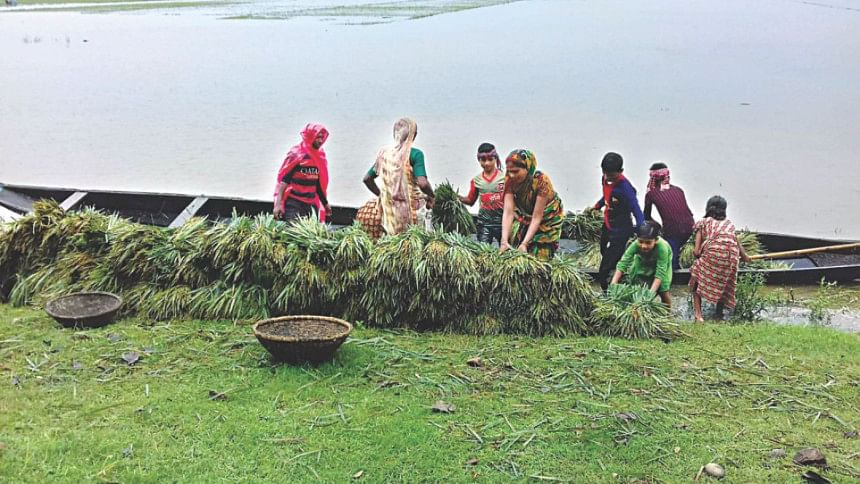 Putting emphasis on diversification of food production, the PM said the people of the haor areas should not depend only on one crop; rather they would have to focus on production of variety of items, including dal (pulses), spices, fish and other seasonal crops.
About educational institutions, she said directives had already been given to the education ministry to construct residential schools in haor and remote areas of the country so that students would not have to suffer for continuing their academic activities.
Hasina had an aerial view of the flood-hit areas from a helicopter before her landing, and visited some affected areas by a speedboat.
The PM held a meeting with senior officials of Sunamganj.
She then distributed relief materials among the flood-hit people and gave the authorities concerned necessary directives to make sure that every affected person would get the relief materials.
Agriculture Minister Matia Chowdhury, Food Minister Qamrul Islam, Water Resources Minister Anisul Islam Mahmud, State Minister for Finance MA Mannan and State Minister for Water Resources Nazrul Islam were with Hasina.
According to a primary official estimate, over 8 lakh people in the haor belt have been affected as 6.5 lakh tonnes of Boro crops have gone under water due to flashfloods, with Sunamganj being the worst-hit one. The other affected districts are Sylhet, Moulvibazar, Habiganj, Netrakona, Kishoreganj and Brahmanbaria.