Home of hope
Lost girls find care, education at Ctg shelter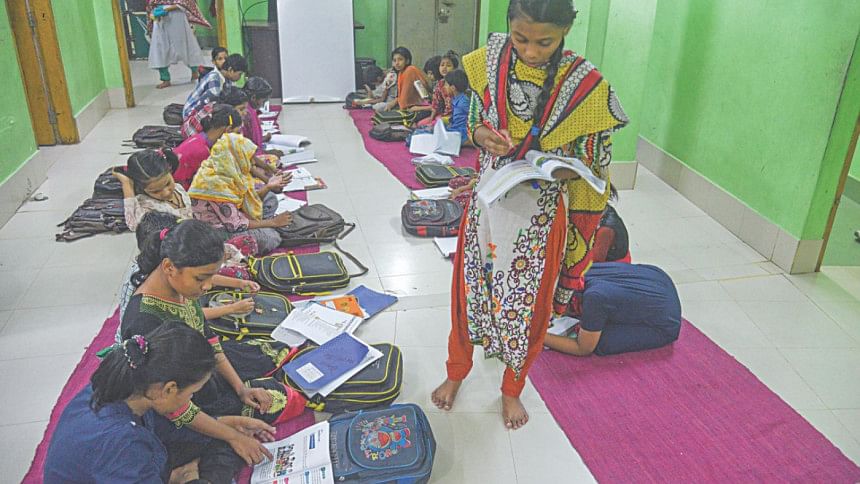 It was the year 2010. After the demise of her parents, six-year-old Nargis Akter found shelter in one of her relatives' house. Yet, 'shelter' was the least of what she had gotten. The ill-fated little girl was compelled to do laborious household work, and often faced physical abuse from those she was living with.
One fine morning, she left the house, without knowing where she would go in this world so unknown to her.
Nargis kept walking and lost her way at one point. She spoke to a shopkeeper about her situation. The shopkeeper introduced her to someone else, who took her to what has become her new shelter, an actual shelter -- a children's home named Upalabdhi.
Located at Firingi Bazar in the port city, the children's home was founded by Shaikh Ezabur Rahman, a retired general manager of Padma Oil Company.
Now a student of class seven in Al Karan Sultan Ahmed Dewan City Corporation Girls' High School, Nargis has learned to dream of a better future. She shared with The Daily Star her dreams to enlighten herself with as much knowledge as possible.
"I want to serve the people of my country, especially the underprivileged children," she said.
With a knack for dancing, Nargis competed in the national level dance competition in 2017. "We are given training on dance, music, sports and drawing as per our desire and passion."
Like Nargis, the home currently shelters a total of 60 lost girls.
Mim Akter was found alone at Chittagong Railway Station by the police in 2015. She was missing from Dhaka and somehow ended up on a train to Chittagong. Police handed her over to Upalabdhi, said Ezabur.
Mim, now a student of class three, told the Daily Star that she aspires to join the police to serve the society.
Nayema, another girl at the shelter, used to work in a house -- a job appointed to her by her mother.
With her employers inflicting torture upon her, she had no other path but out of the house. She shared her troubling story with a stranger on the road, who handed her over to the police. From there, she was sent to Upalabdhi and is now a class three student, aspiring to be a cricketer.
The home not only provides the children with shelter but also with education, healthcare facilities, leisure time, and extracurricular activities including sports. There is a library, a leisure room, a first-aid room, and a sickroom for the children.
During a visit to Upalabdhi on Tuesday afternoon, some children were playing carom; some others were playing skipping with rope.
Most of them returned from their schools a couple of hours ago, had their lunch and, as per their daily routine, was ready for their resting period.
After the end of leisure time, they all sat to study. Some went to coaching centres.
"When I was in service, I often saw street children around the railway station…I felt sorry for them and wanted to do something… I was planning to establish a centre for them where they would not only be provided with shelter but also with education, amusement, sports, healthcare etc…then my wife, daughter, and I started the centre with six lost girls in 2010," said Ezabur, who retired as GM from Padma Oil Company last year.
"I requested my friends and acquaintances to help, since I did not want to take any foreign aid," he said, adding, "In the beginning, I hadn't any positive response but the situation gradually changed.
"Now we have 30 donors for 30 children," he said, adding, "We still need at least 30 more donors for the rest of the children."
Belal Hossain, president of Apex Club of Chittagong Central, and also a patron of Upalabdhi, said they try to give assistance to the centre regularly. "We provide the centre with educational material from our club on a regular basis," he said.
Ezabur said all the children have been admitted to schools. "Six teachers are available to prepare them for their school-lessons," he said. "Six girls sat for PSC examination last year, of them 3 got GPA 5 and three others got GPA 4.83 and they were admitted to high schools."
Asked, why he was focusing on lost girls only and why not boys, he said he wanted to give shelter to both but could not due to fund crisis.
"I am giving initial priority to girls as they are more vulnerable," he said.
During registration of the home in 2012, a six member executive committee was formed in addition to 23 general members, he said.
Ezabur said they were thinking about the future of the girls and they would not let them alone after SSC. "We will support those who can get admitted into colleges as per their merit," he said, adding that they would give vocational training to the rest.