His 'peace' initiative was massacre plot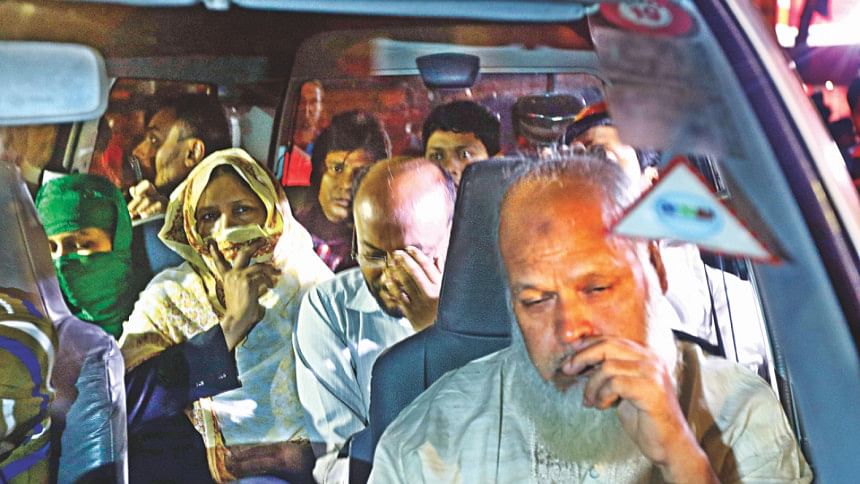 The villagers of Bausgari in Pabna's Santhia upazila were clueless about the grave dangers ahead.
On May 10, 1971, Motiur Rahman Nizami urged them to attend a meeting at Bausgari Ruposhi Primary School, and they obliged. There, Nizami announced that the Pakistan army would arrive at the village to secure "peace" in the area.
Four days later, the Pakistani force arrived there but not as peacekeepers. The villagers realised that Nizami had told a blatant lie and tricked them into a trap. But it was already too late.
What happened next was beyond their worst fears.
The troops along with their local collaborators surrounded three villages of Santhia upazila -- Bausgari, Ruposhi and Demra -- and picked up around 450 civilians. They took the captives to a large ditch and shot them dead.
The brutality of the occupation forces and their collaborators didn't end there. They raped some 30-40 women of the three villages, forcing many to flee.
Nizami, president of Jamaat's then student wing Islami Chhatra Sangha and ex-officio chief of notorious killing squad Al-Badr Bahini, was behind the pre-planned massacre.
It was one of the three charges on which Nizami was given the death penalty.
But why did Nizami target the villages of the very upazila where his own village, Monmothpur, is located?
The answer is quite obvious. The three villages were Hindu-dominated and the villagers used to shelter freedom fighters, according to investigators in the war crimes case against Nizami.
Ainul Haque, who was a teacher at Bausgari Ruposhi Primary School in 1971, said the then headmaster of the school told him on May 10 that Nizami and his men had come to form "Peace Committee".
"The headmaster introduced Nizami to me. I recognised another person, Dalal Asad, among them," he said in his testimony before the International Crimes Tribunal-1.
Talking to this newspaper, investigator Abdur Razzak Khan said Nizami's assurance that Pakistani soldiers would arrive there to secure peace was nothing but a trick to stop the villagers from leaving.
In his testimony, Jamal Uddin, a freedom fighter from Santhia upazila, said, "In the morning of May 14 [1971], the Pakistan army and local Razakar and Al-Badr men raided Rupshi, Demra and Bausgari villages under Nizami's leadership and shot 450 people dead."
They torched 200-300 houses, mainly of the Hindus, and raped women, he added.
Johurul Haque, a freedom fighter from Bausgari village, also gave an account of the massacre.
On May 14, 1971, he was awakened by the sound of gunshots at dawn. "I came out of my house. Hiding in a bush, I saw Nizami, Asad, Quader and Sattar, along with the Pakistan army and their collaborators, advancing to the village and shooting indiscriminately," he said.
"The Pakistan army, instructed by Nizami, indiscriminately fired at a crowd and killed them," Johurul told the court.
In its October 2014 verdict, the tribunal said it was a "conspiracy" hatched by Nizami to commit atrocities in those villages. "The accused [Nizami] had direct complicity…"
Apart from the three villages, Dhulauri was another target of Nizami and his men.
Around 3:30am on November 27, Nizami, his men and Pakistan army raided the house of village doctor Abdul Awal and other nearby houses at Dhulauri village on the pretext of hunting out freedom fighters.
Around 6:30am, the top Al-Badr leader, along with his men and members of Pakistan army, captured many men, women and children.
They brought the unarmed people to Dhulauri School field and shot them indiscriminately, leaving around 30 of them dead.
As the Pakistan army left the scene, Nizami and his accomplices caught 22 villagers who had survived the shooting. The villagers were then taken to the bank of the Ichhamati river and bayoneted to death.
Shahjahan Ali, a prosecution witness from the village, testified how local Razakars attempted to kill him by slitting his throat in Nizami's presence.
"Eight freedom fighters were captured. I was beaten brutally. On Motiur Rahman Nizami's instructions, Sattar Razakar took four of us to the bank of the river," said Shahjahan.
"Nizami was present there. They cut my throat with a knife," the witness said, adding that he didn't remember anything else.
Nizami also got death sentence for the mass killing at the village.