Rohingya Repatriation: Hasina calls for int'l support
One-to-one meeting with Modi features security, politics
Hasina hopes Bangladesh, India can settle any  unresolved issues

Modi pledges support for Bangladesh's effort to become developed nation by 2041

Teesta likely to be discussed at PM's meeting with Mamata today
Prime Minister Sheikh Hasina yesterday called for international pressure, including from India, on Myanmar to take back hundreds of thousands of Rohingya who fled to Bangladesh to escape an army clampdown.
"We need your cooperation to put pressure on Myanmar so that the Rohingya refugees can return home," Hasina said after jointly inaugurating the Bangladesh Bhavan with her Indian counterpart Narendra Modi at the Visva Bharati University in Shantiniketan, West Bangle.
Later in the day, Hasina held a one-to-one meeting with Modi where they discussed various issues, including security and politics, reports our New Delhi correspondent. 
"Although I was not present at the meeting, we can say that bilateral issues were discussed. Issues related to the security and politics of the region were also discussed," Bangladesh's State Minister for Foreign Affairs Shahriar Alam told reporters.
Bangladesh and India are on the "same page" with regard to the return of the Rohingya refugees to Myanmar, he said, referring to Hasina's remarks about early repatriation of the refugees.
"Bangladesh is grateful to India for especially the assurances made by Minister of External Affairs Sushma Swaraj when she visited Myanmar recently. Swaraj had expressed India's views regarding quick, sustainable and dignified return of the Rohingya refugees," the state minister said.
On the issue of Teesta water-sharing, he said, "We have full faith in Prime Minister Narendra Modi ... A track II dialogue [backchannel diplomacy] is already on regarding this issue."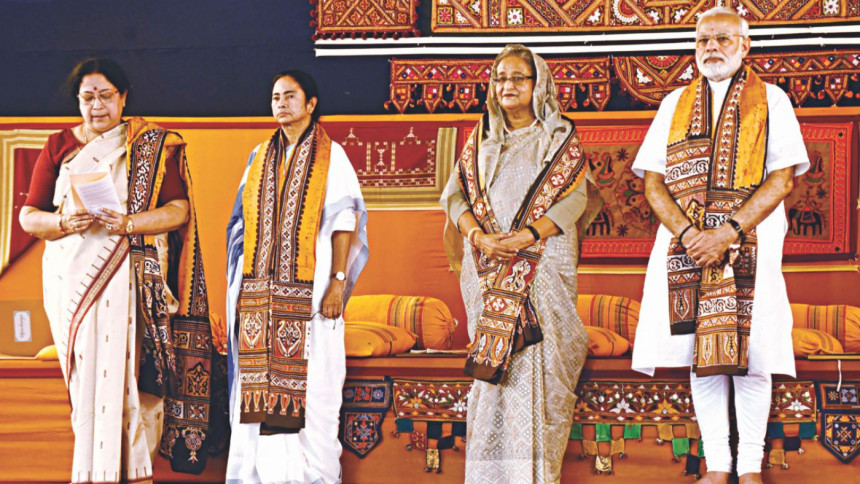 ROHINGYA REPATRIATION
"There are 11 lakh Rohingya refugees in Bangladesh. We have given them shelter due to humanitarian consideration, we want them to go back to their land…. We appeal to all to keep up pressure on the government of Myanmar to take them back," Hindustan Times quoted Hasina as telling the inauguration.
"When the question of giving them shelter in Bangladesh was raised, I said if we could feed 16 crore people, we could also offer food to a few lakhs. If need be, we would share our food," said Hasina, who turned emotional during the speech.
Accommodating Rohingya refugees is an issue on which the establishments in Delhi and Dhaka differ. Settlement of refugees also divides the ruling party of West Bengal and the establishment in Delhi.
While the Modi government wants to deport all Rohingya refugees, who are considered as the most persecuted ethnic minority in the world, the West Bengal chief minister Mamata Banerjee has expressed support for them last year, according to the Hindustan Times report.
Hasina also hinted at the unresolved issues with Delhi, including the long-pending Teesta water-sharing deal, although she did name any during the inauguration.
"Neighbours do have problems, but we can resolve them through discussions. I don't want to bring it up and spoil this excellent programme," said Hasina, who is on a two-day visit there on Modi's invitation.
Modi along with Mamata Banerjee, who has been steadfastly opposing the Teesta treaty for the last eight years, was on the dais as Hasina spoke.
In their speech, neither of the Indian leaders made any specific comment on the Rohingya repatriation or any of the unresolved issues between the two countries.
Hasina and Mamata are expected to meet in Kolkata today when the Teesta issue is likely to figure.
The Bangladesh PM referred to the resolution in June 2015 of the land boundary problem that had festered between Bangladesh and India for over four decades in June 2015 during Modi's visit to Dhaka and completion of exchange of adversely-held enclaves by 2016, reports our New Delhi correspondent.
She said the Bangladesh Bhavan was the symbol of unity between the two Bengals and recalled how her father Bangabandhu Sheikh Mujibur Rahman was inspired and influenced by Rabindranath Tagore, who founded Visva Bharati University.  
Speaking after Hasina, Modi said India would give full support to Bangladesh's effort to become a developed country by 2041 and pointed out how New Delhi has given eight billion dollars line of credit to support Dhaka's development agenda.
The way India-Bangladesh relations have moved in the last few years is an example for others in the region, Modi said.   
Modi promised to increase electricity supply from 600MW at present to 1,100MW by this year-end.
Earlier, speaking at the Visva Bharati convocation, Mamata Banerjee said India-Bangladesh relations would always remain strong and the Bangladesh Bhavan would become a "pilgrimage centre."
Mamata said that India-Bangladesh relations are continuous and firm since 1971 like the Padma, Meghna and Jamuna.
"Huge water flowed in the past and will also flow in future, but I believe that the relations between the two countries will improve further," she said.
The chief minister said her government set up a university, an airport, a chair and a holy place after the name of Kazi Nazrul Islam, Bangladesh's national poet. "We also want to establish Bangabandhu Bhaban," she said.
Hasina and Modi jointly unveiled the plaque of Bangladesh Bhavan, a two-storey building constructed at a cost of Rs 25 crore.
Bangladesh will provide a one-time fund equivalent to Rs 10 core for the maintenance of the building and for conducting its future activities, reports UNB.
Hasina's sister Sheikh Rehana and a number of dignitaries from both counties including litterateurs, academics, poets, singers and artistes were present.
The PM recalled India's support during the 1971 war. "Many Indian soldiers sacrificed their lives in the Liberation War of Bangladesh. People of Bangladesh would never forget those supreme sacrifices."
She called for a full utilisation of the mutual cooperation between Bangladesh and India.
"The 'far beyond strategic relationship' between Bangladesh and India is often considered as a 'model of bilateral relation' for the rest of the world. So, we can firmly declare that both the countries will continue this trend of cooperation in the future," she said.