PM to hold talks with Modi during India visit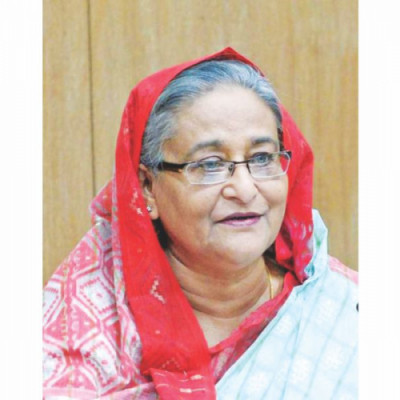 Prime Minister Sheikh Hasina will hold a bilateral meeting with her Indian counterpart Narendra Modi during her two-day visit to West Bengal on May 25-26.
She will inaugurate the Bangladesh Bhaban at Visva-Bharati in Santiniketan and receive an honorary Doctor of Literature degree from Kazi Nazrul University in Asansol. The PM is going to West Bengal at the invitation of Modi.
Foreign Minister AH Mahmood Ali said relations between Bangladesh and India were now stronger than any time in the past.
In addition, it is expected that there would be a meeting between Hasina and West Bengal Chief Minister Mamata Banerjee, the minister said.
Speaking at a press briefing at the foreign ministry yesterday, the foreign minister ruled out all speculation of Teesta deal and made it clear that there was no progress regarding the Teesta river water sharing agreement.
Responding to a query, he told journalists that the Teesta deal would be signed in an appropriate time and the purpose of the upcoming visit of the prime minister was different.
"You will know about it in due time … I have nothing to say [about Teesta deal] more than this," he said. However, he hoped that the visit would further strengthen the relations between the two countries.
On the question whether Hasina will apprise her Indian counterpart of the issues related to ongoing political situation and next general elections in Bangladesh, Ali said, "Sure, if Narendra Modi asks her about it, why not? We are friendly neighbours. We are two friends. Naturally [this can be discussed], absolutely."
He said Hasina would highlight Bangladesh's business-friendly environment and scopes for expanding trade relations between the two states during a meeting with West Bengal business leaders. She would also encourage them to invest more in Bangladesh.
Foreign Minister Ali, Education Minister Nurul Islam Nahid, Cultural Affairs Minister Asaduzzaman Noor and PM's four advisers on political, economic, international, and energy affairs will accompany her.
As per the programme schedule, Hasina will leave for West Bengal tomorrow morning. She will land at Netaji Subhas Chandra Bose International Airport in Kolkata. Modi will also arrive at the airport almost at the same time.
The two leaders then will join the convocation of Visva-Bharati in Santiniketan. Later, they will open the Bangladesh Bhaban. West Bengal Chief Minister Mamata will also be there.
Hasina and Modi will have a formal meeting at the Bangladesh Bhaban, which houses a museum showcasing Rabindranath Tagore's association with Bangladesh, the Liberation War of Bangladesh and Indo-Bangla relations. The building has been made at a cost of Rs 25 crore and the Bangladesh government has provided the fund.
There will be a fund of Rs 10 crore for maintaining and running overall activities of the building. Each year, 10 Bangladeshi students will be given fellowship for M Phil and PhD from the interest to be earned from the Bangladesh government provided fund. In this regard, a memorandum of understanding will be signed with Visva-Bharati with the Secondary and Higher Secondary Division of the education ministry of Bangladesh.
After attending the programme, Modi will depart for New Delhi and Hasina will return to Kolkata. She will visit Netaji Bhawan in Kolkata, the ancestral home of Netaji Subhas Chandra Bose, a great patriot of the freedom movement in India.
On Saturday, Hasina will travel to Asansol to join the convocation of Kazi Nazrul University which will bestow an honorary Doctor of Literature degree on her.  
Besides, veteran Indian actress Sharmila Tagore will also be honoured with D Litt, while renowned physicist SM Yusuf of Bhabha Atomic Research Centre will be conferred an honorary D Sc degree at the programme. 
Mamata will be present at the convocation as the chief guest while West Bengal Governor Keshari Nath Tripathi will address the ceremony as the chancellor.
From there, Hasina will go to Jorasanko Thakur Bari, Rabindranath Tagore's ancestral home, which has been turned into a museum dedicated to the life and works of the Nobel laureate. She will return home on Saturday night.