HELLO MAYOR... did you see this ?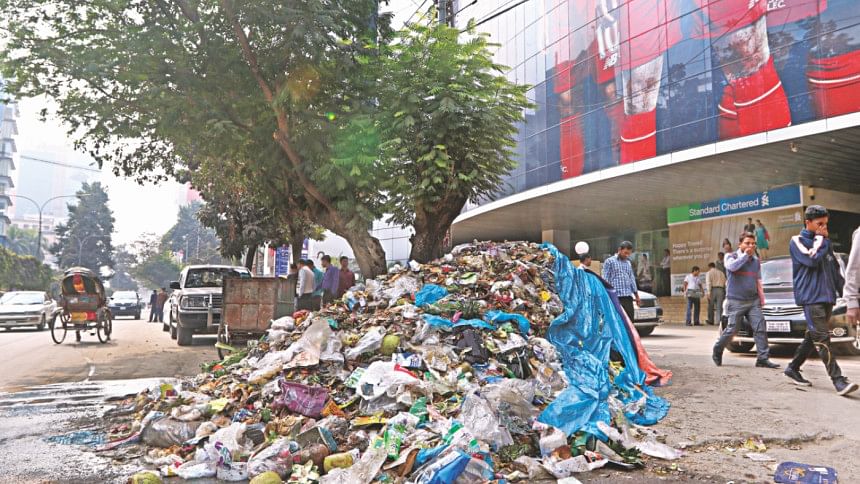 In a bizarre incident, a garbage carrying truck of Dhaka North City Corporation dumped a large chunk of trash in front of a multinational bank's headquarters in the capital's Gulshan early yesterday.
The authorities of Standard Chartered Bank (SCB) have expressed utter surprise at the noxious incident as they remain in the dark as to what triggered this.
Bitopi Das Chowdhury, country head of corporate affairs of SCB, said, "We're informed late last night that a truckload of garbage was dumped in front of our head office in Gulshan."
Visiting the SCB headquarters near Gulshan-1 intersection yesterday morning, The Daily Star found a huge pile of waste right in front of the office, sending a strong stench to the whole area.
Pedestrians using the walkway near the office were seen covering their nose as they walked past the spot.
Talking to The Daily Star yesterday, Bitopi said, "We contacted Dhaka North City Corporation today during office hours regarding removal of the garbage. They have helped by sending trucks to remove the garbage. The removal process has been in progress since 4pm today."
She said the bank's authorities were thankful to the city corporation for sending workers to clean up the garbage.
She, however, said their clients had to suffer due to the stench and repulsive sight of the garbage.
Contacted, Bipon Kumar Saha, chief waste management officer of DNCC, said they did not know who had dumped it but they would clean it up shortly.
He said the DNCC would take strict action if they found out the persons responsible for this.