Bookstores in conversation at Gulshan Society Book Fair 2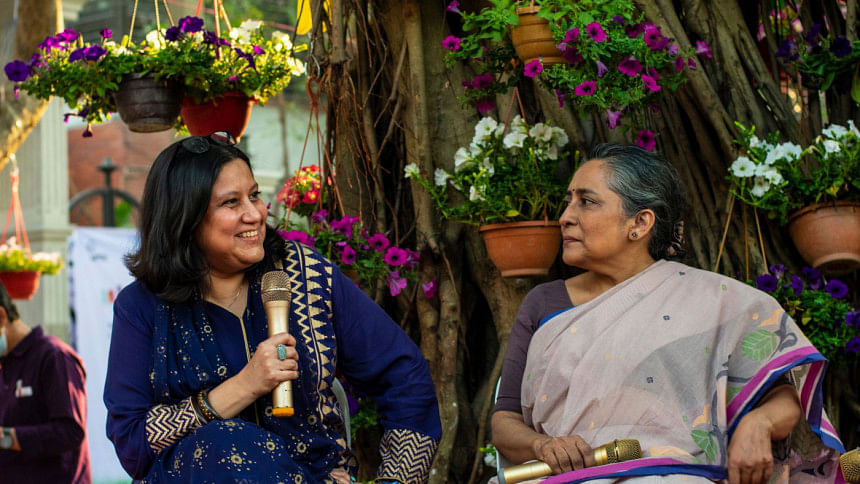 "Curating books in Bangladesh is especially rich because we have two languages and our own publishing world. A proper bookstore wants to cover everyone", Amina Rahman, Managing Director of Bookworm Bangladesh, said at a discussion session moderated by Daily Star Books at the Gulshan Society Book Fair 2. 
Held on March 4-5 at the Gulshan Lake Park in its second iteration since 2019, the fair included stalls by several bookstores and publishers including Bookworm Bangladesh, Bengal Boi, University Press Limited, Baatighar, ULAB Press, Bishwa Shahittya Kendro, and more. 
Moderated by Daily Star Books editor Sarah Anjum Bari, the DS Books session put bookstores Bengal Boi and Bookworm Bangladesh in conversation on Friday, March 4, under a sprawling Banyan tree bedecked with brightly coloured Bangla alphabets. The session, aired live on Daily Star Books' Facebook page, brought up conversations on what role bookstores play in society, how it has changed since a time when nearly every household in Bangladesh possessed a bookshelf, and what it takes to run a bookstore here these days. 
"Readers—and most of these are Bangladeshis—want to know more about this country", Luva Nahid Chowdhury, Director General of Bengal Foundation, said during the session. "Storytelling and listening to stories has disappeared as a culture. There's no one to tell us stories these days and often we aren't able to create them ourselves. Books play a very important role there", she said. 
Alongside highlighting the contribution of events like Ekushey Boi Mela and Dhaka Lit Fest in exposing local bookstores to the world, Amina Rahman also brought up the threats posed by photocopied books at a time when printing has become so much easier than before. These "local copies" are cheaper, Rahman agrees, but they lack the opportunity for personal interaction with authors and artists that official book launches and events offer.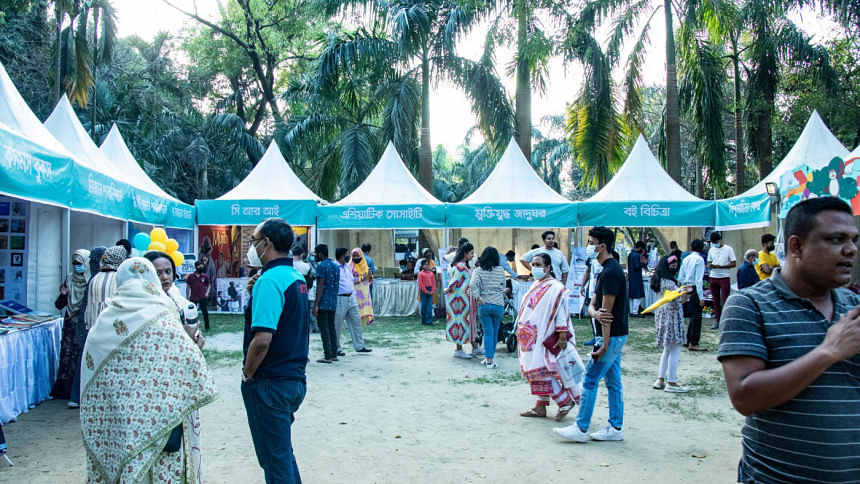 In response, Luva Nahid Chowdhury suggested freer donation or exchange of personal collections of old books, shared with bookstores, libraries, and literary events, so that those who cannot afford to buy them can still get access. 
"Illustrations and cover art on books published here have always been beautiful, but not a lot of care was put into the get up—a book's spine, binding, loose cover, etc.", she pointed out. "There is a joy to be found in holding physical copies of books now. However, how much thought is put into the content of those books is a matter of discussion."
Day one of the Gulshan Book Fair included storytelling sessions by HerStory Foundation, English and Creative Writing students of the Department of English and Humanities at ULAB, and Church Bells and Darjeeling Tea author Zeena Chowdhury, followed by live music.
Day two of the event saw readings by the authors of the anthology Golden: Bangladesh at 50 (UPL, 2021) and by HerStory Foundation, standup comedy by Naveed Mahbub, and a discussion session on Khaled Masood led by The Business Standard executive editor Sharier Khan. Researcher and academic Sudeep Chakavarti, visiting professor at ULAB and author of Plassey: The Battle that Changed the Course of Indian History (2020) and the more recent The Eastern Gate: War and Peace in Nagaland, Manipur and India's Far East (2022), was in conversation with Dhaka Tribune publisher Zafar Sobhan.