Heatwave sears Southeast Asia
No sign of rain as yet in Bangladesh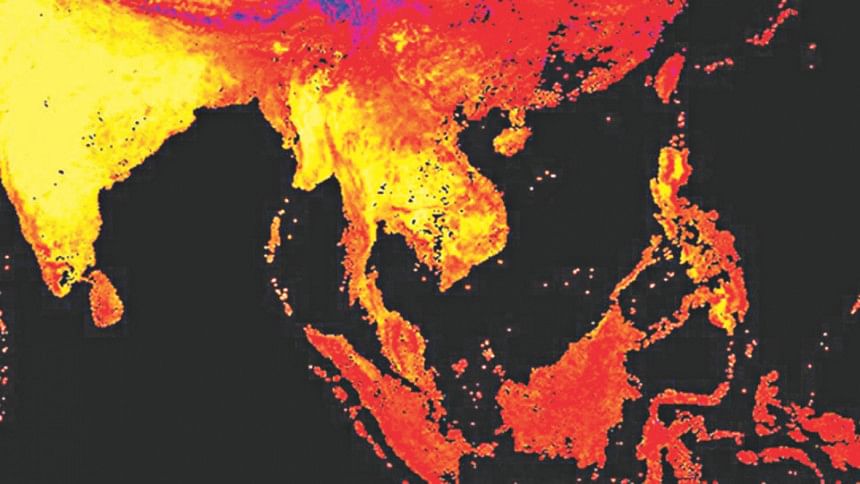 Southeast Asia has been roasting in an extended heatwave through much of April with temperatures reaching unprecedented levels, allowing at least three countries to set new all-time national heat records and several others to come very close, reports Weather.com.
In Bangladesh, the ongoing spell of heatwave is one of the longest (24 days at a stretch) in 30 years.
The highest temperature so far this year was recorded 41.2 degree Celsius in Rajshahi. It is the highest since April 15, 1964, when it was recorded 44.5 degree Celsius in Jessore, said Arif Hossain of Dhaka Met office. 
In Thailand, the heatwave is considered the worst since reliable records have been kept in that country.
"As of now we can say we've broken the record for the highest temperatures over the longest duration in 65 years -- and the season isn't over yet," Surapong Sarapa, head of the Thai Meteorological Department's weather forecast division, told the Associated Press. Thailand began keeping national weather records after 1950.
On April 28, Mae Hong Son recorded the hottest temperature on record in Thailand topping out at 112.3 degrees Fahrenheit (44.6 degrees Celsius), according to Christopher Burt, a weather historian with wunderground.com. The previous record was held by Uttaradit which reached 112.1 degrees Fahrenheit (44.5 degrees Celcius) on April 27, 1960.
Burt added that at least 50 towns and cities in Thailand had recorded all-time record highs for their respective locations as of April 19.
The heatwave has also fueled a new record for energy consumption and prompted health warnings on everything from foodborne illness to drowning, both of which rise every April when Thailand's hottest month coincides with school summer break.
Several countries surrounding Thailand have also dealt with the searing temperatures.
Cambodia and Laos set new all-time record highs for any day of the year during April, Burt reported. In addition, Malaysia, Singapore, and Vietnam have all come very close to setting new national heat records.
The new all-time record high for Cambodia was set on April 15 when the mercury soared to 108.7 degrees Fahrenheit (42.6 degrees Celcius) in Preah Vihea, beating the previous record set just two days early in Bantey Ampil.
Burt reported that prior to those unprecedented temperatures, the all-time record high in Cambodia was 106.5 degrees Fahrenheit (41.4 degrees Celcius) in 1960.
Southeast Asia typically sees warm and dry conditions during El Niño, which is consistent with the extreme heat they've seen. The current El Niño is now fizzling and may transition to La Niña later this year.
In Dhaka, the highest temperature was 39 degree, Met office said.
Some rain is expected in the first week of May in some places in Dhaka, Rangpur, Sylhet and Chittagong and later on in other parts of the country.
(Information from the Associated Press was used in this report.)