He 'acted alone'
'Self-radicalised' NY blast suspect charged with supporting terror act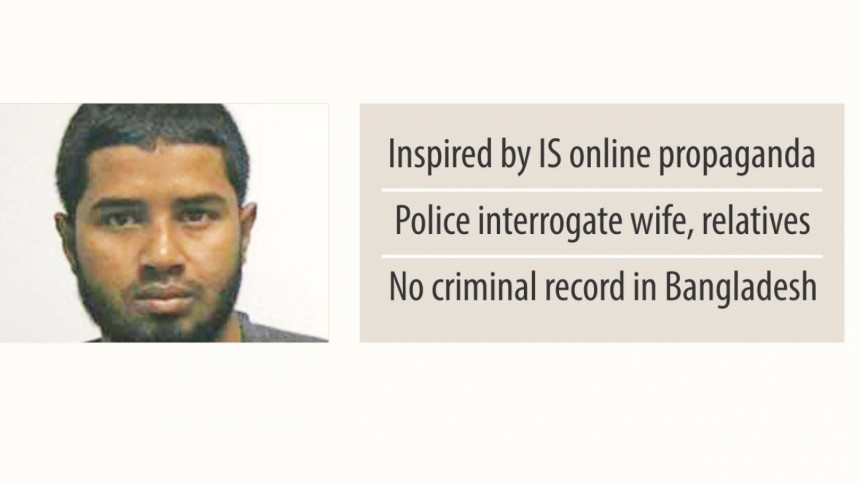 The suspect in Monday's New York subway blast looked at Islamic State propaganda online but is not known to have any direct contact with the militants and probably acted alone, law enforcers in the US found.  
Officials were exploring whether Akayed Ullah, the alleged bomber, had been on authorities' radar, but there was no indication yet that he was, said New York Governor Andrew Cuomo, calling the suspect a "lone wolf".
Police in Bangladesh too found no criminal record of the 27-year-old.
"So far, his name is not on our wide-range list of radicalised persons or members of terror groups, both from Bangladesh and outside," senior counterterrorism officer Sanwar Hossain told AFP.
The US police say the immigrant from Bangladesh set off a crude bomb strapped to his body in a crowded New York subway passage on Monday but the device failed to detonate properly, leaving him the only one seriously harmed.
Akayed survived with burns and lacerations and was taken to hospital in police custody. Three bystanders sustained minor injuries.
He told police investigators he wanted to avenge US airstrikes on the Islamic State group and was also inspired by Christmas terror plots in Europe, media reports say.
US investigators believe he was self-radicalised after entering the United States, most likely by watching militant propaganda online. They were unaware of any specific militant video that might have led him to produce his faulty explosive device.
Several officials familiar with the investigation told Reuters there was no information indicating Akayed was previously known to any US spy or law enforcement agency for any connection to militant groups. But that does not rule out the possibility some connection could be found.
'TRUMP YOU FAILED'
The accused earlier in a Facebook post wrote, "Trump you failed to protect your nation," according to a criminal complaint.
In an interview with investigators, he admitted that he built and detonated the device and said he was inspired to do so by IS, reports CNN.
"I did it for the Islamic State," he told investigators, according to the federal complaint.
Officials also say Akayed was a limousine driver who reportedly learned to build a bomb on the internet at his Brooklyn apartment in New York.
From March 2012 through March 2015, he held a license to drive a limousine or black cab as an independent contractor, the New York City Taxi and Limousine Commission said in a statement.
He came to the US from Bangladesh in 2011 on a visa available to certain relatives of US citizens, writes The Associated Press.
According to his family sources, his father Sanaullah settled in Dhaka after leaving his house in Musapur union under Sandwip upazila about 30 years ago.
Before going to the US, Akayed had been living with his family in the city's Hazaribagh.
Born and brought up in Dhaka, he completed his secondary school from Kakoli High School and College on Dhanmondi Road 15 and higher secondary school from Rifles Public School and College. He was enrolled on graduate programme at Dhaka City College but could not complete it.
"He used to stay inside an apartment in Jhigatola when he visited Bangladesh last time to meet his wife and newborn baby," Abdul Ahad, an uncle of Akayed, told The Daily Star. "During his stay, he used to go out to offer prayers at a nearby mosque."
Ahad, who also lives in Jhigatola, said his nephew came to Bangladesh on September 8 and left for New York on October 22. "He mostly stayed with his wife and six-month-old baby boy. I found him calm, quiet and rarely socialising."
Akayed got married when he visited Bangladesh two years ago and stayed for about three months.
"He used to pray regularly in mosque. He sometimes invited me to pray with him," said Mofazzal, caretaker of Akayed's father-in-law's Jhiigatola house where he stayed during the last visit.
Ahad, Akayed's wife and her parents were interrogated at the office of Counter Terrorism and Transnational Crime (CTTC) unit of Dhaka Metropolitan Police yesterday. They were taken there at about 3:15pm.
Police dropped them at their houses around 9:15pm, officials said. 
Mohammad Saiful Islam, additional deputy commissioner of the unit, said they talked to them to know details about Akayed and whether they saw anything wrong with him.
The police in Chittagong also took three of his relatives into their custody for questioning. They, however, could give little information about him as his family left Sandwip a long time ago.
After quizzing, police released Akayed's uncle Borhan Ullah Talukdar, his cousin Emdad Ullah alias Sohrab and maternal uncle Joynul Abedin, reported The Daily Star's staff correspondent in Chittagong.
One neighbour in the Brooklyn neighborhood of Windsor Terrace said she had not seen Akayed in months but described his home as quiet and observant in Islamic customs. She saw no evidence of extremism.
"They're really nice people. This is shocking," said the neighbour, Arlene Jograj, a teacher who had greeted Ullah in passing.
"We all know each other. We have block parties. I've been over there for dinner parties after Ramadan. We're a really tight-knit street," she said.
Meanwhile, New York officials yesterday said they charged the suspect with terrorism, accusing him of setting off a pipe bomb a day earlier in a crowded Manhattan commuter hub.
Akayed was charged with criminal possession of a weapon, supporting an act of terrorism, and making a terroristic threat under New York state law, the New York Police Department said.
He faces five federal terrorism-related charges and three state terrorism-related charges, according to court documents.
The NYPD and the Federal Bureau of Investigation were conducting the investigation in conjunction with other agencies through the Joint Terrorism Task Force, and were asking the public for any information about the suspect.
New York Mayor Bill de Blasio called it an attempted terrorist attack, and US officials said it appeared to be a rare if not unprecedented attempt at suicide bombing on US soil.
'THEY'RE DISGRUNTLED'
Governor Cuomo called the suspect a "lone wolf," similar to the suspect in the most recent attack in New York, when an Uzbek immigrant driving a rented truck ran over people on a bicycle path on October 31, killing eight.
Each acted alone, inspired by jihadist groups such as Islamic State, Cuomo said.
"Both of them went on the web, downloaded information," Cuomo said of the two suspects, adding that Ullah learned to make a bomb online.
"They're not people who come from overseas. They live here. They're disgruntled," said Cuomo, who went to the scene of the crime where he met with investigators.
Ullah was influenced by violent Islamist extremists and was "angry," Cuomo said. This could have been for any number of reasons, whether because of US policy abroad or his lot in life at home, he said.
New York police shut down an entire block of row houses in Windsor Terrace, deploying a large show of force with at least one helicopter flying overhead. It was not clear if the neighbourhood was Ullah's most recent address.
Neighbours called it a diverse, family-oriented neighbourhood of longstanding white families of Italian and Polish descent with more recent Chinese, Indian and Bangladeshi arrivals
"This is a great neighbourhood. It's very family oriented, very safe," Jorgraj said. "This doesn't change my opinion of the neighbourhood at all. This is just the state of the world we live in now."