A haven for shipbuilders
Shipbuilding thrives in deltaic Nesarabad upazila of Pirojpur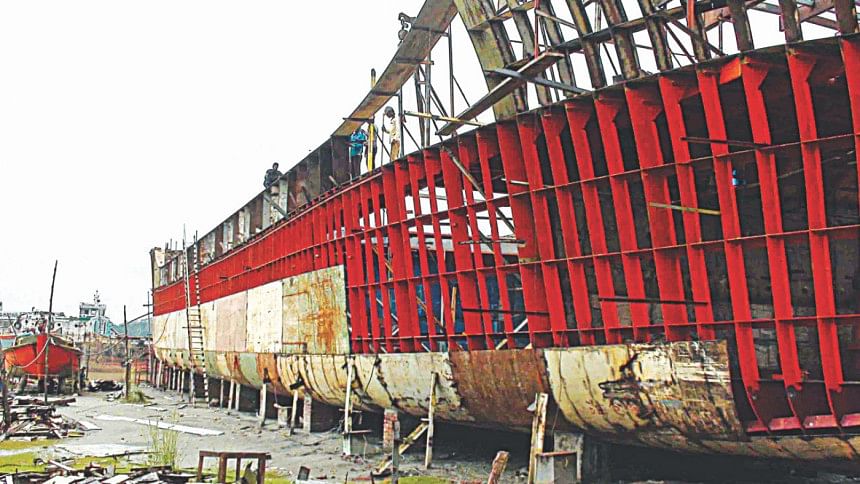 A place of encircling rivers and canals, Pirojpur's Nesarabad upazila is nestled along the banks of the Sandha River. It's a deltaic landscape that has proven a natural haven for shipbuilders. Every day, at an ever-growing number of shipyards, Nesarabad bustles with activity as new ships, small and large, are brought to life.
"In villages from Shohagdal to Sutiakathi, right across the Nesarabad area there are at least 25 shipyards," says Md Salek, a shipbuilding businessman with around 30 years experience. "Shipbuilding has been an industry here for a long time but in the last five years or so it has really flourished."
"There used to be a handful of dockyards building small vessels," says local shipyard owner Md Mohiuddin, "Now large ships are also constructed here."
Around 10 types of vessels, from iron trawlers to cargo boats, are currently built there, varying in length from 30 to 250 feet. Aside from a rich endowment of navigable waterways, Nesarabad shipbuilders also benefit from favourable labour costs.
"Labour is cheaper here than in other parts of the country," says shipyard employee Md Abul Kalam. "It's a factor that has helped attract more than 100 businesspeople to choose this area as their base."
"We earn Tk 40 per hour," says Raihan Sardar, a worker at the same shipyard. "Around 3,000 workers are employed in the Nesarabad shipbuilding industry."
To construct an average ship, five categories of labourers are involved, including welders, grinding and fitting specialists and painters. It takes an average of 10 months for a new vessel to be complete, with older ships also repaired and refurbished at the dockyards.
"I have brought my vessel to Nesarabad for repairs," says Sheikh Sagar Ahmed from Gopalganj, "Labour and other costs are more reasonable in this area."
"Customers are drawn to this upazila from across the district, from Barisal, Barguna and Patuakhali, even from Dhaka," notes boatbuilding entrepreneur Abdur Rashid. "Costs are lower here."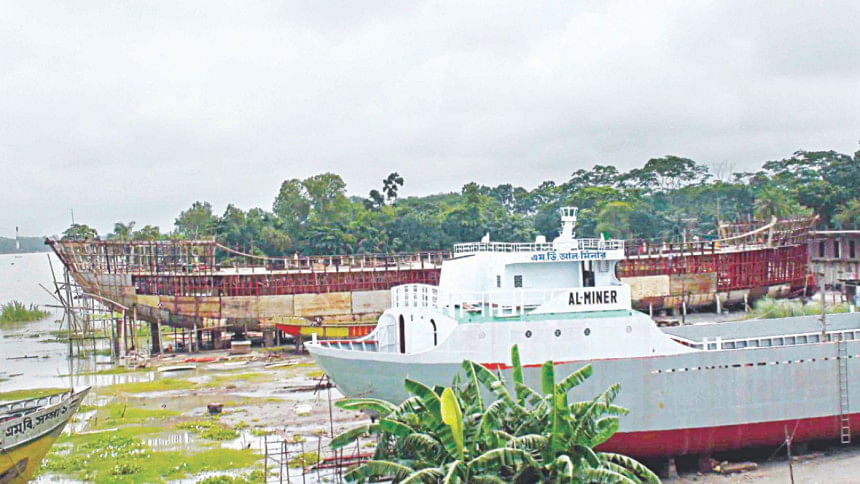 Construction contractor Masum Billah says his business is based on orders for boats. "Ship owners contract repairs and new vessels with us in advance," he says. "We will hire some dockyards on the Sandha River's bank or an adjacent canal in order to have the work completed. Depending on the vessel's size, the customer will have to pay up to Tk 500 per day in rent for dockyard space."
Yet despite Nesarabad's flourishing trade, there are no certified engineers working at the riverfront. "We work from experience," says one engine fitter, Md Shamsul Haque. "I have been doing this for 30 years. I don't have any formal training on shipbuilding."
Having been established in an ad hoc fashion, most of the area's shipyards are not well equipped. Some shipbuilder businessmen wish that the government would invest in key facilities to encourage Nesarabad's shipbuilding industry to flourish further.