Battling to bear high living cost
People of low and fixed income hit hard by soaring prices of essentials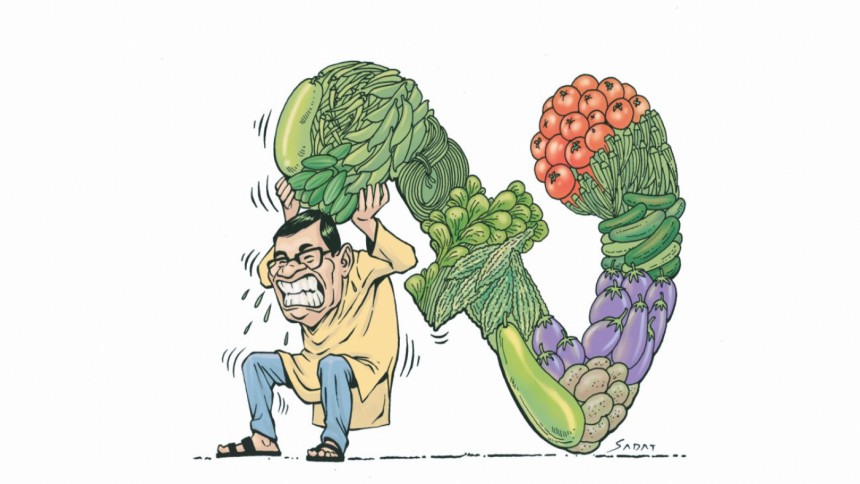 Over the last few months, Rupali Akter, the breadwinner of a five-member family in Savar's industrial belt, had to buy some of the essentials on credit from nearby groceries. 
With a monthly income of Tk 10,000 including overtime, the sewing operator at a garment factory is unable to pay for all the products she buys, as prices of essentials -- from rice to vegetables -- has been on the rise.
"I used to buy a 50-kg sack of rice at a time to meet the monthly need of my family. Now, I can afford to buy only 10 to 20 kg because of exorbitant prices of the staple," she told this correspondent.
Rupali said she bought rice for Tk 35-40 a kg early this year, but now the same quantity of rice costs Tk 50.
Moreover, soaring prices of vegetables have added to her financial woes.
"I have to buy less than what my family needs," said Rupali, one of the nearly 40 lakh workers in the apparel industry, the country's biggest export earner.
She pointed out that the price of all vegetables is now above Tk 50 a kg. But early this year, the same vegetable could be bought for Tk 20-30 a kg.
Rice prices reached a record high last month in the wake of crop losses due to recurrent floods, dwindling public stock and slow release of rice and paddy by a section of unscrupulous millers and wholesalers.
The prices, however, came down slightly in the last two weeks. Yet, the retail price of coarse rice, consumed by the poor and low-income people, remains Tk 46-50 a kg in the capital, according to the Trading Corporation of Bangladesh.
"Survival has become tough for workers like us due to soaring prices of essentials. We want the prices to fall so that we can live a better life," said Rupali.
She is among the millions in the low and fixed-income group that has been bearing the brunt of spiralling prices of essentials and soaring costs of living.
An estimate by citizen's forum Bangladesh Sadharan Nagorik Somaj (BSNS) shows that the monthly cost of a basket of commodities of a small family has shot up by 76 percent to Tk 11,095 in October from Tk 6,255 in January this year.
"But income has not increased in keeping pace with the hike in prices," said the BSNS in a press release yesterday.
BSNS Convener Mohiuddin Ahmed said that under the present circumstances, a fresh increase in electricity tariff would push up the commodity prices further and compound the sufferings of the     people.
He demanded that the government reduce electricity prices, instead of hiking those.
Md Saiful Islam, who works at a private firm in the capital, said, "The move to increase prices of electricity is unacceptable at a time when we are paying exorbitant prices for essentials. An increase in electricity prices will further squeeze our purchasing power and lead to a decline in living standards."
Saiful said he has to spend Tk 2,800 for a 50-kg sack of rice which could be bought for Tk 1,950 in January. His monthly expenditure on foodstuffs and other essential commodities, including soap and toothpaste, has gone up by more than Tk 3,000 to Tk 15,000 now.
Out of his monthly salary of Tk 41,000, he has to pay Tk 20,000 as house rent, Tk 7,000 as tuition fees for his two children and a sister-in-law.
"Earlier, I could save a small amount every month. But I cannot save anything now," he said.
Ghulam Rahman, president of the Consumers Association of Bangladesh (CAB), said resistance from consumers is necessary to stop artificial price hike by traders.
"The government also has a lot to do. Many of its achievements will go in vain if prices remain at intolerable levels."
He also said failure in the government's inventory management is mainly responsible for the spiralling prices of rice.
"We understand that floods and blast attack have caused crop losses. The government's grain stock dwindled fast, but it could not replenish those because of negligence and incompetence. And the private sector took the driving seat."
He appreciated the government's decisions to cut import duty on rice and import the grain to curb price hike.
Rahman said public stock has to be increased to 8-10 lakh tonnes. The government has to ensure a smooth supply chain and also cold storage facilities for perishable items.
Towfiqul Islam Khan, research fellow at the Centre for Policy Dialogue said that in 2010, about 57 percent of people in the country earned less than the international minimum standard of $3.1 a day. The low-earning group spends bulk of its income on food items.
"The drastic rise in food prices would definitely affect them the most. To cope with the price hike, they have to cut expenditure on nutritious food items… Their expenditure on health and education will also be reduced."
If this trend continues, the country's overall development and attainment of Sustainable Development Goals by 2030 would likely be affected, he added.