Hajj Operators: 52 fined Tk 9 crore for irregularities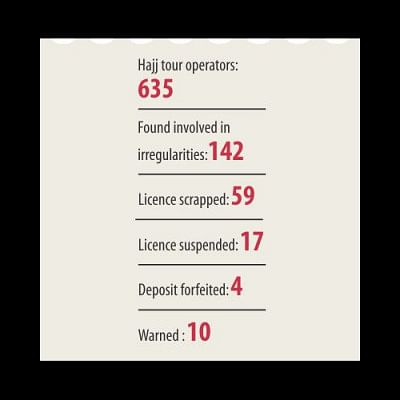 The religious affairs ministry has fined 52 hajj agents over Tk 9 crore and cancelled and suspended licences of 76 after finding irregularities in their operations last year.
The ministry also took other actions, including forfeiting deposits and issuing warnings, against 14 hajj operators, according to a document of the ministry.
The irregularities include failure to send pilgrims to Saudi Arabia despite getting their visas, inability to provide accommodation, food and other facilities in Saudi Arabia as promised and realising additional money from them.
The hajj agencies fined have to pay within March 7 and inform the ministry.
Some 635 private hajj tour operators were allowed to send around 1.27 lakh pilgrims to Saudi Arabia last year.
Many pilgrims brought allegations of various irregularities, including being charged extra, dilly-dallying in their visa processing and not ensuring their air tickets on time, against some operators.
The ministry then formed a three-member committee to investigate these allegations.
After hearing and verifying statements of both sides (victims and hajj agencies), the probe body decided to take actions against 142 hajj agencies.
Asked, Anisur Rahman, acting religious affairs secretary, told The Daily Star that the committee carried out the investigation impartially    and took actions against those responsible. 
None of the 142 hajj agencies are among the 774 hajj tour operators who have got permission this year for sending pilgrims to Saudi Arabia, he said.
The ministry on Tuesday published a list of the approved hajj agencies.
According to the hajj agreement with Saudi Arabia, around 1,27,198 pilgrims from Bangladesh can go for hajj this year. Of them, 7,198 will go on the pilgrimage under government management and 1,20,000 under private arrangement.
The hajj is likely to be on August 21, subject to the sighting of the moon.
According to the religious affairs ministry's documents, Eco Aviation and Tourism has been fined Tk 1 crore for cheating 32 pilgrims. 
"The tour operator took Tk 27.90 lakh from the 32. Their visas were also completed. But the tour operator didn't take measures to send them to Saudi Arabia. Instead, it misappropriated the money," the document says.
The probe body also advised the victims to file criminal cases against the owner of the tour agency and the two middlemen involved in taking money from them. No representative of the agency was present during the hearing of the investigation committee, the document added.
Khan Tours and Travels was fined Tk 10 lakh as they did not provide their clients services, including accommodation, food and transport, as promised.
Licence of the agency was revoked as it was punished last year for irregularities in sending pilgrims in 2016.
Hajj tour operator Nur-e-Madina was fined Tk 50 lakh for not bringing back at least five hajis.
Licence of another agency -- Madina Air International -- was cancelled and it was fined Tk 50 lakh for causing sufferings to 28 pilgrims. The agency was also asked to return the airfare, food and travel costs incurred during their stay in Saudi Arabia.
Contacted, Shahadat Hossain Taslim, secretary general of Hajj Agencies Association of Bangladesh (HAAB), said only fines or cancelling licences of hajj agencies could not refrain the hajj operators from causing sufferings to the pilgrims. 
"The government should be careful so that middlemen are not involved in the hajj operations. Middlemen are mostly responsible for the irregularities," he added.
The HAAB leader added that they would not allow any hajj agency, which was punished by the government for their misdeeds in hajj operations, to send pilgrims.  
This newspaper could not contact Eco Aviation and Tourism, Khan Tours and Travels, Nur-e-Madina and Madina Air International for their comments.
The ministry held 85 and 68 hajj tour operators responsible for irregularities in hajj operations of 2017 and 2016 and took various actions against them, sources at the ministry said.