Govt to set up camp for new arrivals
The government has decided to set up a camp in Cox's Bazar to accommodate all newly arrived Rohingyas from Myanmar and also create a database on them soon.
It has also decided to deal with the Rohingya issue from a humanitarian perspective as Bangladesh witnesses a sudden influx of Rohingyas fleeing persecution in Myanmar's Rakhine State.
The new camp will be built at Tyingkhali near the Balukhali camp, which houses around 84,000 Rohingyas who had crossed into Bangladesh following violence in  Rakhine State in October last year.
If necessary, the government would also expand the unregistered Rohingya camps in Kutupalong and Balukhali of Ukhia, and in Noyapara and Leda of Teknaf, said sources.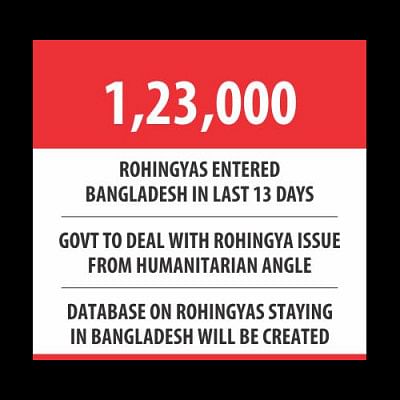 The decisions were made at an unscheduled meeting at the office of Cabinet Secretary Mohammad Shafiul Alam in the secretariat yesterday.
It was attended by secretaries to the disaster management and relief ministry, the Security Service Division of the home ministry, the land ministry, and the environment and forest ministry, and also the deputy commissioner of Cox's Bazar.
Talking to The Daily Star, Md Shah Kamal, secretary to the disaster management and relief ministry, said they primarily decided to provide shelter to the fleeing Rohingyas in Balukhali area of Ukhia.
He also said they had been asked to consider and deal with the Rohingya issue from a humanitarian angle.
Yesterday's meeting was a follow-up of Prime Minister Sheikh Hasina's meeting with some ministers and top bureaucrats at the Gono Bhaban on Monday night.
The PM asked them to handle the Rohingya issue with utmost caution and from a humanitarian perspective.
Hasina also gave directives to prepare an accurate database of the Rohingyas who have been staying in Bangladesh, said meeting sources.
At yesterday's meeting, it was decided that Ansar members would be deployed at the Rohingya camps. And if necessary, police, Rab and Border Guard Bangladesh would provide security to the Rohingyas, said sources.
Movements of the newly arrived Rohingyas would be monitored, and biometric fingerprints of unregistered Rohingyas would also be collected.
The meeting was informed that the International Organisation for Migration will build camps for Rohingyas while the World Food Programme (WFP) would provide food for them.
It was also decided that the disaster management and relief ministry would be in charge of the overall management of these activities.
Disaster Management and Relief Minister Mofazzal Hossain Chowdhury Maya and Secretary to the ministry Shah Kamal will visit the Rohingya camps tomorrow to know about the current situation there.
According to the UNHCR, an estimated 123,000 Rohingyas entered Bangladesh since violence broke out in Rakhine State on August 25.
Their arrival has raised fears of a fresh humanitarian disaster as the already crowded camps in Bangladesh -- home to over 500,000 Rohingya refugees before the latest crisis -- struggle to cope with the influx.