Govt lowers rice import duty to 10pc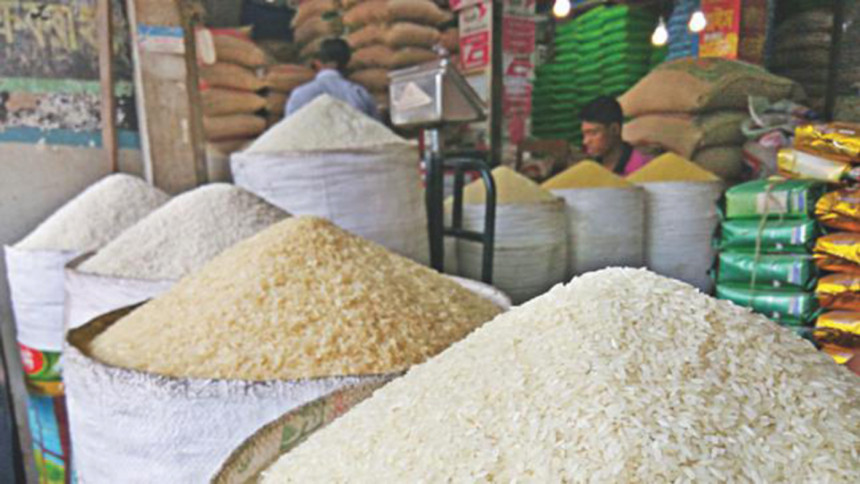 The government has decided to reduce the duty on rice imports by more than half the existing rate to encourage the private sector to import the staple and thus help stabilise the volatile rice market.
The import duty will be 10 percent, down from 28 percent, Commerce Minister Tofail Ahmed told reporters at his office yesterday afternoon. A gazette will be issued soon in this regard. 
The move comes at a time when prices of coarse rice, mostly consumed by the poor and lower middle-income people, have shot up to Tk 48 a kilogram at the retail level -- a record 47 percent increase from the market price in June last year.
Crop loss due to flashfloods in haor regions and fungi attacks in Boro fields in as many as 19 districts this year were the backdrop to the rice price going up from early April.
With the rice stock in public granaries hitting a 10-year low -- only 1.85 lakh tonnes -- the government is substantially incapable of intervening in the market situation, while importers have little interest in importing rice since with 28 percent tariff the business is less cost-effective.
Now in a rather delayed move, the government has gone for 3.5 lakh tonnes of rice import under public sector initiative. At the same time it has come up with a package of policy supports to encourage the private sector to import rice, which would in turn subdue the unusual hike in rice price.
The decision to slash the import duty came just a day after Bangladesh Bank issued a circular advising banks to allow rice importers to open LCs (letters of credit) with zero margin, meaning the importers will not have to make advance payments to import rice.
The high import duty was slapped in 2015 and 2016 in efforts to give a cushion to local growers against cheap Indian rice flooding the markets.
The government has made a move to cut the duty when the private sector rice import dropped to a four-year low with traders blaming the high duty.
Speaking at a programme in the capital, the World Bank chief economist in Bangladesh, Zahid Hossain emphasised the need for the right decision about the import duty to check the rice price hike.
Importers have already stockpiled rice across the border and are eagerly waiting for duty relief, he added.