Middlemen are the culprits
Economists, experts say farmers deprived of fair price of rice as middlemen control market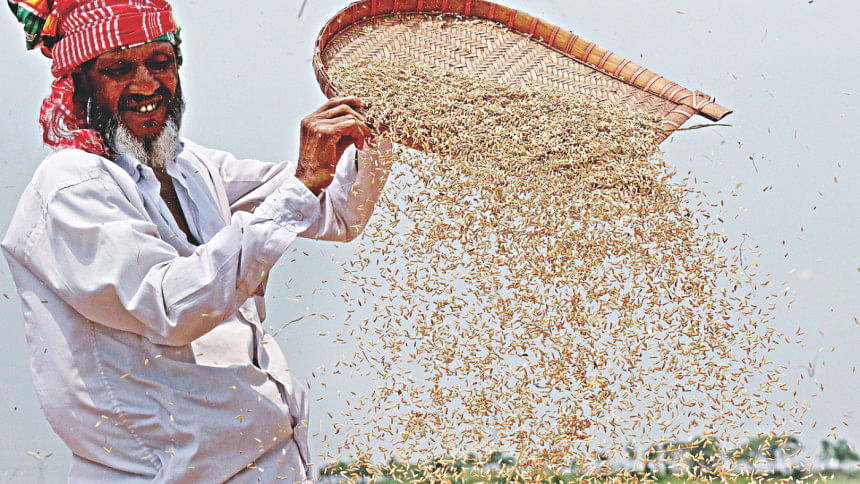 Middlemen control the rice market and they are the ones who are to blame for the fall in prices, noted economist and banker Khondkar Ibrahim Khaled said yesterday.
"A group of people favoured by the government forces farmers to sell rice to them at a low price. They make a quick buck … They are the middlemen. They are very powerful," said Ibrahim.
Speaking at a discussion in the capital, the former deputy governor of Bangladesh Bank suggested that the farmers should unite by forming cooperatives or associations to resist the middlemen.
He also questioned the food minister's role in tackling the current situation, and urged him to be more responsible.
Right to Food Bangladesh, a coalition of different non-government organisations, in association with ActionAid Bangladesh organised the discussion on prices of agricultural products at the Jatiya Press Club.
The speakers cautioned the government that the farmers might decrease paddy farming in the next major paddy cultivation seasons -- Aman and Boro.
As a result, the rice price may increase significantly next year, they opined.
To take control over the market, the speakers said the government should procure more paddy directly from the farmers and store them with the farmers and millers to overcome the shortage of granaries.
"Frustrated with the low prices, farmers will grow less paddy next year. So, it is clear that rice will be costlier next year," said Mohsin Ali, general secretary of Right to Food Bangladesh.
Qazi Kholiquzzaman Ahmad, chairman of Palli Karma-Sahayak Foundation, said if the government extended the time of its procurement programme, it would help the farmers get better prices.
"Agriculture is still the foundation of our economy. Therefore, agriculture, farmers, and farmworkers should get top priority in our development plans, which is not the case now," he added.
Md Asaduzzaman, former research director of Bangladesh Institute of Development Studies, said there was a big gap between prices of paddy and rice. "Why is there such a big gap and where does the money go?" he asked.
The situation has become this dire because the market is not regulated, added Asaduzzaman.
Anwar Faruque, former agriculture secretary, said good Boro yield was one of the key factors in Bangladesh becoming self-sufficient in food production.
The government should take immediate measures to solve the problem, he said.
Prof Sayema Haque Bidisha, of economics department at Dhaka University, and Asgar Ali Sabri, director of ActionAid Bangladesh, also spoke on the occasion.