Children in Tobacco Factories
They feel sick yet they have to work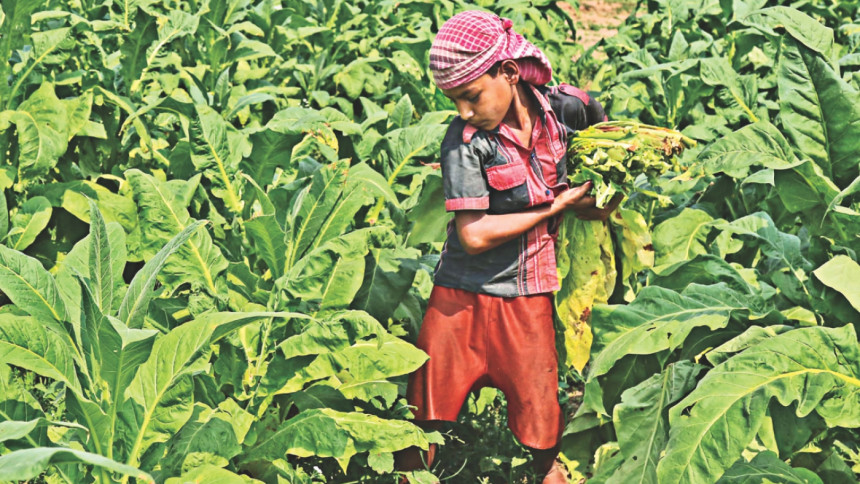 One can easily count the ribcage bones of the 11-year-old bidi (local cigarette) factory worker. Stunted Monir Islam suffers from health problems such as frequent fevers, headaches, nausea and cough but has to work due to poverty.
"I want to study and go to school every day, but I am helpless as I have to work to earn for my poor family," said Monir at his Saptibari factory.
"I studied up to class-III in a local government primary school, but I couldn't continue," he said, adding that he earns between Tk 60 to Tk 70 a day.
Monir's father, mother, and elder brother aged 14, also work in the bidi factory. The boy's father Jahedul Islam said he could not bear the educational expenses for his children due to poverty.
"My wife, our two sons and I are able to earn Tk 550 a day," he added.
Monir is not an exceptional case.
Around 3,000 children, aged between seven and 15, work in five bidi factories of two upazilas in Lalmonirhat. They make up about half the workforce in bidi factories there, said Abdul Goni, manager of a bidi factory in Lalmonirhat's Aditmari upazila.
And they suffer from similar health issues.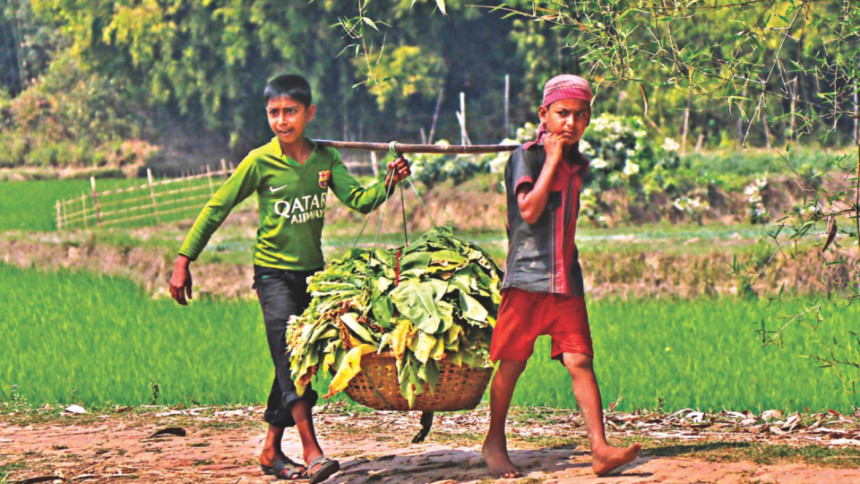 Instead of going to schools, the children go to factories in the morning and work for a minimum of eight hours, often earning less than Tk 50 per day.
Bidi factory worker Didarul Islam, 45, of Saralkhan in the upazila said children are used in the factories since they could be paid less than adults.
"More than 60 percent of the child workers make less than Tk 50 a day. They have to work because their families depend on their income," said bidi factory worker Hamidul Islam of Sarpukur.
Bidi factory worker Sehatul Islam, 13, of Bhotmari in Kaliganj upazila said he and other child workers feel sick at work almost all the time. "We suffer from nausea, breathing problems, headaches, cough, fever, other pains and aches," he said.
An adult worker of Saralkhan said they spend quite a bit of their earnings on treatment, like buying cough and pain medicines regularly. He said this becoming sick and buying medicines actually contributes to them never overcoming poverty. 
"As we have no alternative options for earning our livelihoods in the area, we are compelled to work in bidi factories despite the unhealthy working condition. We even take our children to work only for additional earnings to support our families," he added.
Lalmonirhat civil surgeon Ahsan Ali Babu said bidi factory workers, especially child workers, look like living skeletons and most of them are suffer from malnutrition.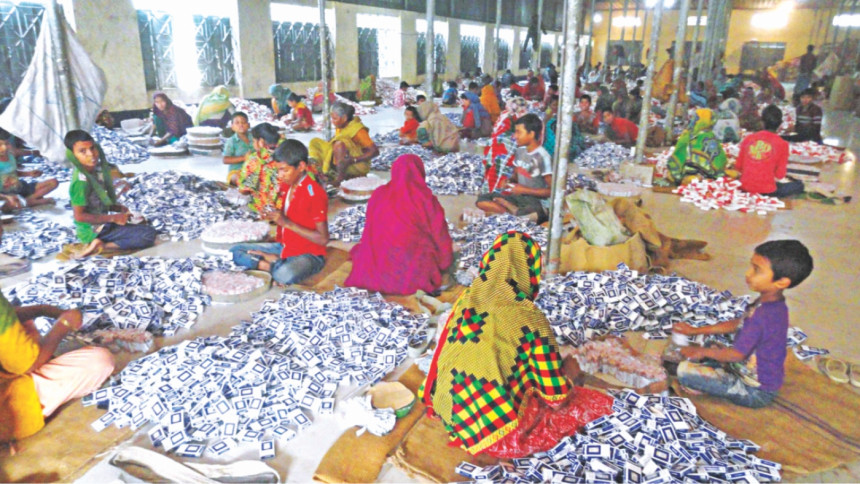 "They are deprived of fresh air inside the factory where the entire environment is polluted by the nicotine fumes of tobacco," he said, adding that common ailments among child workers at bidi factories include fever, pain, headaches, cough, bronchitis, narcolepsy, vomiting and other recurring complexities.   
Ironically, the bidi factory owners hang signboards that read "No workers below the age of 18". The factories do not even offer any protective gear for their workers.
Factory manager Goni said bidi workers were mostly people with no land and of ultra poor families.
Labour leader Manir emphasised the need for policy measures and enforcement of existing laws to prevent child labour and creating alternative jobs for the bidi factory workers.
"If special social safety net programmes, targeted towards these people from the ultra poor condition, are taken, then the parents of child biri workers may be interested in sending their children to school instead of bidi factories."
Admitting bidi factories were the reason for increased rates of dropouts at primary schools, Rasheda Begum, the headmaster of Saptibari Govt Primary School, said the children want to quit their jobs but cannot.
"We carry out campaigns against this job, which pose health risks, but parents hardly respond," she said.
Nine-year-old Afsana Akhter, who works in the same factory as Monir, had dropped out of school after studying up to class-II.
"I earn Tk 50-55 a day by working in the bidi factory along with my parents. I do not like this work, but I am helpless as I am controlled by my parents," said the child.