Gender Gap Index: Bangladesh stays top in S Asia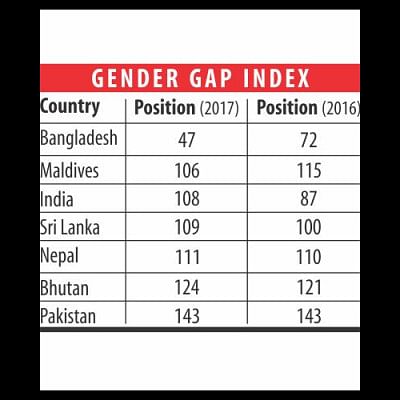 Bangladesh has topped the South Asian countries in gender equality for the third consecutive year, ranking 47th among 144 nations.
It has also moved 25 notches up in the Global Gender Gap Report 2017 published by the World Economic Forum (WEF) on Thursday.
The country was at the 72nd position among the same number of countries in last year's index. It was ranked 64th among 145 nations in 2015.
Iceland has topped the index for the ninth straight term, followed by Norway, Finland, Rwanda and Sweden. Yemen is at the bottom.
The Maldives comes 2nd after Bangladesh among the South Asian nations, ranking 106th. Pakistan remains at the lowest position in this region.
Bangladesh, which according to the report has made progress across all dimensions of the economic opportunity and participation, secures the third spot among the lower-middle income countries. The country has ranked seventh in the political empowerment index, shows the report by the Geneva-based WEF.
 "Bangladesh has improved gender parity for legislator, senior official and manager as well as professional and technical roles, in addition to estimated earned income and wage equality for similar work—despite a slight widening of its healthy life expectancy gender gap"
The country has also made gradual progress in the gender gap from 2008 when it had ranked 91st among 115 nations, reads the report.
With an average remaining gender gap of 34 percent, South Asia is the second-lowest scoring region on this year's Global Gender Gap Index, ahead of the Middle East and North Africa and behind Sub-Saharan Africa, according to the report.
This year's analysis reveals gender gaps at the industry level and, in particular, highlights that even though qualified women are coming out of the education system, many industries are failing to hire, retain and promote them, losing out on a wealth of capacity.
The Global Gender Gap Index was first introduced by the WEF in 2006 as a framework for capturing the magnitude of gender-based disparities and tracking their progress over time.
"To build future economies that are both dynamic and inclusive, we must ensure that everyone has equal opportunity. When women and girls are not integrated -- as both beneficiary and shaper -- the global community loses out on skills, ideas and perspectives that are critical for addressing global challenges and harnessing new opportunities," Klaus Schwab, founder and executive chairman of the WEF, says in the report.
He opines as the world moves from capitalism into the era of "talentism", competitiveness on a national and on a business level will be decided more than ever before by the innovative capacity of a country or a company. In this new context, the integration of women into the talent pool becomes a must, he added.