Mission experience for U-12 tennis team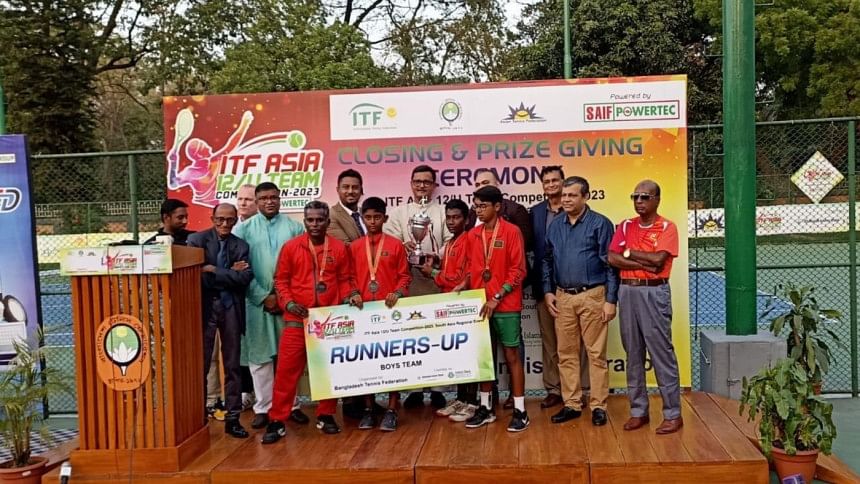 Despite finishing second to India in the ITF Asia 12 & U team competition -- South Asia regional qualifying event, Bangladesh boys' team will be travelling to Kazakhstan in September to take part in the final round alongside 11 other teams.
The Bangladesh boys' team lost against India 3-0 in the last match of the competition at the Sheikh Jamal National Tennis Complex in Ramna yesterday, finishing second among six nations.
Bangladesh's Rakeen Rahman lost 6-3, 6-1 against India's Sachin Undre, Kabbo Gayen lost 6-2, 6-1 against Vivaan Mridha while Rakeen and Kabbo pair lost 6-3, 6-3 against Hrishikesh Mane and Sachin Undre pair of India. Nevetherless, Bangladesh Tennis Federation's general secretary ASM Haider expressed his satisfaction over the team's performance.
"This is the first time since 2017 we have qualified for this stage. This is not a stage for us to win, instead we will go to Kazakhstan to gain experience as there is no world ranking at under-12 level. This experience will help them to play well when they graduate to the under-14 level," Haider told The Daily Star over phone last night.
The girls' team, however, finished fourth among five nations with India and Sri Lanka booking the two berths for the final round.