Four killed in two 'gunfights'
Three were 'drug peddlers'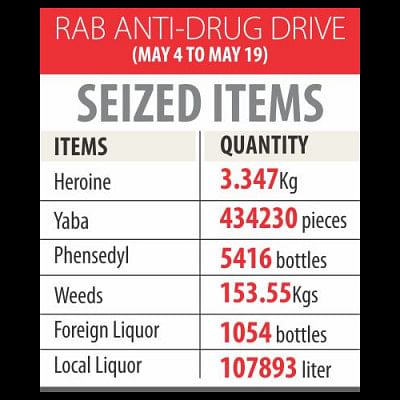 Three alleged drug traders were killed in a "shootout" with law enforcers in Jessore early yesterday.  
With them, at least nine suspected peddlers have been killed in such shootouts as the special force continues an anti-drug drive which began on May 4.
In another instance, six people were killed earlier in a shootout with Rab-- Ripon of Narayanganj, Hamidul Islam of Kushtia, Abul Hasan of Rajshahi, Abdul Alim of Chapainawabganj, Habibur Rahman Prokash and Mosharraf of Chittagong. 
The three killed yesterday were identified as Milon Kasari, 38, Habibur Rahman alias Habi Sheikh, 39, and Abul Kalam, 40, reports our Jessore correspondent.
Those killed during the ongoing drives were top drug traders in their respective areas, said a mid-ranking Rab official preferring anonymity.
RAB-6 Khulna Company Commander Lt Col Zahidur Rahman Zahid said the shootout took place when a Rab team set up a check-post on Paira-Nawapara road under Abhaynagar upazila as a part of its regular patrol.
At around 2:30am, Rab men intercepted a motorcycle that was speeding away. The three motorbike passengers then opened fire at the Rab men who retaliated, leaving all three wounded, he said.
The injured were taken to Abhaynagar Upazila Health Complex where doctors declared them dead.
Later, local people confirmed their identity.
Rab claimed to have recovered 460 bottles of Phensedyl, two pistols, five rounds of bullets, a Chinese axe and the motorcycle from the spot.
Two Rab men were also injured during the incident.
Milon, Habibur and Kalam were top drug traders of Jessore, said Sheikh Gani Mia, officer-in-charge of Abhaynagar Police Station.
However, in direct contradiction to the law enforcer's claim, Milon's nephew told a correspondent in Jessore that a group of people identifying as Rab picked his uncle up from their house when they were having Sehri around 3:30am.
"A relative informed us about his death on Saturday morning," he said.
Ibrahim Sheikh, brother of Habibur said some plainclothes men reportedly picked up his brother on Friday morning and they came to know about his death on Saturday.
VIOLATION OF RIGHTS
Rab officials said that they were carrying out raids mainly to arrest those who had been arrested several times before but were now out on bail and had resumed their illicit activities. In some cases, "gun fights" took place as criminals opened fire on Rab men, said another. 
However, human rights activist Nur Khan Liton said, "The method the law enforcers have taken [killing people in the name of crossfire or shootout] to control the drug trade is invalid in the eyes of the law and crime in terms of human rights."
"It cannot be any method though law enforcers and policymakers adopted this means to improve the situation," he said, adding that the law enforcers' duty was to bring the criminals to book.
"Those who control the drug trade remain above the law. Law enforcers are not touching them. Rather, we noticed in the past that there are allegations that many members of law enforcement agencies are involved in dealing drugs," he said adding that the names of a few public representatives came up in the government list of drug traders too.
Khan stressed the need for mass awareness and proper application of the law to curb the menace. "It is not possible to achieve anything good by creating frightening situation," he said.
Rab began their drive after the Prime Minister's directive of cracking down on drug abuse during a programme on May 3.
The drive intensified following Rab's Director General Benazir Ahmed's warning to people to surrender their drugs on Monday. 
According to Rab, apart from the nine killed in "shootout", a total of 501 persons were arrested, 1,992 persons were jailed and 430 more were fined by mobile courts during their anti-drug raids from May 4 to May 19.
The special force also seized more than 4.34 lakhs of contraband yaba pills, 3.35 kgs heroin, 5416 bottles of Phensedyl, and 1054 bottles of foreign liquor.
SHOOTOUTS CONTINUE
Meanwhile, a man accused in a murder case was killed in a "gunfight" with police in Atharobari area of Ishwarganj upazila in Mymensingh earlier yesterday.
The dead-- identified as Emon, 19-- was a resident of Bonwa village in Nandail upazila, said Md Qamrul Islam Miah, officer-in-charge of Nandail Police Station.
A team of Nandail police arrested Emon from the area yesterday night in connection with a case filed over the murder of an auto-rickshaw driver-- Rana Mia, 15, of Borail in Nandail-- on the night of May 17.
The team of police took him along with them to arrest Pranto, 23, the other accused in the case, said the OC who led the team.
Sensing police presence, Emon's associates opened fire on the law enforcers, prompting them to retaliate.
Emon suffered bullet wounds in his chest and was declared dead after being rushed to Mymensingh Medical College Hospital, reports our local correspondent quoting police. 
Two policemen were injured during the incident, the police officer said.
Meanwhile, Home Minister Asaduzzaman Khan Kamal on Saturday said that the government was following a zero tolerance policy to control the drug business in the country, reports UNB.
Addressing the National Council of Bangladesh Puja Udjapan Parishad on Saturday at Dhakeshwari Temple, the minister said "The government was following zero tolerance policy to control the drug business. If anyone is found guilty of extrajudicial killings; he will be punished."
Replying to the queries about the frequent incidents of killing in reported 'gunfight' recently, Asaduzzaman said a magistrate usually investigated such issues and the inquiries were underway.
According to rights body Ain o Salish Kendra, at least 80 people have been killed in crossfire or shootouts with law enforcers this year.