Food assistance for poor declines
Stock not enough to help flood-hit people; 4.53 lakh tonnes distributed in July-Oct against 7.28 lakh tonnes during same period last year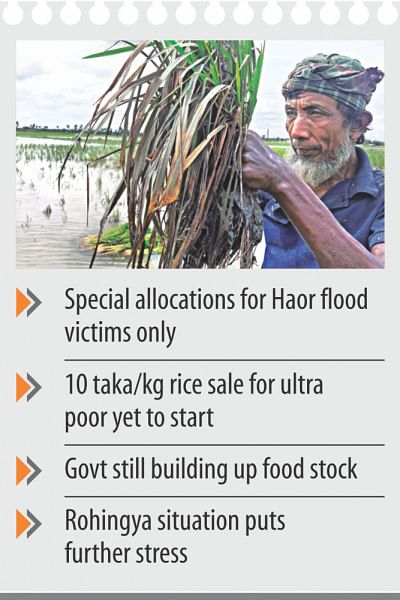 This has been a bad crop year so far with back-to-back floods inflicting losses on the agrarian economy and seriously affecting livelihood in half the country.
More than eight million people in the north, northeast and central regions took the brunt of the floods -- first in the form of flashfloods in March and then rain-fed floods in August-September, according to government data.
The country's poor and the vulnerable ones must have been in need of aid more than they usually do.
But statistics show they got less.
As against 7.28 lakh tonnes of food distributed among the poor in July-October last year, the government could provide just 4.53 lakh tonnes in the corresponding period this year under the public food distribution system (PFDS).
And the food minister acknowledged that this has happened largely because of low food stock in public granaries during the two crucial flooding periods.
"Yes, we couldn't provide the hardcore poor with the subsidised rice [Tk 10 a kg] so far this year. We're now trying hard to build up stock [through rice imports]," Food Minister Qamrul Islam told The Daily Star yesterday.
The food ministry will hold an inter-ministerial meeting soon to take stock of the situation and finalise a plan to buy rice from Aman growers to raise the stock in public granaries.
In September-November last year, the country's five million ultra-poor families had received 30 kg of rice each a month under the Tk 10-a-kg rice programme. The government could not start the programme this year even after rescheduling it twice since September.
Due to low stock in public granaries, the government is now providing rice for Tk 30 a kg to only 3.8 lakh beneficiaries in six flood-ravaged Haor districts and has pledged to continue it till January next year.
But a large number of flood-hit people in the 34 affected districts are getting PFDS benefits far less than they get even in usual times.
Many areas in Rangpur's Taraganj were hit by flood twice this year.
Maleka Begum, a widow who works at a local hotel in Taraganj, doesn't have any land.
Talking to this correspondent over the phone, the 50-year-old woman said food aid from the government would have been helpful in supporting her family of four at this difficult time.
In Chapainawabganj, another flood-hit district, Rajkumar Das works as a night guard.
"Last year we got rice at a subsidised price. But this year when flood caused damages and rice prices rose in the open market, we received nothing."
Lending him a hand to run the family of four, his wife supplements his poor earnings by sewing clothes at home. 
The night guard, however, added that the government is providing rice under the open market sale (OMS) programme, but its price has been doubled to Tk 30 a kg from Tk 15 last year.  
At the beginning of fiscal 2017-18, the government's rice stock dipped to a historic low of just 1.5 lakh tonnes, which has now gone up to a little more than four lakh tonnes.
The food minister said his ministry was trying hard to increase the food stock to 10 lakh tonnes by January. 
Officials told The Daily Star that with this low food stock, the government has to support the food needs of over six lakh Rohingyas, who have crossed over to Bangladesh from Myanmar since August. UN aid agencies are taking the host country's food support for the Rohingyas on the understanding that these would be reimbursed upon receipt of sufficient international aid.  
Dr Khan Ahmed Syed Murshid, director general of Bangladesh Institute of Development Studies (BIDS), finds it only natural that the government's food assistance has been "very tight" given its "not-so-good stock".
He said this is a lesson the government learnt the hard way. Because of a poor stock, it couldn't intervene in the market when rice prices continued to show upward trend.
Besides, food support for the Rohingyas is also putting pressure on the public food stock, he added.
"You can't always foresee floods, droughts or price fluctuations on the international market. So what you have to do is keep arrangements for absorptions of such shock," Murshid noted.
SEEDS FOR FARMERS
Under the agriculture ministry's rehabilitation initiatives, more than seven lakh farmers got incentives, including seeds and other agro-inputs, to recoup flood-induced crop loss.
Aman crop in over six lakh hectares of land was severely damaged in the last flood. However, many farmers could replant the monsoon rice as the government provided them with seeds.
Agriculture Minister Matia Chowdhury told this newspaper that it's still too early to predict the yield of Aman that farmers have just started harvesting.
A recent field report of the United States Department of Agriculture (USDA) projected 1.3 million tonnes of Aman production this year, down by 3.5 lakh tonnes from last year's output.
Boro yield in May this year was less than last year's, as some 20 lakh tonnes of rice were lost to Haor flashfloods and fungal attack in different areas of the country.
Since July 1 this year, the government and private traders have imported 17 lakh tonnes of rice.