Looking for long lost father in Dhaka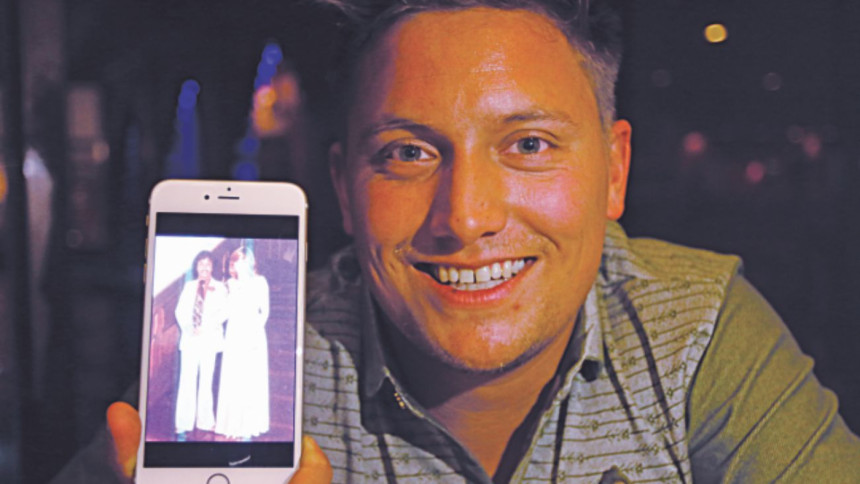 Jamie Henshall, an Englishman, never heard from his Bangladeshi father since his parents parted ways in the 80's. Henshall was only two and a half years old then but now that he is going to become a father, he embarked on a quest for his roots.
On January 4, he flew to Dhaka for the first time with a couple of photos from 1979 to look for his father who was once a chef in Manchester.
He knew only that his father, whose name was Suab Ali according to the marriage certificate he got from his mother, was from Old Dhaka and his grandfather Umad Ullah was a "leather spinner" at a leather factory.
But that wasn't enough to find his father, who should be 62 years old, if alive.
On top of this, Henshall only had two weeks time in Bangladesh.  
"This visit was the first big step on my journey to find my heritage," he told the correspondent at the lobby of a city hotel last week.
His parents Ann Henshall and Suab Ali got married in manchester in 1979. His father named him Mohammed Hussain Ali when he was born, which was later changed by his mother.
Quoting his mother, Henshall said his father, a chef at a restaurant at the time, had to come back to Bangladesh for some emergency.
"My father tried to bring me back with him, but my mother wanted to raise me and educate me there. So, she just ran away taking me and a suitcase, leaving everything in the house they had behind."
Apart from a couple of pictures of his parents' wedding, he has nothing of his father. Suab Ali took everything along when he left the UK in 1986.
His mother, who still lives in manchester, and he never heard from his father since.
"I'm about to become a father very soon. It's really important that my child knows my heritage. That's why I have embarked on this quest."
Having stayed in the Old Dhaka neighbourhoods for two weeks and been associated with the culture of his father, he got answers to questions that had bothered him all his life.
"Old Dhaka has really helped me understand my character. I know from where I got my sweet tooth, charm, cheeky nature, hard work and positive way of thinking," he said.
Henshall had always wondered how his life would have been had his father brought him to Bangladesh. The visit, he said, helped him understand that to some extent.
"I feel a deep connection. Like my father, I had become a trained chef when I was 15 and worked in some upscale restaurants and organisations."
He went to Australia nine years ago when he was offered the position of head chef at the central bank of Australia. He settled there and later founded his own media agency on food.
"I want to find my father not to be mad at him but to just meet him and understand myself better."
During his stay in Dhaka, he went to the British High Commission here. He also contacted the Bangladesh high commission in the UK.
"I wanted to know whether he had a UK passport, his arrival date in Bangladesh and any other identification, but they said they didn't have the information from back then."
Henshall also told a lot of people his story and went to the police.
People here are very friendly. Everyone has been very hospitable and welcoming, he said.
"My mother did a great job raising me. The only unfortunate thing is my father and mother never kept in touch after they parted ways and he never contacted me."
He wished that his father had looked up his mother's family name on the social media and found him.
"I will come back again to search for him," Henshall said.