Fakhrul may never forget the day
He finally becomes BNP's secretary general, lands in jail, falls sick; walks out of jail on bail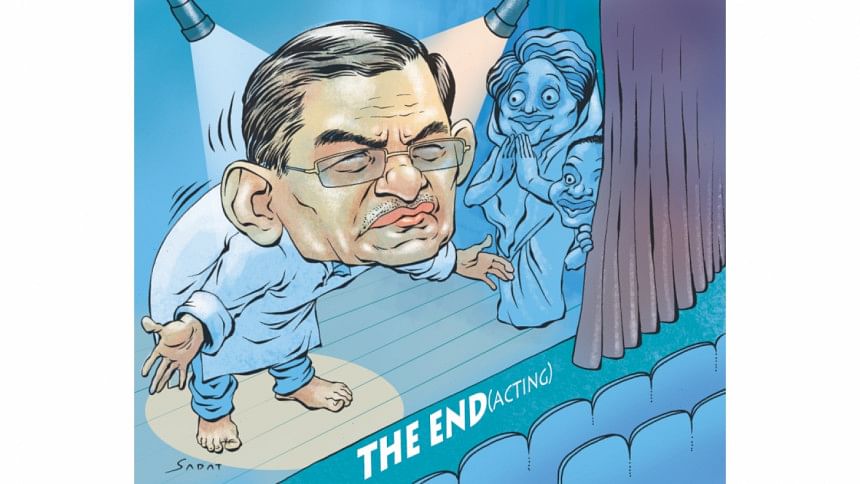 Mirza Fakhrul Islam Alamgir was made BNP secretary general yesterday, around six years after serving the party as acting secretary general.
Within half an hour of the announcement from the party around noon, he landed in jail in connection with two cases filed over street violence during the anti-government agitation in January last year.
On the way to Dhaka Central Jail, Fakhrul fell ill in a prison van. He was taken to the jail around 1:00pm.
But the BNP leader was released around 6:00pm after his lawyers obtained his bail on health grounds.
Earlier, Fakhrul surrendered to the Dhaka Metropolitan Magistrate's Court around 11:45am in line with the Supreme Court directives and sought bail in the two cases filed with Paltan Police Station.
The court rejected his bail prayer and sent him to jail.
At that time, the BNP was holding a press conference at its Nayapaltan office to announce the party chief's decision to appoint Fakhrul as new secretary general.
Party leader Ruhul Kabir Rizvi made public the decision around noon.
Meanwhile, Fakhrul was taken to jail after the court denied him bail.
Around 3:00pm, his counsels moved to the same court, which had turned down his bail prayer, for reconsidering its order on the grounds of his sickness.
The court granted Fakhrul bail around three hours after he landed in jail.
The BNP leader came out of prison around 6:00pm. His wife Rahat Ara Begum and senior party leaders received him at the jail gate.
Talking to reporters at the gate, the new BNP secretary general said he would perform his duty with honesty and sincerity.
He thanked BNP Chairperson Khaleda Zia for giving him the charge of secretary general.
Later in the evening, he met Khaleda and greeted her with a bouquet of flower at her Gulshan residence in the capital. 
Fakhrul, who had served as BNP senior joint secretary general for two years from 2009, was made acting secretary general after the death of party secretary general Khandaker Delwar Hossain in May 2011.
Strong opposition from a section of party leaders, particularly Khaleda's elder son Tarique Rahman, appeared as an obstacle to his becoming secretary general, according to party insiders.
They said Tarique, who had earlier questioned Fakhrul's sincerity, finally consented to the party's move to make Fakhrul secretary general.
Fakhrul faced a large number of cases over political violence since he took charge as acting secretary general.
He landed in prison eight times and spent 323 days there since 2011. He now faces as many as 80 lawsuits.
On February 29, the SC extended his bail for 15 days in the two cases and asked him to surrender before a lower court within the period.
Earlier on November 24 last year, the High Court granted him bail for three months in the cases.
TWO MORE NEW LEADERS
Rizvi, who served as BNP joint secretary general, was made party's senior joint secretary general, while Mizanur Rahman Sinha was appointed treasurer.
The BNP chairperson would announce in time the names of new leaders for the party's standing and executive committees, Rizvi said at the press conference.
Yesterday's announcement from the BNP came 11 days after its central council.
At the council on March 19, party councillors empowered Khaleda to form its national standing committee, BNP's highest policy-making body, as well as the executive committee.