Int'l day of the victims of enforced disappearances day tomorrow
Enforced Disappearances: Beyond any 'probe'
Investigations invariably 'see' no progress; allegations against law enforcers persist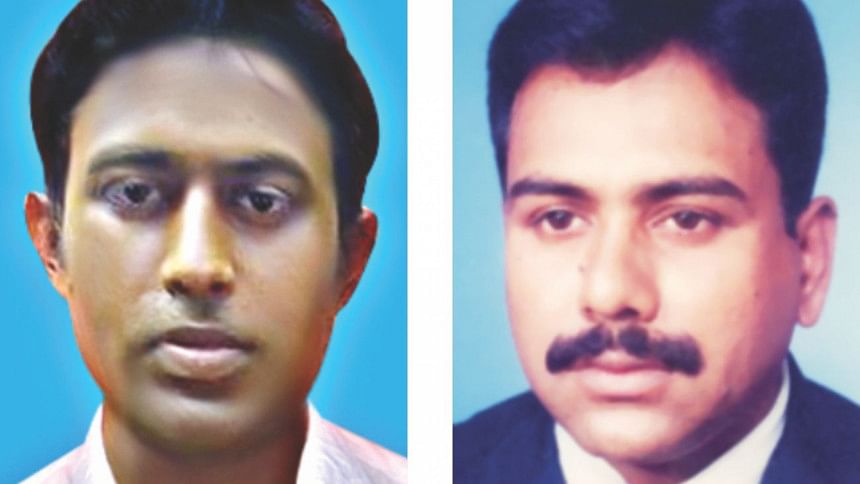 Young homeopath Moklesur Rahaman Johnny went out of his chamber to buy medicine for his father on August 4 night last year, but he never returned.
He did not just disappear, according to his wife Jesmin Nahar as she had seen him in the lockup of the Satkhira Sadar Police Station the next morning when she had gone there to ask police to find her husband.
She said she even delivered meals for her husband through police personnel in the following three days but on the fourth day police told her that Johnny was not in their custody.
Johnny has been missing since then.
Police have denied picking him up.
Johnny's disappearance and the subsequent ordeal that his family went through was no one-off incident.
According to rights body Ain o Salish Kendra (ASK), as many as 519 people have allegedly fallen victim to forced disappearances between 2010 and July 2017 in Bangladesh and an astonishing 329 of them were still missing.
Many family members of such disappearance victims pointed fingers at law enforcement agencies. But there had been cases in which the country's perennially divisive politics and militancy were in play. There were cases of people going missing purposively too.
Many of them had gone missing and had returned to their families while bodies of some were found. Others were found shown arrested in different cases by the law enforcers. ASK reckons the number of such people is 190 in the last seven and half years.
ASK statistics show, 47 people were made to disappear in 2010, 59 in 2011, 56 in 2012, 72 in 2013, 88 in 2014, 55 in 2015, and 97 in 2016 while 45 people were abducted allegedly by law enforcers in the first seven months of this year.
Amid such a situation, the International Day of the Victims of Enforced Disappearances would be observed in the country tomorrow with people like Jesmin fighting for their loved ones. 
Since the day Johnny went missing, then three months pregnant Jesmin left no stone unturned and went to every possible place all on her own to find him. The baby girl she gave birth to is now seven months old.
Police neither accepted a case nor a general diary she wanted to file.
Desperate, Jesmin filed a writ petition with the High Court on March 6 prompting the HC to order in July the Chief Judicial Magistrate of Satkhira to investigate the case.
The subsequent probe report mentioned recorded conversation between Jesmin and a police sub-inspector giving clear indications that Johnny was in police custody.
The magistrate also talked to others who were in the police station's lockup with Johnny and they said Johnny was indeed in custody.
Following these findings, the Police Bureau of Investigation (PBI) has been tasked by a court with the investigation of the case and report by October 3.
August 30 is being observed globally, since 2011, as the International Day of the Victims of Enforced Disappearances to condemn what the United Nations considers "a strategy to spread terror in society".
In Bangladesh, investigations into many of such "enforced disappearance" cases remained unsolved for years, like the disappearances of BNP leader Ilias Ali, Khulna district Chhatra Union ex-president Shamim Hossain and six youths, including BNP Dhaka City ward-38 unit general secretary Sajedul Islam Suman, from the capital.
Shamim was forced into a microbus in the morning of September 29, 2011, by five to six men at the capital's Purana Paltan Lane.
As locals came forward to help, the people who took him away brandished firearms and identified them as the people from a law enforcement agency.
Since then, Shamim has been traceless despite his wife Jhorna Khanam and other family members' efforts to find him.
"Every day I feel the same pain I have been enduring since the day my husband was taken away," Jhorna told The Daily Star on August 26. 
"Now no body enquire about us ... neither the people in the administration nor in National Human Rights Commission," she lamented.
Earlier, the commission used to send her letters saying that it was yet to get any response from the state. Now they stopped sending letters. 
Jhorna consoles herself saying that probably the NHRC has no capacity to send such letters anymore as the number of victims of enforced disappearances in Bangladesh was getting higher and higher every year.
Sajedul Islam Suman was taken with five others in Bashundhara residential area in Dhaka on December 4, 2013. None of them returned.
His family time to time raise allegation against Rab of picking him up.
In 2014, Lt Col Kismat Hayat, then commanding officer of Rab-1, denied the allegation and said some of the victims' family members had informed them of the incident and that attempts were on to find them.
Eminent rights activist Sultana Kamal said the law enforcers either fail to identify and find the criminals or they are not interested in doing so.
"If it is their failure, then it is a matter of grave concern. We are to feel insecure if our law enforcement agencies do not have the capability [to identify and arrest the criminals]. And it is a horrifying matter if they do not do it [identify and arrest the criminals] willingly."
"If it is the law enforcers who are doing it, it should be stopped immediately because a state cannot do such violence against its citizen. And if others have picked them, it is the responsibility of the law enforcers to find them."
Eminent Jurist Shahdeen Malik said the investigations were not being carried out simply because the government was not interested in identifying the criminals involved in enforced disappearance and extra-judicial killings.
Saheli Ferdous, assistant inspector general (media) of Police headquarters, said all missing persons' cases were investigated following due procedure and law enforcers were alert about this.
ASK Executive Director Sheepa Hafiza said, "If a single person fall victim to enforced disappearance, it is a violation of human rights. It is not acceptable in anyway."