EIU Democracy Index: Bangladesh slips to 92th position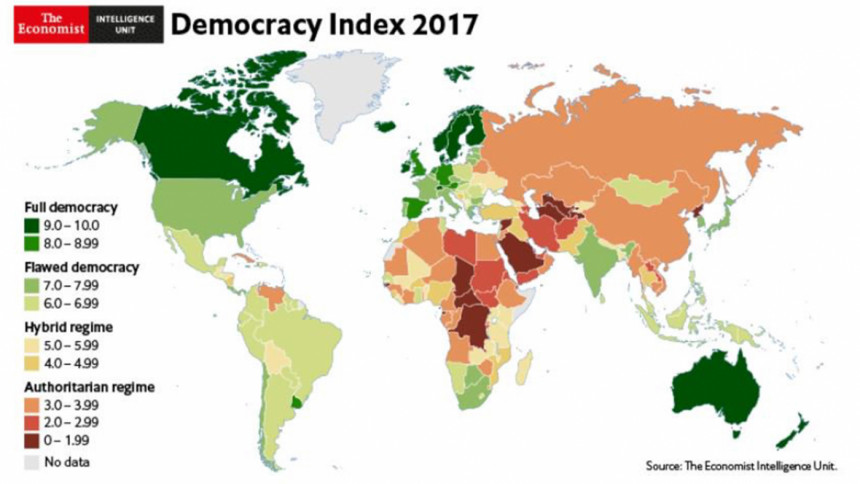 Bangladesh has gone eight notches down in the EIU Democracy Index-2017 with its score on the state of democracy dropping compared to 2016.
The country was ranked 92nd with a score of 5.43 out of 10 last year. The position was 84 with a score of 5.73 in 2016, according to report of the Democracy Index-2017 of The Economist Intelligence Unit (EIU), which was released yesterday.
The EIU is the research and analysis division of UK-based The Economist Group, the sister company to The Economist newspaper.
It categorised the media of Bangladesh as "partly free" ranking it 49th in media freedom status among 167 countries.
Meanwhile, Bangladesh has ranked 102nd among 113 countries in the 2017-2018 World Justice Project (WJP) Rule of Law Index, a Washington-based non-profit organisation. The report was also made public yesterday.
The EIU Democracy Index report says many journalists and bloggers came under attack in Bangladesh last year, and several were murdered.
The country, however, continues to be in the "hybrid regime" category, which refers to the countries where elections have substantial irregularities that often prevent them from being both free and fair. Government pressure on opposition parties and candidates may be common and civil society is weak.
Typically, there is harassment of and pressure on journalists, and the judiciary is not independent, the report says.
Norway once again tops the global ranking in 2017, while North Korea, with a total score of 1.08, remains in the last place.
Asian democracies had a tumultuous year. A region that had made rapid progress up the rankings in recent years experienced the biggest decline of all regions between 2016 and 2017, the report mentions.
Scoring 5.63, Asia lagged behind North America (8.56), Western Europe (8.38) and Latin America (6.26). It also remained the region with the biggest deviation in scores among its countries.
Asia's two largest emerging democracies, India and Indonesia, suffered significant declines in their scores, and fell down the rankings in the latest assessment of EIU.
Media freedom around the world has fallen to its lowest level since The Economist began producing the Democracy Index in 2006, and restrictions on freedom of speech have become commonplace even in developed democracies.
According to the Media Freedom Index, only 30 countries out of the 167 --representing 11 percent of the world's population -- are classified as "fully free". Another 40 countries, representing 34.2 percent of the world's population, are classified as "partly free". Some 97 countries in the index are rated as "unfree" or "largely unfree".
This means that more than one-half of the world's population does not have access to free or partially free media and is prevented from exercising free speech.
WJP RULE OF LAW INDEX
Bangladesh has secured 102nd position among 113 countries in the World Justice Project (WJP) Rule of Law Index 2017–2018, rising one position from last year.
In the South Asia region, Bangladesh has ranked four among six countries, including Afghanistan, India, Nepal, Pakistan and Sri Lanka. Regionally, South Asia's top performer in the index is Nepal, which has secured 58th place, the WJP report says. 
The top three overall performers in the 2017-2018 WJP Rule of Law Index are Denmark (1), Norway (2) and Finland (3).
The WJP Rule of Law Index measured countries' rule of law performance across eight factors: constraints on government powers, absence of corruption, open government, fundamental rights, order and security, regulatory enforcement, civil justice and criminal justice.