Going home, mostly happy
Bus trips smooth; launches, trains delayed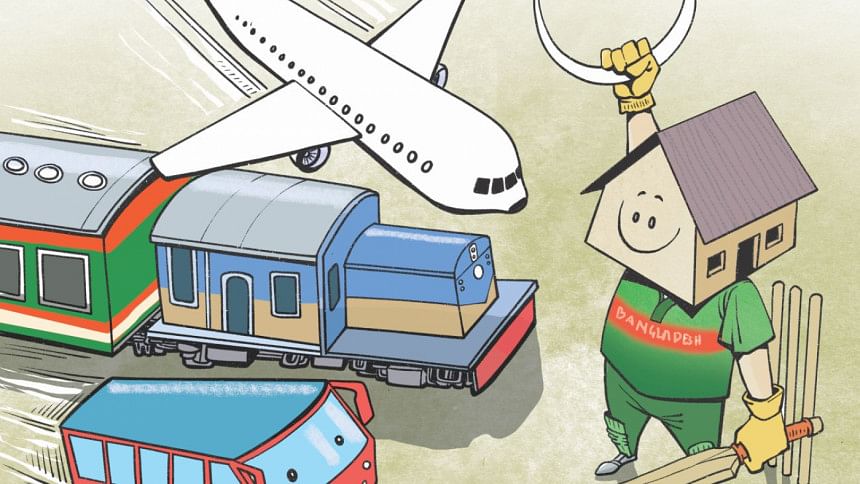 With his seven-month-old nephew on his lap, Mohammad Shohag, along with his siblings, was seen waiting at the Kamalapur Railway Station to catch the Nilphamari-bound Nilsagar Express.
The joy of going home was written all over their faces. They had waited a long time for this.
In a rush to get home, Shohag and his family members, arrived at the station around 7:30am, half an hour before schedule. They, however, had to wait longer than expected.
Their train finally arrived around 12:30pm.
"It's very painful to wait for more than five hours at station with a child. But celebrating Eid with family makes up for this suffering," Shohag said before the train left at 1:00pm.
Like Shohag, thousands of people left Dhaka on railways, highways and waterways to celebrate Eid, defying all odds -- from collecting tickets in advance to facing long delays of trains and extra charges for buses, to fighting to get on trains and launches.
Holidaymakers, especially those who were heading for the northern districts, had to suffer as at least eight trains were behind schedule. Bus and launch terminals witnessed huge crowds, but no major tailbacks were reported.
Eid-ul-Fitr, the biggest Muslim religious festival, will be celebrated across the country tomorrow if the Shawal moon is sighted today.
An estimated 1.47 crore people would leave Dhaka, Gazipur and Narayanganj before Eid, according to The National Committee to Protect Shipping, Roads and Railways.
Of them, 55 percent would use highways, 25 percent waterways and 20 percent railways, the non-government organisation said, based on official and private estimates.
THE WAIT AT KAMALAPUR STATION
Thousands of people thronged the country's premier station from morning while the rush gained momentum in the afternoon, as many people headed home after their last day in office.
People going to the northern and western districts were subjected to long delays at the station yesterday, as at least six trains ran behind schedule by 1-5 hours. Two trains for Chattogram and Mymensingh were also delayed.
A total of 56 trains, including four special ones added to cope with the rush, were scheduled to leave the station yesterday.
The Rangpur-bound Rangpur Express and the Khulna-bound Sundarbans Express were delayed by one hour and 40 minutes, while the Lalmonirhat-bound Lalmoni Special was delayed by two hours and 45 minutes. 
The Rajshahi-bound Silkcity Express was supposed to leave the station at 2:40pm but the train did not reach the station until 3:40pm, forcing the authority to defer the departure time to 4:30pm. Another Rajshahi-bound Dhumketu Express ran half hour behind schedule.
A Chapainawabganj-bound Rajshahi Express was also delayed by three hours and 15 minutes.
The Chattogram-bound Chottola Express was around 50 minutes late while the Mymensingh-bound Isha Khan Express was two hours and 40 minutes late.
Asked about the reason for the delays, Aminul Hoque, Kamalapur Railway Station manager, said holidaymakers, who are in large numbers, usually take a long time to embark and disembark the trains at their respective stations, resulting in such delays.
It may not be possible to mitigate the situation before Eid, he told reporters.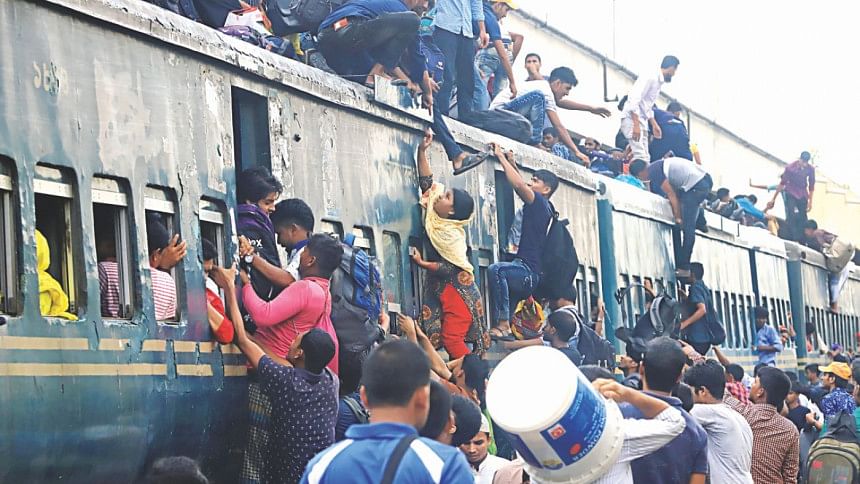 Meanwhile, the rail authorities were able to prevent people from risking their lives by travelling on the top of trains. However, they failed to do so in the afternoon when the rush hit its peak. 
On the other hand, a mobile court of the Bangladesh Railway, in a drive, fined 26 passengers for travelling without tickets yesterday.
Special Magistrate Noor-e-Alam Siddique, also a deputy secretary of the railway's ministry, realised Tk 4,600 as fine from the passengers, said Supiar Rahman, an administrative officer of the ministry.
He said the mobile court conducts drives on a regular basis. However, yesterday was the first time it conducted the drive during the Eid rush, which began on Friday.
BUS JOURNEY RELATIVELY SMOOTH
Despite the increasing number of holidaymakers at city's Gabtoli bus terminal yesterday, passengers started journey for their respective homes almost hassle-free.
Most of the buses left Gabtoli bus terminal, one of the main exit points to travel to the country's southern and western regions, on time, said several passengers and staffers of different bus counters at the terminal.
The long queue of waiting passengers, which is a common sight, was not seen as of yesterday noon.
Some passengers however alleged that bus operators were charging extra.
While visiting the terminal for around three hours since 10:00am, a correspondent saw the flow of passengers increase gradually.
"I am happy this year as the situation seems almost normal and there was no delay," said Ishtiaq Ahmed, who was travelling to Khulna on a Shohagh Paribahan bus.
Mohammad Murad, counter master of Seba Green Line bus counter, however, feared that passengers might have to suffer in the late evening as the number of home-goers will keep increasing. 
Faruk Talukder Sohel, managing director of Shohagh Paribahan, said in the past two-three years, this was the first time people will enjoy their Eid almost hassle-free.
A long vacation, the opening of several major bridges and flyovers on the Dhaka-Chattogram and Dhaka-Tangail highways and better management of ferry terminals are the reasons behind smooth journeys, said Sohel, also former chairman of Bangladesh Bus-Truck Owners' Association.
SADARGHAT SEES RUSH
The Sadarghat Launch Terminal, which links 22 southern and western districts, was abuzz with thousands of passengers from the morning.
Many launches were seen overloaded and some of them were taking passengers on the top deck, violating government decisions.
Mainuddin, a private company official who came to the terminal along with his wife and son, said they were supposed to leave Sadarghat by 2:00pm but their launch did not reach the terminal till 3:00pm.
It may be 6:00pm by the time it leaves the terminal, said Mainuddin who was waiting to board the Tashrif-4, a Bhola-bound launch.
Alamgir Kabir, joint director of Bangladesh Inland Water Transport Authority (BIWTA), said around 60 launches left the Sadarghat terminal till 3:00pm and 100 to 110 more launches may leave.
It was 105 on Sunday.
About the excessive number of passengers, he said though launches were taking additional passengers, it was still under their load-carrying capacity.
About passengers on the top deck, Alamgir said they would collect the names of the launches that carried passengers there and would file cases against those with the marine court after Eid.