The riddle over docs' handwriting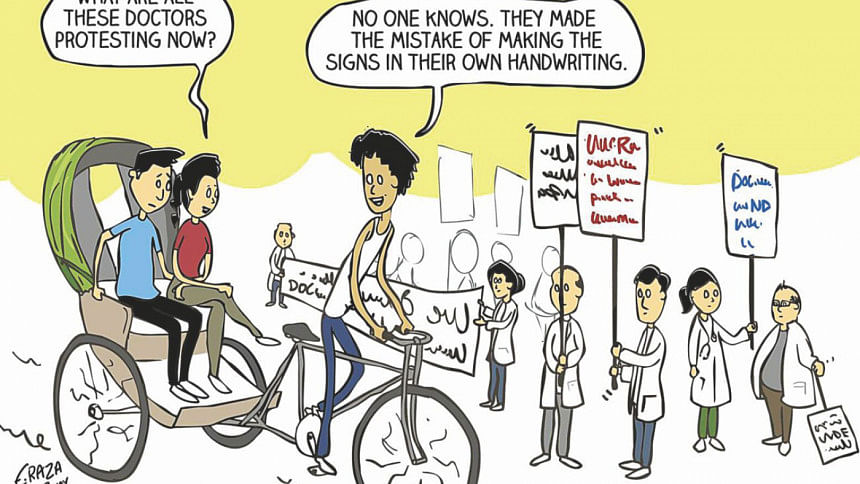 On January 9, I came across a news headlined, 'Write prescriptions properly, HC tells doctors'. I did a double take. What? Write prescriptions properly? It further read, "The government has to issue the circular by 30 days. Doctors can write in block letters or print the prescriptions so that there is no hassle in understanding the document". I didn't know how to react, exactly. I had a million questions. "Are all doctors addressed?" "What if even in caps and blocks, their handwriting is bad?" "Do they need classes?" "Are they going to be offended by this?"
All these questions led me to dig a little deeper, speak to some people.
While some cases of handing out wrong medications can lead to hysterical situations, others can quickly turn fatal. Experts say that bad handwriting runs huge risks of wrong medicines that can affect public health, but there has been no study conducted in Bangladesh yet. Nonetheless, the National Academies of Science's Institute of Medicine (IOM) in a July 2006 report says doctors' sloppy handwriting kills more than 7,000 people annually in the United States. It further mentioned preventable medication mistakes also injure more than 1.5 million Americans annually.
But another question arose after Dr Rashid-E-Mahbub, chairman of the National Committee of Health Right's Movement, observed that clear handwriting or print prescriptions are very important for countries like Bangladesh. Why? Because, there are no real pharmacists selling the drugs. Shouldn't our first priority be that then? The doctors need to improve their handwritings but shouldn't our pharmacists be the ones who should be able to understand what medicine is required for which ailment? If the patient cannot decipher, in any situation, the pharmacists themselves should be able to ask what the disease/ailment is and try to connect the dots.
"Authorities have to ensure that the drug retailers have training in pharmacy, so that they too can detect a problem, if any, in the prescriptions; contact the doctors and provide clear instructions to the patients," says Dr Rashid.
Apart from that, in what situation are the doctor's put into?
Dr M Zakiul Abrar, running his own practice, says, "A lot of third parties nowadays talk patients into suing the hospital or doctor, with the deal that they'll get a percentage of the compensation. This new rule can put a lot of doctors through a lot of harassment, if charged with bad handwriting".
At the end of the day, Dr Abrar, believes that printed prescriptions may be a good option. But if so, this will definitely raise the doctor's fees because new equipment may be needed to implement this rule. The problem thus may be rooted far below what can be seen on the surface; the question is, how deep are we willing to dig and for whom: the doctors or the patients?
Read today's Star Weekend for a more in-depth perspective, and the conclusion we have come to regarding this new rule that we all may just have mixed-feelings about.