Not lullabies, gunshots filled baby's night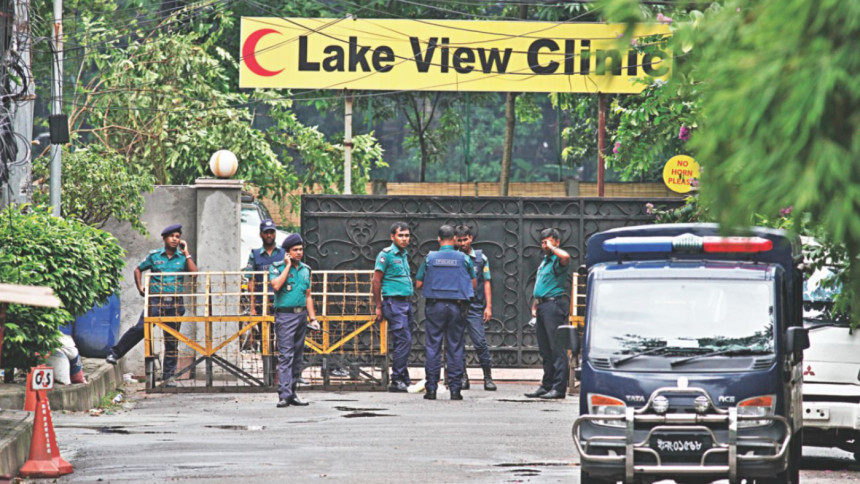 Shakhawat and Shaila were about to go home with their newborn from the clinic on July 1. But they decided to prolong their stay at Lake View Clinic to let the new mother and her baby have the nursing care given by the clinic for another day.
But what happened that night was beyond their worst nightmare.
Shakhawat's brother, sister-in-law and one of his friends came to visit them at the hospital with Iftar and Sehri. After breaking the Ramadan fast in the evening, Shaila was feeding the baby and Shakhawat and his brother were chatting on the veranda when the first few explosions in Holey Artisan Bakery, which shared its premises with the clinic, shook the entire neighbourhood.
Shakhawat and his brother were trying to figure out what happened when Shakhawat's friend, who was at the reception of the clinic, came running and asked them to duck and come inside immediately.
Meanwhile, explosions and gunshots started again and went on for 10 minutes. It was around 8:35pm and they had no clue as to what was happening outside.
"Almost about half-an-hour later we learnt from the TV that the Bakery was under a terrorist attack. Someone from the clinic asked us to lie still on the floor and switched off the lights of the room. All seven of us, including the baby and Shaila's mother, were on the floor," Shakhawat recalled the night.
The baby boy named Ahmed Raahmat Vee was born on June 29. Since there were some difficulties in breastfeeding, he was being fed formula milk.
"There was not enough drinking water in the room. There was also no scope of boiling the water. Moreover, the baby could not sleep amidst the sounds of gun shots," he said.
There were two beds in the hospital room. They used one of the mattresses to cover the window and were lying on the floor under the other bed.
"Besides gunshots, sometimes we heard the sounds of boots and muffled voices. Relatives, friends and family members were repeatedly calling us," he said.
Around 7:30am, someone from the clinic's reception called and told them to cover their ears as the rescue operation to end the terror siege was about to begin.
"Powerful explosions started and continued for about 30 minutes. We came out of the hospital at 11:15 am and found our car parked outside completely damaged," Shakhawat said, adding, "The horror of that night still haunts us. We avoid going to crowded places and often get startled at loud noises."
After returning home, Shakhawat and Shaila named the baby Ahmed Raahmat Vee.
Shaila said, "We gave him the name because we were saved by the grace of the Almighty. Vee stands for victory. That we lived was a sign of victory against terrorism."