Democracy in decline in Bangladesh, across globe
Says German think-tank's study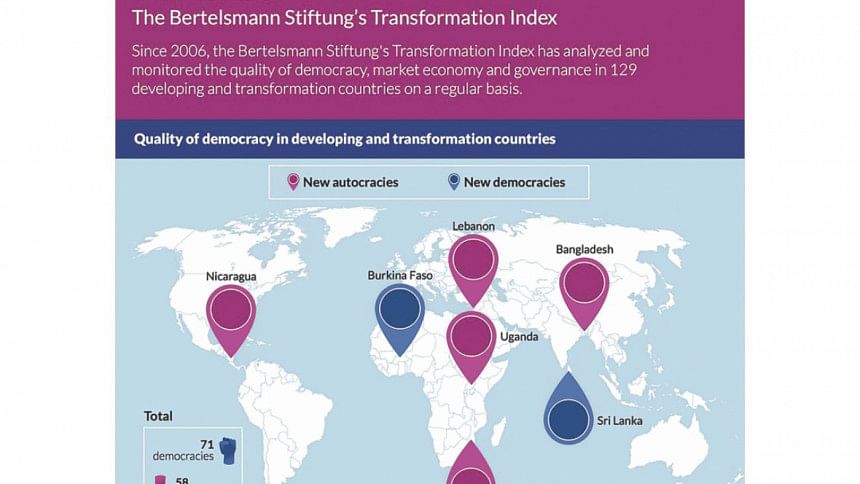 Bangladesh is among five countries that no longer meet minimum standards for democracy and are now under autocratic rule, German-based think-tank Bertelsmann Stiftung said in a report published yesterday.
The four other countries are Lebanon, Mozambique, Nicaragua and Uganda.
Democracy has been undermined in these five countries for years, and it is often the shortcomings in the quality of elections that tipped the balance, the study said.
"These five new autocracies have crossed a threshold that the defective democracies of Honduras, Hungary, Moldova, Niger, the Philippines and Turkey are nearing, though to varying degrees," the report said.
The study was conducted on 129 countries. The assessment period was from February 1, 2015 to January 31, 2017.
The average quality of worldwide democracy, governance and market economy fell to its lowest level in 21 years with much of the decline happening in free societies, it said.
The report categories 58 countries as autocracies while 71 as democracies. The last survey painted a better picture with 55 autocracies and 74 democracies.
In the democracy index, Bangladesh along with Russia ranked 80, out of the 129 countries reviewed.
"Only Burkina Faso and Sri Lanka were making significant progress towards democracy," says the report.
In South Asia, the position of Pakistan is lower than Bangladesh. Pakistan ranks 98.
"It is not so much the slight increase in the number of autocracies that is worrying. More problematic is the fact that civil rights are being curtailed and the rule of law undermined in an increasing number of democracies as well," the report noted. 
Commenting on the findings, CEO Aart De Geus of the institution said, "Many rulers try to cement their claim to leadership through repressive measures. However, in the long run, ruling by coercion and not by dialog always leads to a dead end."
The research group that has been regularly conducting survey since 2006 excluded from its study mature democracies of North America, Europe, Japan, Australia and elsewhere.