Deep-sea port beckons
Govt to sign first deal for Payra today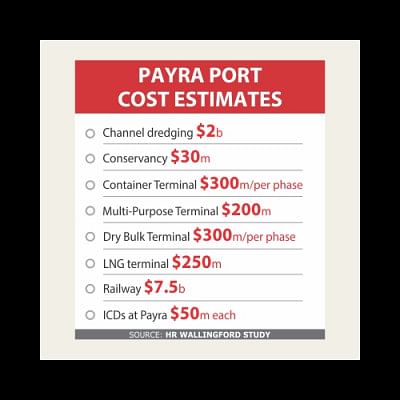 The government today is going to sign the first memorandum of understanding (MoU) for the Payra Deep-sea Port project with Belgian company Jan De Nul for an estimated $2 billion capital dredging and maintenance dredging.
Jan de Nul will sign the MoU with the Payra Port Authority (PPA) under the Shipping Ministry on the basis of Foreign Direct Investment (FDI) to carry out a major capital dredging of about 35 nautical miles in Rabnabad channel in Kalapara of Patuakhali.
The Belgian company that specialises on dredging and civil engineering work must make the channel operational for deep-sea port by the end of 2018 and facilitate entry of vessels with up to 14 meters of draught and 300 meters in length.
Jan de Nul will form a joint venture company with the PPA, and close the financial arrangements between six months and one year to begin the dredging work.
"We have divided the Payra Deep-sea Port project in 19 components. Of this, 13 components will be implemented under FDI and the remaining six under the government-to-government (G2G) deals," said Shipping Secretary In-Charge Ashoke Madhab Roy yesterday.
These 19 components would cost between $11 billion and $15 billion.
"We have also divided the implementation in three phases. The short-term phases begin this year. The mid-term phases in 2019 and the long-term ones in 2024," the secretary pointed out.
The Payra port endeavour has already drawn investment and development proposals from China, the UK, Belgium, the Netherlands, Denmark and India.
Shipping ministry sources said the PPA is now scrutinising proposals of various governments and their companies for different components of the mega project. Further MoUs may roll out next month.
The Rabnabad channel is situated in Meghna Estuary on Tentulia River in Patuakhali. It is about 270km far from the Chittagong Port and 90km from Mongla Port. This site was chosen as it has available land along the channel with an average height of two metres above sea level. The land does not submerge during monsoon and it is well connected by road and river networks.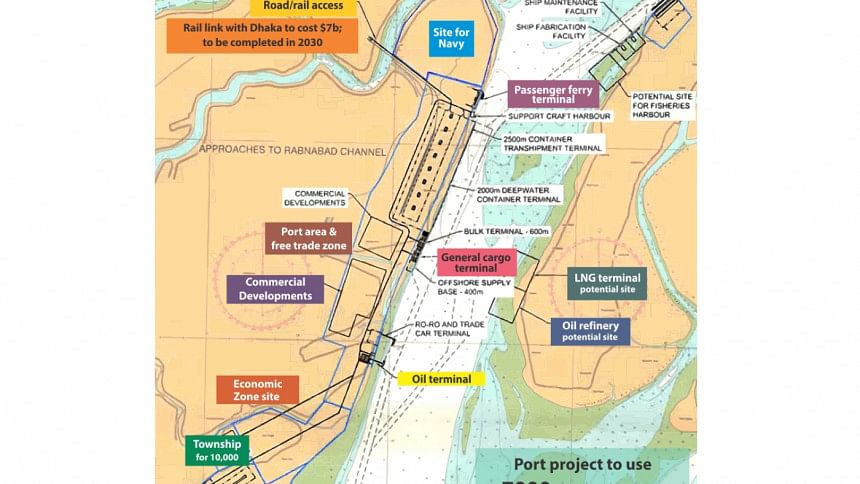 According to techno-feasibility study prepared by British firm HR Wallingford & consortium, the Payra port will require a total of 7,000 acres of land. Of this, 6,000 acres will be used for port development, 500 acres for coal terminal and the remaining for resettlement of people affected by construction of the port.
HR Wallingford has been carrying out a series of studies, including environment and resettlement, since January 2015.
The top component to be undertaken by the PPA itself with help of other nations is the conservancy and port management to ensure safe navigation of ships. This job includes planning and developing the port.
The PPA would also develop the core port infrastructure. This covers the essential infrastructure for the port estate as a whole, sewage, drainage, services, road and railway access across the port estate.
Development work of this port will be done in three phases: the ongoing first phase will be followed by a five-year second phase from 2025, followed by a third phase from 2030.
OTHER FEATURES OF PAYRA PORT
The G2G contracts will be awarded for housing, education and health facilities of the port officials and developing port community.
A G2G or foreign direct investment contract will be awarded to develop an airport to connect with the Hazrat Shahjalal International Airport by 2019 so that Payra can receive passengers for a nearby resort, casino and visiting the Sundarbans.
The government also wants build railway lines to connect Payra port with Dhaka. This rail link is considered vital for the successful development of the port as it would make the port operations very efficient. Studies point out that the rail link would be complete by 2030.
A dedicated small power plant will be built soon so that Payra port can meet its own electricity demands without depending on other sources.
To promote tourism, the government seeks investors to build a monument or a sculpture of the Father of the Nation, a Liberation War museum complex building, a watch tower, an eco park, an exclusive tourist zone for foreigners, marine drive, marine park, sea aquarium, international-standard stadium, golf court, tennis court, convention centre, hotel-motel zone and resort, shopping mall, picnic spot and other recreational facilities.
A multipurpose terminal, one kilometre in length, would be built by 2018 on the basis of G2G cooperation. This terminal will have cargo storage facilities and handle all cargoes.
A one-km long container terminal will be built by end of 2018 under FDI. This terminal must be able to handle containers that would be trans-shipped for onward movement by barge up to Dhaka or Mongla or Chittagong or moved by road or railway. A second terminal of same specification will be built later, but it would be run by private sector.
A dry bulk terminal on 500 acres of land will be developed by the end of 2018 to help import 40 million tonnes of coal per year for up to eight planned coal-fired power plants. This terminal will also facilitate import of limestone for de-sulphurisation. The facility will handle other dry bulk cargoes like cement clinker.
Payra will also host an LNG terminal to facilitate import of Liquefied Natural Gas (LNG) that would be used for a gas-fired power plant or fertiliser factory and for national gas supplies.
The government is allocating 2,000 acres of land to develop an exclusive economic zone.
Besides, the port will have a liquid bulk terminal, an internal ferry terminal, shipyard and ship repair facilities.
The port will also offer transhipment links to the neighbouring seven sisters in India and Nepal and Bhutan.