Death strikes hours before happy hours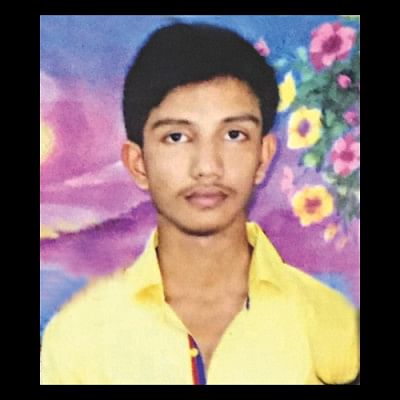 The day started full of hope and enthusiasm for the family of Tajera Begum but turned tragic before noon.
For days, the mother and all the other family members had kept their fingers crossed for Babul Sikder Hridoy whose Secondary School Certificate (SSC) results were published yesterday.
But instead of watching her 15-year-old son celebrating his success, the mother saw his body wrapped in a shroud.
Hridoy was killed after he was hit on the back of his head by a cricket bat following an altercation with some youths over a match in Mirpur-1 yesterday morning, said police, quoting locals.
A science group student at Adarsha High School at Mirpur-10, Hridoy secured CGPA-4.89 in the exam.
"I told him not to leave [home] as it was his results day. But he did not listen," said Tajera, sobbing uncontrollably.
"He promised me that he would be back by noon." 
Quoting locals, the mother said a youth hit on the back of her son's head while playing near Dhankhet area around 11:30am.
She said a local boy went to their house at Bashati Housing at Mirpur-1 in the morning and asked Hridoy to go out with him to play cricket.
Tajera stopped her son but he went out after getting a phone call around 10:30am.
"Around noon, I received a phone call and was told that my son had an accident," Tajera told The Daily Star.
Worried sick, she first rushed to a local garment factory, as directed by the caller, and then went to the National Heart Foundation Hospital but failed to find her son.
Later, she discovered Hridoy's corpse at the National Institute of Neurosciences Hospital at Agargaon.
The victim was taken to the hospital by locals, said police.
Mostafa Sikder, Hridoy's father who hails from Faridpur, runs an automobile workshop at Mirpur-6, said Rifat who is the lone sibling of the victim. He is in class IX at a local school.
Hridoy was a studious boy and hardly went out to play, said Sheuly Aktar, a neighbour.
Sub-inspector Shahjahan Ali of Mirpur Police Station said on information, they recovered the body from the hospital at Agargaon.
Later, they sent it to the Dhaka Medical College for autopsy.
Quoting locals, the SI said the victim was critically injured after a youth from his opponent team hit him on his head with a cricket bat.
Hridoy was rushed to the Agargaon hospital where duty doctors declared him dead.
Police detained three people for questioning, Ali added.