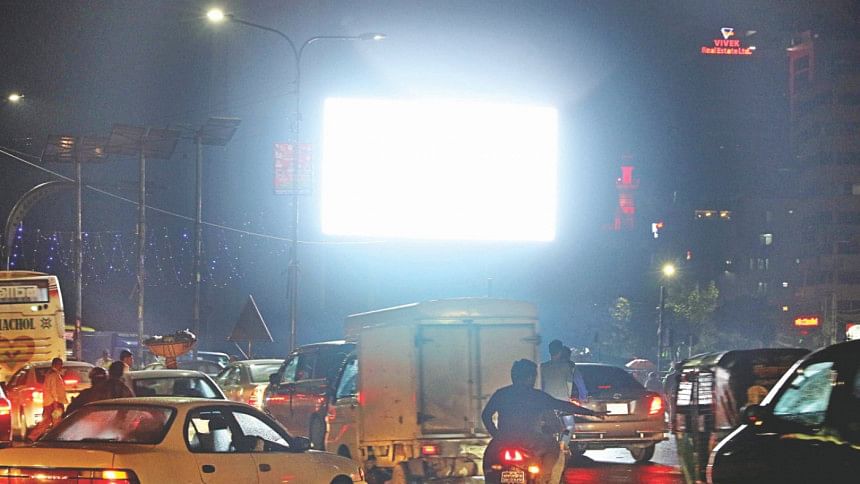 Around 10:00pm, Redwanur Rahman was going to his Azimpur residence on his bike. Suddenly, near the New Market footover bridge, he found himself blinded by bright, flashing lights.
"When I regained my sight after almost a second, I found an aged person standing in front of my motorcycle. I squeezed the brake as hard as possible," he said, adding that because of the flashy LED billboards on top of the Chistia Market, he lost sight for a moment.
"I was lucky and so was the person because the motorbike was running at a slow speed. But something dangerous could have happened on that night," said Redwanur, who works in a private company in Green Road.
Without conducting any research over the impact of bright LED billboards on drivers or preparing any guidelines, Dhaka South City Corporation (DSCC) have given the tender to five companies to set up digital LED billboards in its territory.
Wishing to remain unnamed, officials of DSCC signed that the brightness of these newly installed LED billboards is risky for the city dwellers especially for the drivers.
Last year, DSCC conducted several drives to remove messy and disorganised billboards from the city.
At the fag end of 2016, with a 13-member committee headed by DSCC Chief Executive Officer Khan Mohammad Bilal, the city corporation agreed a contract with five companies for setting up and maintenance of the digital forms of advertisement.
The companies have been given the liberty to use the technology of their preference and fix the place for installing these LED billboards.
The first big digital billboard was set up in Shahbag. Digital advertisement posts by TCL Optoelectronics are also seen on the footpaths of both side of capital's Hare road.
Though initially welcomed, city dwellers have begun complaining about the brightness of digital screens which often distract drivers.
Shekhar Dutta, a passenger of a Motijheel bound bus, said, "It's far better than the worn out billboards set up in a scattered fashion.
But, these should be set up in a more synchronised way as these affect the eyesight of drivers or passers-by and thus could cause an accident anytime.
Nur Hossain, a CNG driver, complained, "It's flashy. Even on the day, it dazzles the eyes."
Jasim Uddin, who was driving a sedan, said, "City authorities in many countries closely monitor the rules and regulations regarding the construction and display of billboards. For us, that's the biggest problem."
According to DSCC revenue office, the corporation has fixed the quantity of billboards on a particular road and left other matters like setup and maintenance to the private organisations.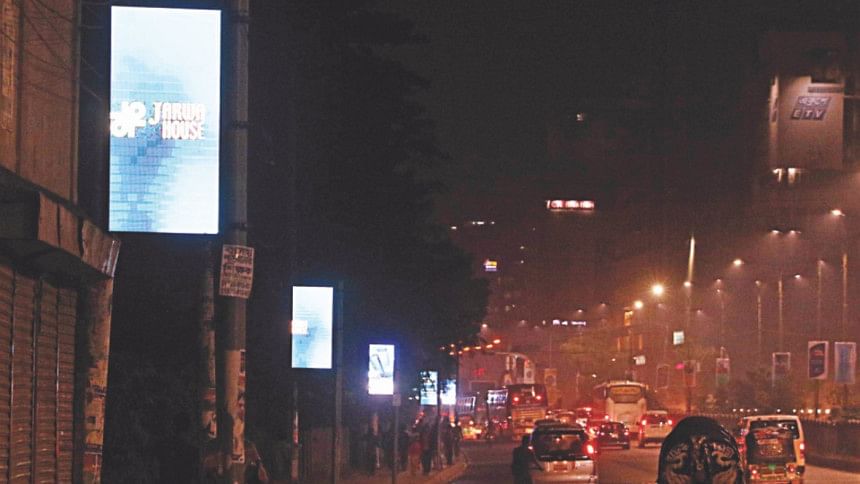 "It depends upon them that where and how the billboards will be set up. We only collect tax," said a revenue officer, adding that they are expecting Tk 3 crore revenue in the current fiscal year.
Contacted, Managing Director of DIGI AD Abdullah Aziz Ahmed said these billboards have been set up at a 20-feet height to avert any adverse effect on the eyesight. "So there is no scope for an accident," he said.
Like him, the Director of TCL Optoelectronics Ltd Akhtar Hamid Khan, brushed aside public complaints.
"Following the standard of modern countries, we're setting there up [here]," he said, adding that there was no chance of causing distraction given their height.
Urban expert and architect Iqbal Habib said the brightness of these LED billboards are kept high during the day but not adjusted at night. As a result, the high dispersion of light dazzles drivers.
He said drivers have to fully concentrate at different intersections but some of these billboards are set up at these points which can lead to fatal accidents any time.
There should have been some guidelines like the ones in Singapore, Bangkok, London and Delhi over LED bilboards.
DSCC has a town planning department which looks over the city's beautification as well as development. However, it is kept out of the loop.
Contacted, DSCC's Chief Town Planner Sirajul Islam said no one has spoken to him over LED billboards. He suggested speaking with the chief revenue officer.
The Daily Star tried to contact Chief Revenue Officer Yusuf Ali Sardar several times over the phone but he did not answer.
Farazi Shahabuddin Ahmed, DSCC Chief Engineer, said "We've understood it is causing impact on the driver's eyesight."
"It's a new thing for us and naturally there will be some side effects. The brightness of the billboards needs to be researched" he added.
Bilal said, "The concept is new. So we have not fixed any guidelines. We will now sit with experts and prepare a guideline."