Danger looms in Rohingya camps
Spokesperson of UNHCR Caroline Gluck said heavy and continuous shower in the Rohingya settlements puts hundreds of thousands of Rohingyas at a major risk.
Over 700,000 Rohingyas, who crossed over into the coastal district fleeing persecution in Myanmar since August, are dwelling in shacks made of thin bamboo and plastic sheets which are too weak to stand heavy rains and storms.
According to the Bangladesh Meteorological Department (BMD), a total of 108 millimetres of rain was recorded in Cox's Bazar in the last 24 hours. The BMD weather forecast said that heavy shower was likely to continue for the next two to three days.
Local authorities and international aid agencies have long been warning of a looming natural disaster during the monsoon in the densely populated camps.
In this context, The Daily Star spoke to the UNHCR about the overall situation in the squalid shanties in the uncovered hills of Cox's Bazar.
Gluck said non-stop rain since the start of the monsoons on Saturday added to the existing vulnerabilities of the Rohingya population.
It has also made the response of humanitarian agencies more challenging.
Since the monsoons began, 37 landslides have damaged houses. Many families had to be temporarily relocated in community buildings or in temporary learning centres while agencies look for longer-term shelter options.
"I met several families in Chakmarkul who had experienced landslides and had lucky escapes. One was a 65-years-old lady who was almost buried when a landslide damaged her shelter. Another family, living with relatives, had a 10-day-old son who also survived and escaped injury when their house was badly damaged by a landslide," Gluck said.
She said they were moving families in high-risk areas to safer places, adding that a major challenge was finding suitable flatland to relocate the families. 
UNHCR continues to advocate with the government on the urgent need to allocate flatland so that more families could be moved to safer grounds.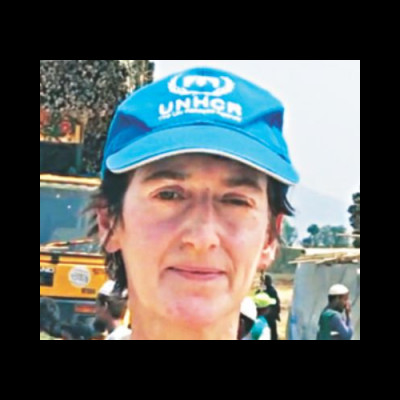 "We estimate around 41,000 people across the settlements are at high risk of [facing] landslides and our main priority is to try to move them to safer areas."
So far, agencies relocated around 14,000 people at high risk of landslides.  
"We need to find more shelter options.  We need flatlands to move people to -- even if this is a temporary option."
Before the rains, all agencies, working closely with the government, had been engaged in ensuring the safety of the settlements. They were stabilising slopes, reinforcing pathways, building bridges, and providing stronger, waterproof shelters for refugees.
But these measures will not be enough. 
"The only way we can really protect people at the highest risk is to move them out of danger," she said, adding that they were advocating with the government the urgent need for more flatlands.  
She said their efforts had helped prevent many accidents in the settlements but they were concerned of further extreme weather which might result in more damage, destruction and potential loss of life.