THREE MONTHS OF TONU MURDER
Family 'being watched'
Mother questions delay in getting justice, alleges killing attempt on her husband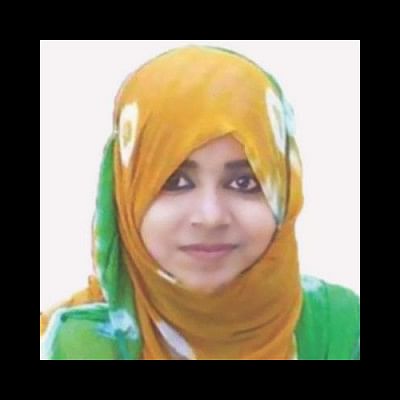 With the killers of Sohagi Jahan Tonu yet to be arrested even three months after her brutal murder, Tonu's mother has alleged that her family is kept "under watch".
"They could not find out who killed my daughter and why. Instead [of finding the killers], they keep us under watch... where we go and which road we take," Tonu's mother Anwara Begum said at a protest programme in Kandirpar of Comilla city yesterday.
She alleged that her husband, Yaar Hossain, was asked not to speak to the media or anyone about the murder.
"Can't Tonu's father seek justice for his daughter?" she asked.
"Won't we get justice because we are poor?" she said at the human chain organised by rights and cultural activists.
The participants expressed their anger at "the flawed findings" of the autopsies and delay in arresting the perpetrators.
Anwara alleged that recently there had been attempts to kill her husband.
"On Thursday, he went to see the spot where Tonu was found dead. A vehicle tried to run him over, but he escaped narrowly.
Then again, a motorbike tried to hit him.
She also said her elder son does not come home from Dhaka out of fear.
"We are not saying anything against the government... We just want justice for my daughter," said Tonu's mother, expressing frustration over the sluggish progress of the case.
Meanwhile, the investigators say they would now seek the court's permission to check if the DNA samples collected from Tonu's body match up with those of the suspects to find out the rapists and killers.
Nazmul Karim Khan, special superintendent (Comilla-Noakhali division) of the CID of police, hoped that they would be able to carry out the DNA matching very soon.
"Through investigation, we will find out the killers. It is the post mortem that will determine the cause of death," the CID official told The Daily Star.
He added that the doctors' failure to determine the cause of death hampered their investigation.
It was the DNA test result that found spermatozoa of three males on Tonu's clothes. Disclosing the findings on May 16, CID officials said Tonu was raped before she was killed. This exposed flaws in the first autopsy that "failed to find" evidence of rape and determine the cause of her death.
Though the second autopsy on the decomposed body found evidence of "sexual intercourse", it too "failed" to determine the cause of death, suggesting further investigation into it.
Talking to this correspondent, National Human Rights Commission Chairman Prof Mizanur Rahman expressed doubts whether Tonu's family would ever get justice.
"Our respected doctors have made all arrangements to stop the trial of Tonu's murder. … It was covered up. We can now only shed tears but nothing will happen," he said, adding that the evidence of the case was damaged at the beginning of the case.
"Like Sagar-Runi murders, this case too has gone into hibernation. Then, it will go into oblivion and we will not speak about it [the murder] in future," said Mizanur.
Tonu, a theatre activist and student of Comilla Victoria College, was found murdered in a bush in the Comilla Cantonment area on March 20. The killing sparked storms of protests across the country.
It was Tonu's father Yaar Hossain, who found his daughter's body with her head smashed and an injury in her nose.
The first autopsy was conducted by Dr Sharmin Sultana of Comilla Medical College on March 21.
"No sign of forceful intercourse before death was found. The victim was not pregnant. No definite opinion as to the death could be given," stated the first autopsy report made public on April 4.
The police inquest too claimed to have found no sign of injury or assault on any part of Tonu's body.