Cops foil 'plan to snatch two JMB kingpins'
8 suspected militants held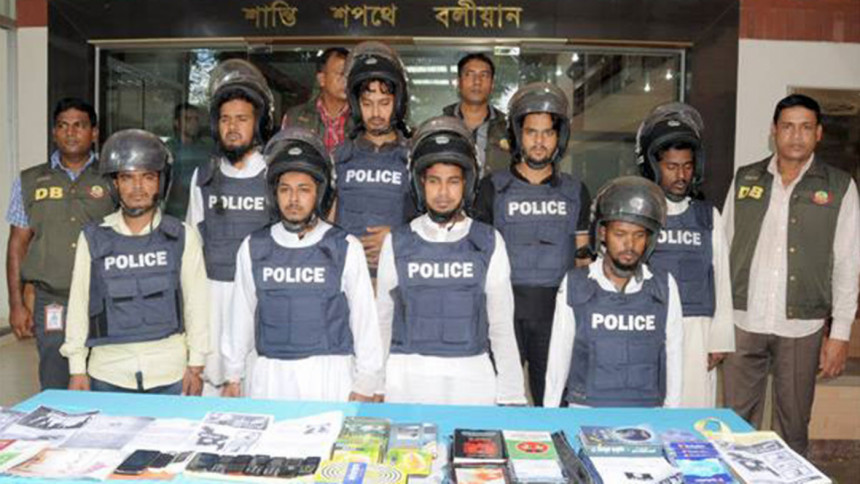 Detectives claimed that they have foiled Trishal-style snatching of two militant kingpins in custody after arresting eight suspects of banned Islamist outfit Jama'atul Mujahideen Bangladesh at Uttara on Monday.
The suspects had planned to snatch Maulana Saidur Rahman, former ameer of JMB, and Mufti Jasimuddin Rahmani, chief of Ansarullah Bangla Team, claimed Monirul Islam, spokesperson for Dhaka Metropolitan Police during a press briefing at the DMP media centre yesterday.
In February last year, an armed gang ambushed a prison van and snatched three convicted JMB militants in a well-executed plan at Trishal in Mymensingh.
Monirul said one of the arrestees of Monday, Abu Talha Mohammad Fahim Pakhi, acting ameer of a JMB faction and Saidur's son, had orchestrated another plan of prisoner snatching and communicated it to his father in jail.
"We have information that they tried to snatch two people at different times. They are Mawlana Saidur Rahman and Mufti Jasimuddin Rahmani," Monirul said.
For training on executing the plan, most of the time the arrestees had been staying in Bhaluka of Mymensingh, he added.
The eight were picked up at an Uttara hostel when they were in a meeting over organisational activities, Monirul claimed.
The other arrestees are: Shafiqul Islam, Ruhul Amin, Imdadul Haque, Rafique Ahmed Royel, Mohammad Mostafa, Shakhawat Ullah and Ali Ashraf Rajib.
Shafiqul is the co-ordinator of JMB's Sylhet division. Ruhul looked after the greater Mymensingh region of JMB and Imdadul the Mymensingh town.
Rafique, a restaurant owner, provided food to the group and also financed them. Mostafa, Shakhawat and Rajib were paid employees or "gayeb-e-ehsar" members of the militant outfit, law enforcers claimed.
The eight were paraded before the media prior to the briefing.
During the raid, detectives also seized a documentary made on law enforcers' operation at Baghmara, the birthplace of JMB, and the outfit's activities there. They also seized books on jihad, CDs containing training manuals, leaflets, 10 mobile phones and a motorbike.
Replying to a query, the DMP official said the militant outfit had the strength to carry out atrocities. "A large gang is not required … three to four persons are sufficient to carry out atrocities," he said.
The arrestees were trying to communicate with the Islamic State, Monirul claimed.
Responding to another question, he said a polarisation in global militancy over the last two years had been a key reason for Bangladeshi militant outfits seeking affiliation with al-Qaeda and Islamic State.
"With the rise of IS and seeing its brutality on the internet or because of their idealistic reasons, young radicals are now attracted to IS," he said.
Monirul said snatching militants in custody was a lot difficult nowadays since law enforcers take additional precaution while moving them from one place to another.
Saidur took the helm of JMB after Abdur Rahman and five others were executed in 2006, according to the law enforcers.
An accused in the case for killing blogger Ahmed Rajib Haidar, Jasimuddin Rahmani was arrested on August 11, 2013.
A case under the Anti-Terrorism Act was filed against the arrestees with Uttara Purba Police Station.