Close Shave
Cyclone weakens on way to coast; 6 killed, 6 missing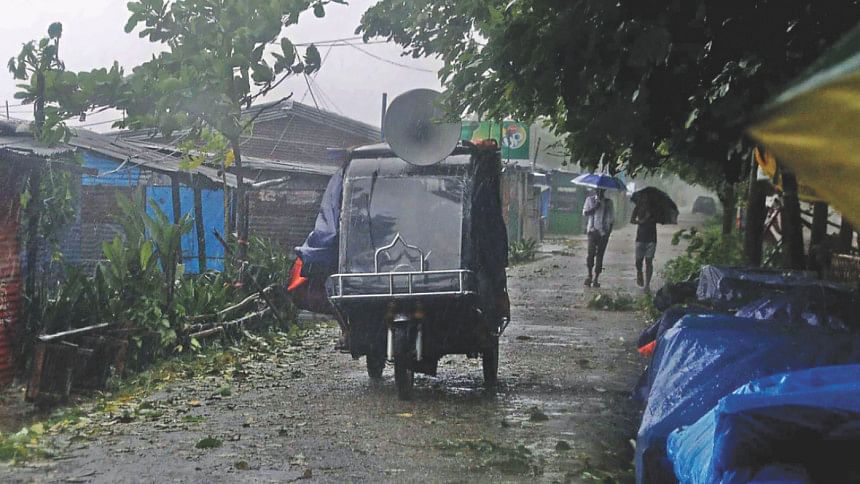 Weakening Cyclone Komen made landfall in Cox's Bazar around 9:00 last night, causing heavy rain that saw vast areas of several upazilas of the coastal town inundated.
Over the last two days, six people died in coastal region in various incidents amid inclement weather while six more people remain missing. 
The cyclone hit St Martin's and Shaparir islands yesterday morning.
When this report was filed around 1:30am today, the cyclonic storm was crossing Chittagong coast near Sandwip.
It was supposed to cross the Chittagong coast by this morning and then weaken gradually, according to the Met office.
Under the influence of the cyclonic storm, the low-lying areas of the coastal districts of Cox's Bazar, Chittagong, Noakhali, Laxmipur, Feni, Chandpur, Bhola, Barisal, Patuakhali, Jhalakathi, Pirojpur, Barguna, Bagerhat, Khulna, Satkhira and their offshore islands and chars were likely to be inundated by storm surge of three to five feet above normal tide.
However, when the cyclone made landfall in Cox's Bazar last night, there was no immediate report of any loss of life or property.
Throughout yesterday, the storm hovered over the Bay, some 55km from Chittagong Port, causing heavy rainfall and high winds in the region.
A boat, which was in the sea ignoring warnings, capsized, killing two people in the Bay near Cox's Bazar on Wednesday. Six others on the boat were missing, reports our correspondent there.
One person died when a tree branch fell on him in St Martin's and a minor boy was killed in a wall-collapse in Maheshkhali yesterday. 
In Hatiya of Noakhali, a newborn died as her parents ran to a cyclone shelter through rain and high winds. The baby was found not breathing at the shelter yesterday, reports our Noakhali correspondent.
A 55-year-old woman died in Bhola after a tree fell on her yesterday, reports UNB.
The people living on the coast were in panic yesterday, especially those in cyclone shelters of Chittagong, Cox's Bazar, Feni, Bhola and Laxmipur.
The sky was dark the whole day and the sea was rough, our Cox's Bazar correspondent reports.
Over five feet high storm surges inundated around 100 villages in Ukhiya, Pekua, Maheshkhali, Teknaf and Cox's Bazar sadar upazilas. Many trees were uprooted and thatched houses were damaged. 
High winds toppled trees at Ispahani intersection, Battali Hill at Lalkhan Bazar, Jamal Khan and Patenga areas of Chittagong as well.
"If Komen hits the Chittagong coastal belt, it would hit with 60kmph to 80kmph wind speeds," an official at the Chittagong Met office said.
The authorities closed all educational institutions and had announced that they would be used as temporary cyclone shelters.
The government has also cancelled all leaves and holidays of all civil servants in the coastal areas until next Saturday.
Over three lakh people took cover in cyclone shelters in Cox's Bazar, Noakhali, and Bhola until yesterday afternoon, sources said.
They were asked not to leave the shelter until further notice, said Shahina Sultana, in charge of the control room of the ministry of disaster management yesterday afternoon.
All river vessels, including fishing boats and launches, were asked to stay anchored to shore until further notice. Two flights to Chittagong had to be diverted to Sylhet yesterday morning.
"We have suspended all river traffic as a precautionary measure. We will stop ferry service too if the situation worsens," said Mahiuddin, an official of Shimulia river port in Chandpur.
The Chittagong and Cox's Bazar maritime ports were asked to hoist cautionary signal-7, which means the port would experience severe weather from a storm with wind speeds of 62-88kmph. 
Meanwhile, Bangladesh Border Guard (BGB) sources said they were scheduled to bring back 159 trafficking victims home from Myanmar yesterday but had to cancel due to rough weather.