Change Makers: Mother's Day Today
For children with cancer
Losing her son to the deadly disease, a mother in Bangladesh devotes her life to support kids of mothers like her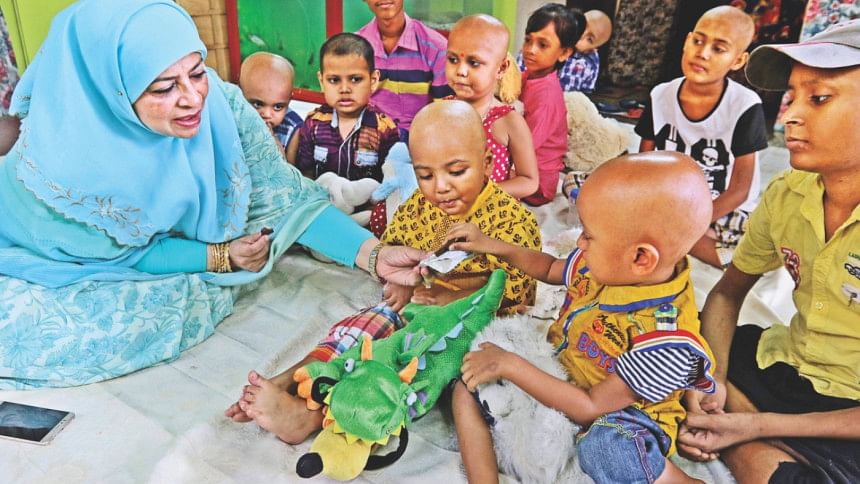 What makes a mother special?
A mother showers her child with unconditional love and holds hands whenever needed. Mothers sacrifice their own comfort for the baby and expect nothing in return.
And then there are a few who have taken it on themselves to spread their love to children who are not even theirs.
Salma Choudhury is one of them.
She has devoted her life to a great cause--to help children fight cancer. For the least 16 years, she has been running a shelter home which provides free accommodation to children battling the deadly disease.
The children affectionately call her "Madam-Auntie".
Housed on the top floor of a four-storey building on Central Road in the capital, the shelter home, called ASHIC (A Shelter for Helpless Ill Children), offers the sick children a comforting environment. A large framed image of Disney's Mickey Mouse at the entrance gives a warm welcome to the guests.
A lounge inside is used by the children as a small play area. They play on the mats rolled out there every day without a care for what is awaiting them.
"You cannot imagine how cute these kids are," Salma, who is in early 60s, told this correspondent while giving away a toy to five-year-old Sayed, a resident in ASHIC.
"Do you like chocolate?" she asked the child and fed him a piece of chocolate. The child had blood cancer.
Clad in a turquoise sari and matching headscarf, Salma spoke of her work for children with cancer and her dreams about doing something more for them.
Initially, her sparkling eyes and caring smile hardly revealed her own pain and trauma. There was, however, a tinge of sadness in her voice.
"I started this shelter home after cancer took away my little son," said the mother who had already lost one of her daughters.
Suddenly, her voice cracked and her eyes filled with tears.
Her son Ashiq Husain Choudhury, the inspiration behind ASHIC, was just over 39-month old when he died in May 1993 in London.
The child started to have health problems when he was just nine-months old. He was diagnosed with cancer in his kidney soon afterwards. The disease later spread to his liver and lungs.
Salma and her businessman husband, Afzal Husain Choudhury, tried everything but could not save Ashiq.
Their daughter, Munia, had died in 1977 in the same city of complications from an earlier home accident. She was just two.
Following the tragic incidents, Salma's life changed drastically and she could not come out of her sorrow and pain in any way.
It was then the idea of working for Bangladeshi children with cancer came to her mind.
She decided instantly to give everything she had for the cause. She was turning her sorrow into her strength.
It worked like magic for her.
She returned to Bangladesh with her husband to find out if they could do anything for children with cancer.
ASHIC was born after the couple found that there was hardly anything being done for cancer stricken children, said Salma.
The shelter home started its journey under the ASHIC Foundation in 2000. The home has 15 beds for child patients and their female attendants who come to Dhaka for treatment mainly from the rural areas.
 It has seven more beds in another room for male attendants.
Salma said most of the guardians cannot afford accommodations elsewhere in the city.
"In many cases these parents do not bring the children to Dhaka again for follow-up treatment because they have no place to stay or they cannot afford the cost," said Salma.
Accommodation for children and their female attendants are without cost. However, any male attendant from the same family pays Tk 200 a day.
The patients and their guardians are given rice and daal twice a day for free. Parents cook other items for themselves in the kitchen.
The children are served free snacks in the afternoon as well.
ASHIC, which has already served thousands of children, only accepts patients recommended by hospitals.
Eleven children are currently staying at the shelter home.
Salma suffered a stroke in 2014 but it has not dampened her spirit and she visits ASHIC often.
"I enjoy being with the children. I feel extremely happy whenever I am surrounded by them," she said.
She also expressed her heartfelt gratitude to those who have been donating to her cause.
Her daughter Maheen Hamid lives in the US and helps raise funds for ASHIC. Asif Choudhury, Salma's son, lives in Singapore.
Salma said they were going to open a similar shelter home at Dhaka city's Bangla Motor this August.
She runs another institution, ASHIC Oncology and Palliative Care Centre at Dhanmondi.
Palliative care is given at the last stage in a cancer patient's life to provide relief from pain and despair.
"The last days of a cancer patient are quite painful. We try to give them comfort and love during those days," said Salma.
ASHIC and the palliative centre also offer counselling to parents.
For Salma, it is a steep hill to climb and she welcomes anyone who wants to join her in the journey.
With the world celebrating Mother's Day today, this mother does cherish a dream: to establish a modern cancer hospital for children, especially who have terminal cancer.
"All I want is to reduce their pain and help the parents, especially the mothers, in their fight against cancer. It means a lot to me," she said with moist eyes.