Monk killed in Bandarban
Found with throat slit at Buddhist temple in remote hilly area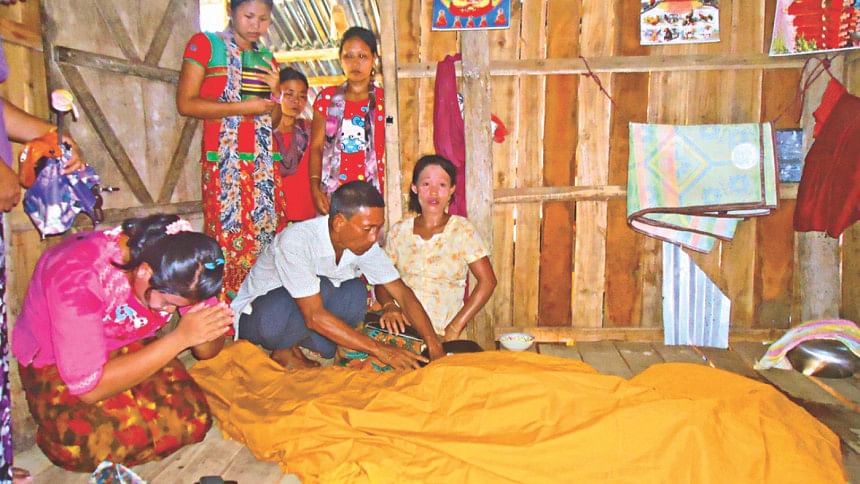 He chose to live in seclusion in a remote temple to attain Buddhist wisdom. Most of his time was devoted to religious rites, prayers and meditation.
His family members and locals say it's out of question that he had any enmity with anyone. May all beings be happy -- this was what the monk wanted like any other Bouddha Bhikkhu.      
So people in the hilly area could not believe their ears when they heard of the grisly murder of U Damma Oaing Cha Bhikkhu. 
The 73-year-old Buddhist monk was found dead, with his throat slit, in his temple in Naikkhangchhari upazila of Bandarban early yesterday.
His temple, Chak Nirvana Bouddha Kyang, is some 250 yards from the nearest village Upor Chakpara -- where his family members live -- under Baishari union in the upazila.  
The area is about 20 kilometres from Naikkhangchhari upazila headquarters and home to a community of 300 to 350 Chak people, all followers of Buddhism. One can reach there only on foot or by motorcycles.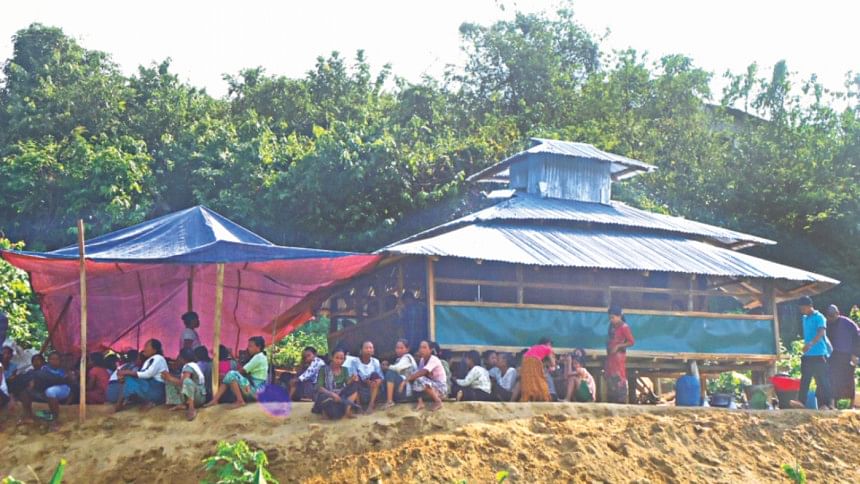 He dedicated himself to the path of spiritualism a couple of years ago and took the present name. His previous name was Shwe U Chak.
Police could not ascertain the motive behind the killing immediately but it resembles recent murders of people of different faiths and ideologies.
Machete-wielding attackers carried out at least five such murders between April 6 and May 7. The victims are secularist online activist Nazimuddin Samad, Prof Rezaul Karim Siddiquee, a English teacher at Rajshahi university and a cultural activist; LGBT activist Xulhaz Mannan and his friend Mahbub Tonoy, Hindu tailor Nikhil Joarder of Tangail, and Shahidullah, a practitioner of Sufism in Rajshahi.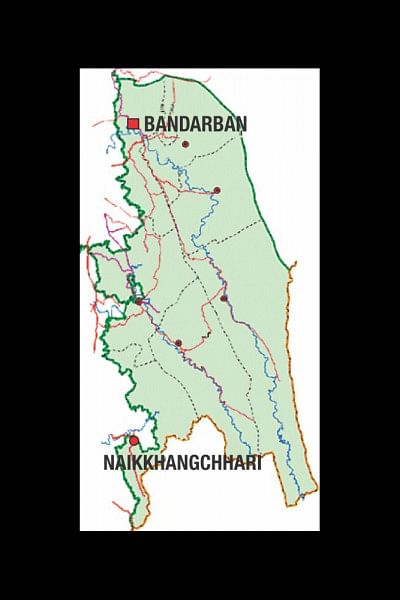 Law enforcers are yet to make any headway in these cases.
About yesterday's killing, Sub-Inspector Kazi Ahsan of Naikkhangchhari Police Station told BBC Bangla Service that the Bouddha Bhikkhu was murdered sometime between 8:00pm of Friday to 5:00am yesterday.
The victim's daughter-in-law found him dead around 5:00am when she went to the Kyang (temple) to serve him food. No belongings were touched, said police and family members.
The family members last saw him around 8:30am on Friday.
"Like on every other day, I went to the temple in the early morning [yesterday] and found his dead body. No valuables or money were missing from the temple, where he had been staying alone for the last one and half years," said his daughter-in-law Manu Ching Chak.
The victim's son, Aung Sa Thoai Chak, 35, said his father had no enmity with anyone in the area.
But he added, "My father had been feeling unsafe since Thursday when two unidentified men roamed the temple area. He informed it to me that day and said 'something unexpected will happen to me and you should stay alert'."
Police have been investigating the incident keeping in mind possible militant links, among other things, said Superintendent Mizanur Rahman of Bandarban.
Meanwhile, Home Minister Asaduzzaman Khan Kamal said the killing of the Buddhist monk was a "stray incident".
"It's a stray incident. Relatives might have been involved in it," he told reporters emerging from a programme in Rajshahi. He, however, did not say what made him reach the conclusion.
Barrister Jyotirmoy Barua, the Supreme Court lawyer who filed a petition seeking justice for the 2012 attack on the Buddhist community of Ramu in Cox's Bazar, said he heard that the monk had received death threats from anonymous persons recently.
"I tried to know from locals whether he had any land-related dispute or personal enmity. But the locals said so far they know there was no such issue," he told The Daily Star.
Mong Kyaw Hla Chak, the karbari (village head) of Upor Chakpara, said the elderly monk used to meditate most part of the day. "He was a great man. It is hard to believe that he was killed. Neither the monk nor the family members had any enemy." 
Hundreds of Buddhist devotees were seen with tearful eyes in the temple area after the brutal killing of their religious leader.
Bandarban police chief Mizanur Rahman said they already collected evidence from the spot. "We found the footprints of the attackers who might have killed the monk at night."
Panic spread among the locals as it was the first such incident in the area. Members of police and Border Guard Bangladesh (BGB) were deployed there to ensure security.
Chittagong Hill Tracts Affairs Minister Bir Bahadur U Shwe Sing visited on the spot in the afternoon.
The victim's son filed a murder case with Naikkhangchhari Police Station.