BASIC Bank Scam: Bacchu asked not to leave country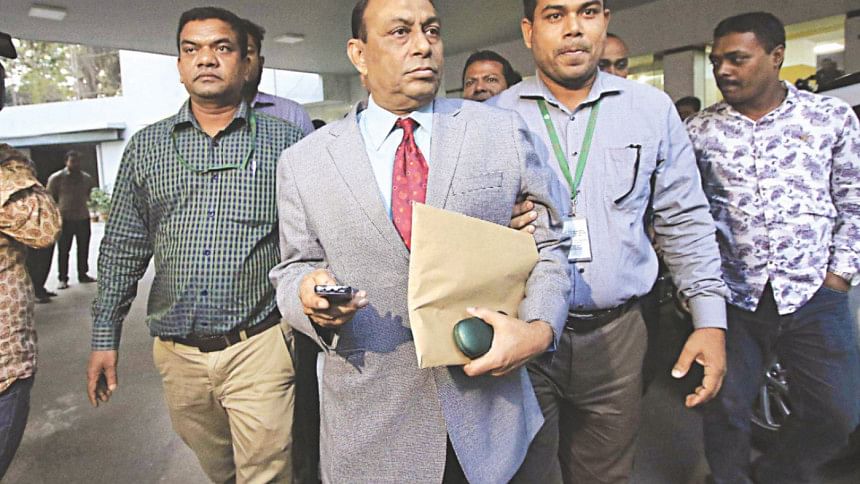 The Anti-Corruption Commission has asked former BASIC Bank chairman Sheikh Abdul Hye Bacchu not to leave the country so that his interrogation continues without any interruption.
On Wednesday, ACC investigators quizzed Bacchu in at least 10 out of 57 cases filed over the embezzlement of Tk 2,044 crore from the state-run bank.
"At one stage of the grilling, we asked him not to leave the country. We also asked him to produce a copy of his passport," an ACC investigator told The Daily Star.
ACC Director General (special investigation and enquiry) Md Asaduzzaman said the commission usually sends copies of a notice to different immigration ports to prevent a graft suspect from fleeing the country. But such an action is taken only after filing of a case against the suspect, he added.
Meanwhile, the ACC has fixed third week of December for further interrogating Bacchu in the scam cases.
"We asked him to appear before us next week. But he sought time saying he was not in good health," said Asaduzzaman, adding that they would fix a date later.
The anti-graft watchdog has been interrogating him on a case-by-case basis.
The ACC on November 24 summoned Bacchu and 10 ex-directors of the bank for interrogation over the loan scams involving about Tk 4,500 crore. The scams took place between 2010 and 2013 when Bacchu chaired the bank's board.
The former BASIC Bank chairman was first grilled by ACC investigators on December 4.
ACC sources said Bacchu on Wednesday shifted the blame on the bank's then managing committee for the embezzlement.
Asked whether he took any action against the managing director or other bankers over the scam, he kept mum, said one of the investigators.
Bacchu during the quizzing complained of feeling unwell. His interrogation resumed after an ACC medical officer had attended him.
Twelve ACC officials have been investigating the 57 cases. The graft watchdog is yet to implicate Bacchu, believed to be at the centre of the scam, in any of the cases.