GP, Robi, Banglalink start 4G service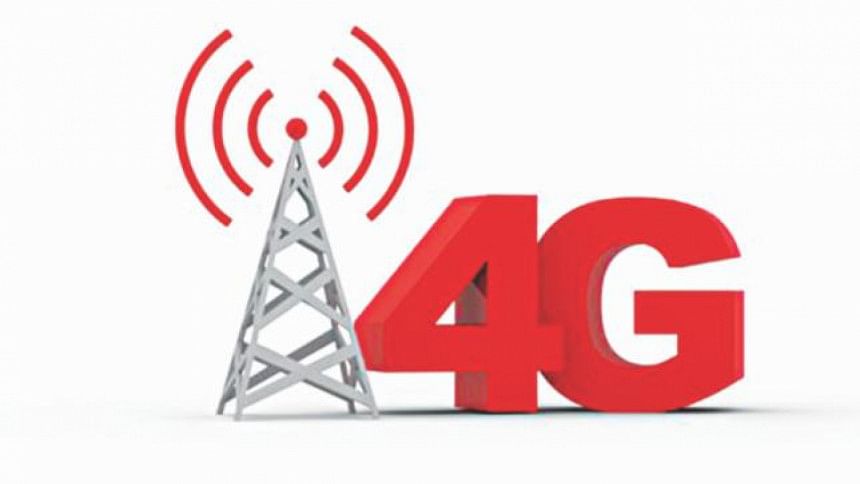 Grameenphone, Robi, and Banglalink have started 4G service in selected areas immediately after receiving the licence for the fourth-generation mobile internet yesterday evening.
State-run carrier Teletalk will take some time before it offers its 4G service to customers.
The top three carriers yesterday said they went live with 4G service with about 400 base transceiver stations (BTS) in major cities of the country.
Telecom Minister Mustafa Jabbar handed over the licences to top officials of the carriers during a ceremony at the Dhaka Club yesterday evening.
Soon after getting the licence, market leader Grameenphone's Chief Executive Officer Michael Foley announced the launch of 4G service on Facebook Live.
It started covering selected areas of Dhaka and Chittagong cities as part of its planned nationwide 4G rollout.
At least 30 Grameenphone BTSs in Dhaka and 20 in Chittagong started delivering 4G service.
"Indeed, this is a proud moment for us all in Bangladesh and a big milestone to the realisation of Digital Bangladesh," said Foley after the launch.
Mahtab Uddin Ahmed, managing director and CEO of Robi, said they have launched 4G with 179 BTS in different large cities, including Dhaka and Chittagong, soon after getting the licence.
"The ecosystem is yet to be ready for better service of 4G but I hope it will be available within the shortest possible time," said Ahmed in his speech at the ceremony.
Robi's 4G service will be available in most of the district headquarters today.
Third largest carrier Banglalink went live with 4G service via 200 BTSs in different cities.
"This is a great day for us as we stepped into a new era of digital connectivity," said Erik Aas, CEO of Banglalink, after the launch of the service.
Banglalink launched 4G in Dhaka, Chittagong, Khulna, and Sylhet yesterday.
After the launch of 4G service, the Bangladesh Telecommunication Regulatory Commission (BTRC) would issue a directive on the quality of service where the minimum speed for the service would be set at 7 Mbps and the regulator would be tough on ensuring quality, said Shahjahan Mahmood, chairman of the BTRC.
The chairman claimed that the 4G service would be much better than that of the neighbouring countries even though they had adopted 4G earlier.
For enjoying 4G, customers' devices need to be 4G enabled and before that they also need to replace their SIM cards with a 4G-enabled one.
Abu Saeed Khan, senior fellow of LIRNEasia, a Colombo-based ICT think tank, said there were some bottlenecks in the system and the state of infrastructure was far below average and therefore service quality could suffer.
Earlier, the BTRC had arranged an auction where Grameenphone and Banglalink bought spectrum. Robi and Teletalk decided to launch their 4G service using their existing spectrum.