Teletalk finally launches 4G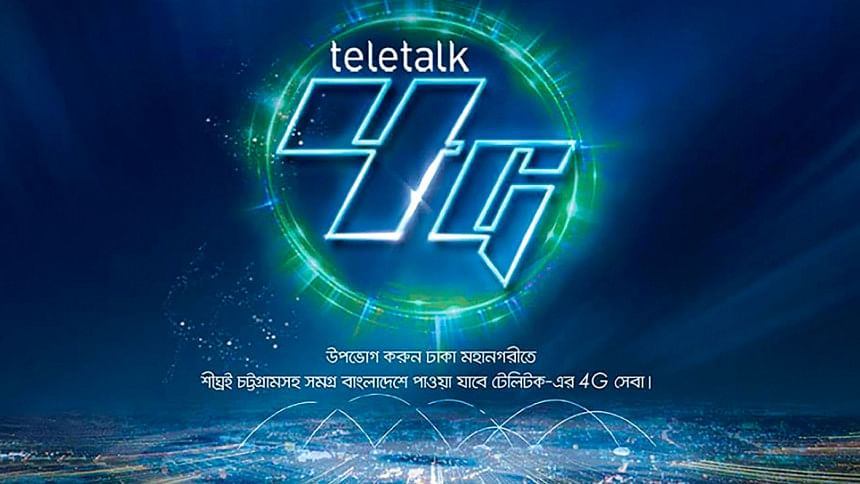 State-owned mobile operator Teletalk finally launched 4G (fourth generation) mobile data services commercially in the capital, some 10 months behind the market's remaining three private wireless carriers.
Teletalk's managing director, Shahab Uddin, expects to reach all of Dhaka by December while expanding to Chattogram within the next couple of weeks.
"Every day we are covering more than 30 sites with the fastest 4G services and the capital will be covered by December 25 and the other big cities in phases," he told The Daily Star.
The service has initially been made available in Gulshan, Niketan, Baridhara, Banani, the University of Dhaka, the Bangladesh University of Engineering and Technology, Ramna, Motijheel, Mohammadpur, Dhanmondi, Shyamoli and Farmgate.
The private entities have already commenced the services across the country. This stands in stark contrast to the launch of 3G, which was led by Teletalk with much hype in 2012, around a year ahead of its competitors.
Teletalk officials said they were offering customers "the best speeds": 15 Mbps for uploads and 40 Mbps for downloads.
The telecom regulator has fixed 7 Mbps as the minimum speed the mobile operators have to offer for 4G. However the obligation is not met all the time.
Existing 3G users of Teletalk can automatically migrate to the service by sending "4G" as a text to 111, said the officials.
Shahab Uddin informed that they would not go for any advertisement campaign as they were already late in arrival.
"We will try our level best to satisfy our customers with our highest level of speed and best coverage and that will give us a lead in the market share," he said.
The officials said since the smallest operator was as a public entity and had a shortage of funds, it needed to get some extra privileges to harvest business from this segment, as had been in the case of 3G.
The operator has taken up a Tk 987 crore project using its own funds for the 4G network. Under it, 550 towers have already been established, mostly in big cities, and the process to set up another 550 in district headquarters is ongoing, according to the officials.
Teletalk currently has 34.93 lakh active connections, which is around 2 percent of the market share. Only a few of those are regularly active.
The operator's customer numbers peaked at about 48 lakh but declined over the last couple of years because of the limitations in the coverage.
All the four mobile operators got the 4G licences in February. About 1.30 crore customers, the prime part of the market, are availing the services from them.
Teletalk had first targeted to go for the 4G launch in May and then had postponed it to August, as the preparations were not complete.