Tiger number rises by eight in 3 years
Say officials citing latest census on big cats in Sundarbans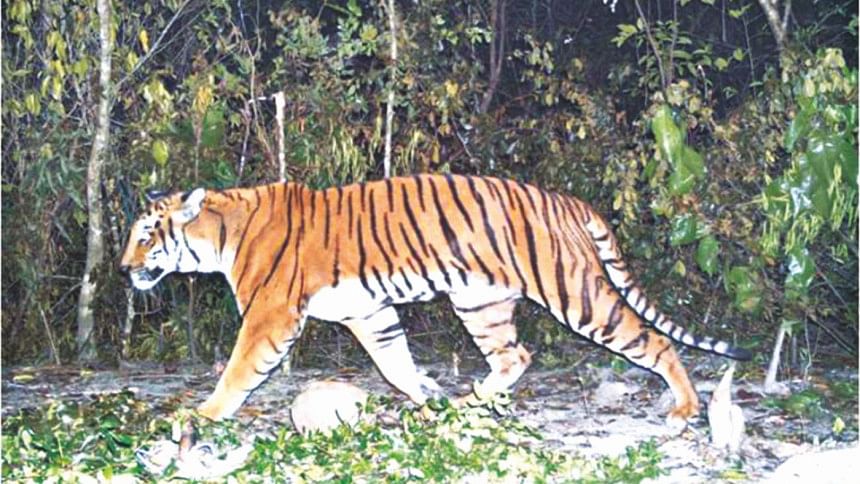 The number of Bengal tigers in the Bangladesh part of the Sundarbans has increased slightly, according to a latest tiger census.
The number rose to 114 in 2018, up from 106 recorded during the previous survey in 2015, an official involved in the latest census said seeking anonymity. 
The report on the census titled "Second Phase Status of Tiger in Bangladesh Sundarbans 2018" will be released at the capital's Ban Bhaban tomorrow.
The census on the critically endangered species was conducted dividing the Sundarbans into three areas -- Khulna, Bagerhat and Satkhira. The census in Satkhira was conducted in 2017. The following year, the census was carried out in Khulna and Bagerhat.
Forest officials said they conducted the camera trap census in 1,659 sq km of core tiger population areas in the Sundarbans.
Of the total area, 1,208 square kilometres is in Satkhira, 165 square kilometres in Khulna and 286 square kilometres in Shoronkhola, Bagerhat.
Forest officials installed 491 cameras on trees at 239 points of the Sundarbans and collected 2,500 images of tigers during a 249-day survey.
"As part of the tiger census, we also surveyed canals flowing along the area," said the official.
Analysing the images of tigers, experts projected that the total number of Bengal tigers is 114. Indian tiger experts helped the forest department officials conduct the census.
According to the Tiger Census 2015, the tiger population was only 106 in the Bangladesh part of the Sundarbans, down from 440, including 21 cubs, in 2004. The census in 2004 was conducted based on pugmark.
In 1975, a field survey conducted by Bubert Hendrichs found 350 Bengal tigers.
In 1982, Margaret Salter carried out a sample and field survey and estimated that the number of tigers was 425.
Rex Gittins conducted a survey in 1984 covering 110 sq km area of the Sundarbans South Wildlife Sanctuary and found the tiger population to be 430 to 450.
In 1992, the forest department collected data from the people working in the Sundarbans area and estimated the number to be 359.
The following year, Dhan Bahadur Tamang conducted a pugmark census covering 350 sq km of the Sundarbans area and put the number at 362.
The major threats to the Bengal tiger are poaching of tigers and its prey, including deer, and habitat loss.
Bangladesh has taken several steps for tiger conservation, including Tiger Action Plan 2009-2017, National Tiger Recovery Programme, and an amendment to the Forest Act, 2012.