Road crashes claim 11 lives in 5 districts
Four of a family among them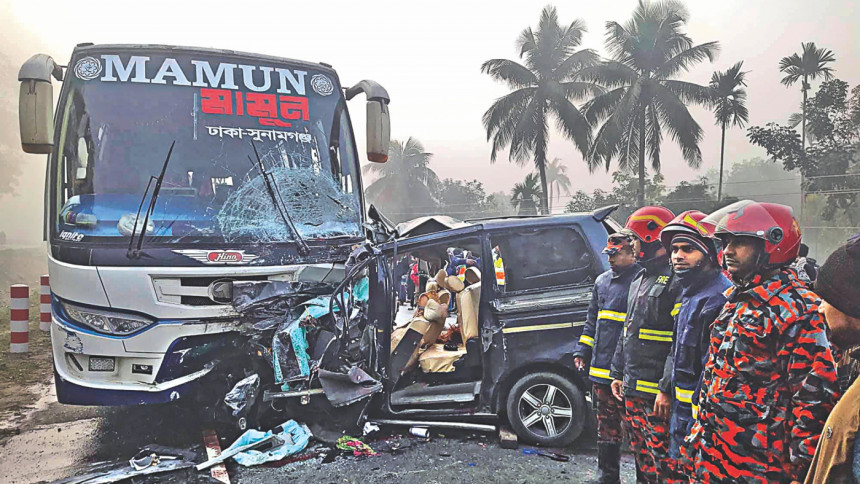 At least 12 people, including four of a family, have been killed in five road crashes and a train accident since Sunday night.
In Faridpur Sadar, six people were killed and one sustained injuries as a Dhaka-bound microbus collided head-on with a Magura-bound bus on Dhaka-Khulna highway in Mollikpur area.
Saifujaman, additional superintendent of Faridpur police, said six passengers of the microbus died on the spot.
The dead are Shariful Islam, 42, his six-year-old daughter Tabassum, his niece Tanjila, 18, and his sister-in-law Takia, 12, his friend Faruk, sub-inspector of Dhaka Metropolitan Police, and the microbus driver Nahid, the police official added.
Shariful's wife Suraiya Islam Rimi, 30, was injured in the accident and undergoing treatment at Faridpur Medical College Hospital.
Police seized the bus but the driver managed to flee the scene, SP Saifujaman said.
Rafiqul Islam, brother of Shariful, said the family was going to Cox's Bazar on a vacation.
Faridpur's Deputy Commissioner Atul Sarker said a four-member committee was formed to investigate the accident and it was asked to submit its report within a week.
Meanwhile in Chapainawabganj, a father and his nine-year-old daughter were killed in a road crash.
The accident occurred as a Rajshahi-bound lorry hit a motorcycle from behind on Chapainawabganj-Rajshahi highway in Chapainawabganj municipality area, said police.
The dead are Golam Rabbani, 42, and his daughter Sadekina Roshni.
Amir Sohel, sub-inspector of Faridpur Sadar Police Station, said the duo was killed on the spot.
Police recovered the bodies and sent those to Chapainawabganj Sadar Hospital morgue for autopsies.
In Jhenaidah, Shahin Mia, 18, a rickshaw puller by profession, was killed as a human hauler hit his rickshaw at Baidanga bazar in the district's Sadar upazila.
In Gopalganj, a deaf woman Sahinur Begum, 35, was killed as a train hit her in Baspur area of the district's Kashiani upazila yesterday morning.
In Dinajpur, 25-year-old Moniruzzaman Munna was killed as a truck ran over him after he fell from an engine-run three-wheeler in the district's Nawabganj upazila on Sunday night.
On the same night, a school teacher Shanaz Parvin, 45, was killed and her husband Nurul Amin was injured in a road accident that took place in Pathar Par area of Mawna-Phulbaria road in Gazipur.