National University Graduates: Lagging behind in job market
Skills mismatch a key reason, WB study finds; experts for revamping curricula, training teachers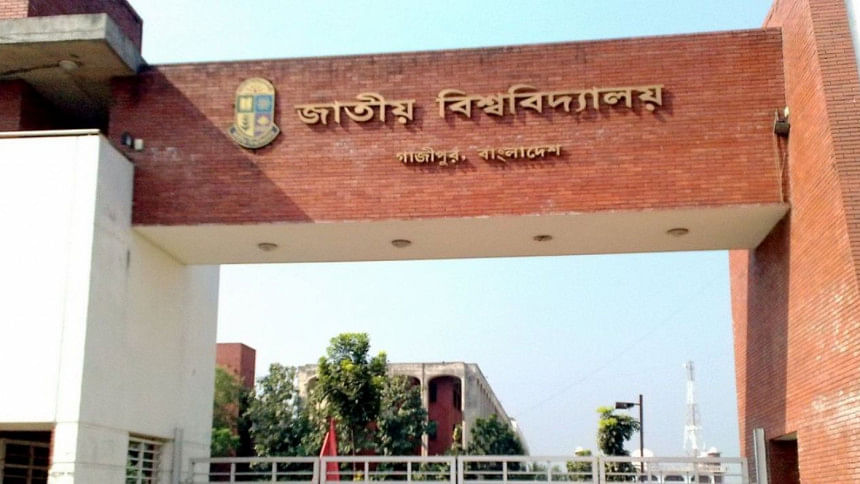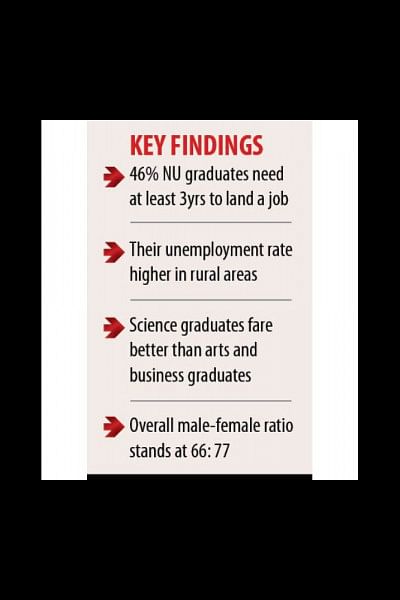 Nayan Ahmed started searching for a job since his graduation in 2016. Every day, he browses through newspapers and online job portals for employment opportunities in public service and spends hours to ready himself.
A student of political science at Govt BL College in Khulna, Nayan did sit several recruitment tests for government jobs. But his cherished job remains elusive.
"I have given up hope of getting a government job. Now I have to get any job to support my family," said a frustrated Nayan, who came to Dhaka three months ago from his Bagerhat home in search of a job.
His father retired from government service five years ago. Elder of two brothers, Nayan must now provide for his family.
Like him, thousands of students of government and non-government colleges affiliated with the National University (NU) lose the first few years after completing their graduation in search of jobs, often dubbed a "golden deer" in Bangladesh.
A World Bank study has found as high as 46 percent National University students remain unemployed for at least three years on completion of their graduation.
"This share is very high in any standard. Unemployment thus is a grave issue for graduates from NU-affiliated colleges and requires special attention," said the study report released on March 31.
The study -- Graduate Employability of Affiliated Colleges: New Evidence from Bangladesh -- began in October 2016.
In Bangladesh, around 20 lakh job-seekers enter the labour market each year.
Currently, 1,862 colleges are affiliated with the NU and the number keeps rising every year.
More than 18 lakh students are currently enrolled in these colleges, which accounts for 68 percent of the total enrolment at higher education level, the study said, citing Bangladesh Bureau of Education Information and Statistics data.
In 2017, as many as 5.46 lakh students were studying in the final years of various academic programmes -- Degree Pass Course, Honours and Master's -- with the NU.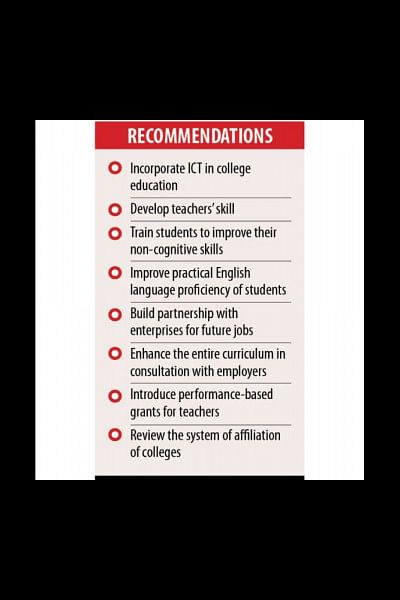 'DISMAL PICTURE'
The study is based on interview with 2,350 graduates from NU-affiliated colleges, 235 employers of currently employed graduates, and principals and vice-principals of 35 government and non-government colleges.
It found that an unemployed graduate applied for 17 jobs since the start of unemployment before they could find a job.
On the other hand, about three in every four unemployed college graduates received at least one job offer that they declined mainly because of poor salary packages.
Overall, 66 percent male graduates remained unemployed against 77 percent of their female counterparts.
Unemployment rate is relatively lower in metropolitan areas, with the rural-urban ratio standing at 72:58.
Of those unemployed, highest 74 percent are from humanities group, followed by 69 percent from business discipline and 66 percent from science group.
"It's a dismal picture," said Prof Abdul Mannan, the immediate past chairman of the University Grants Commission.
"We don't need certificate-oriented graduates. The man and his knowledge and skills behind the certificate are what is important," he told The Daily Star.
BUT WHY?
"The key problem is skill mismatch," said Zahid Hussain, lead economist at the WB's Dhaka office.
The knowledge and skills that the graduates acquire in colleges have little application at work, which makes the National University-affiliated college education less relevant in the labour market.
"College graduates often lack relevant skills valued by employers. The core of the problem is on the supply side, reflected in the form of inadequacies of quality and weak relevance of education and skills of college graduates," Zahid said.
In the study, more than half of the students surveyed said that they acquired "a lot of new skills and knowledge" through academic and off-campus activities.
But all of this have little use in workplace, which makes the NU college education less relevant in job market, the report said.
"This is disappointing as college education is supposed to teach new skills and improve the knowledge base of the students."
It also found that only one-third of the employed graduates have been able to apply their knowledge and skills in their work usefully.
"College graduates failed to acquire practical knowledge and skills during their time of college study," it said.
Prof Hafiz Md Hasan Babu, pro-vice chancellor of NU, acknowledged that the curricula of the National University and most other public universities did not reflect the requirements of job market.
"This is a big weakness of our university curricula," he said.
WHAT EMPLOYERS WANT
Employers acknowledge that college graduates are strong in communication in Bangla and possess decent work attitude, but are weak in English language and computer skills.
More than half of the 235 employers interviewed said colleges should focus on problem-solving skills and team-work skills to improve the overall quality of college graduates. They also want the colleges to strengthen training on ICT, English language skills and communication skills.
The employers believe that business and specific skills-related subjects like computer science, finance and accounting, marketing, management, English, mathematics, and statistics are the most relevant subjects in the job market.
"The results of this survey clearly demonstrate that the current subject-wise distribution of student enrolment in colleges are not well aligned with the employers' preferences of expertise of job candidates," said Zahid Hussain.
On the other hand, only 4 percent of the 235 employers interviewed reported having some type of relationship with colleges.
Only three employers said they had partnerships for recruitment and only two reported having a partnership for apprenticeship programme with colleges, the report said.
"Having solid partnership with industries would play a pivotal role in increasing the employability of college students and improving their relevant skills," said the study.
WHAT TO DO?
The job market has become skills-driven.
"Therefore, the graduates should be equipped with the right set of skills to make them employable in the fast-changing job market," Prof Mannan said.
For this reason, the education system needs to be revamped. The authorities should continuously update their curriculum and design it for the industries of the future rather than the industries of the past, he said.
"Training of the trainers and educators is also a must," he said.